Full Belly Files
Full Belly Files | S.L.O. Coasting
A Detailed Report on My Recent S.L.O. Coast Adventure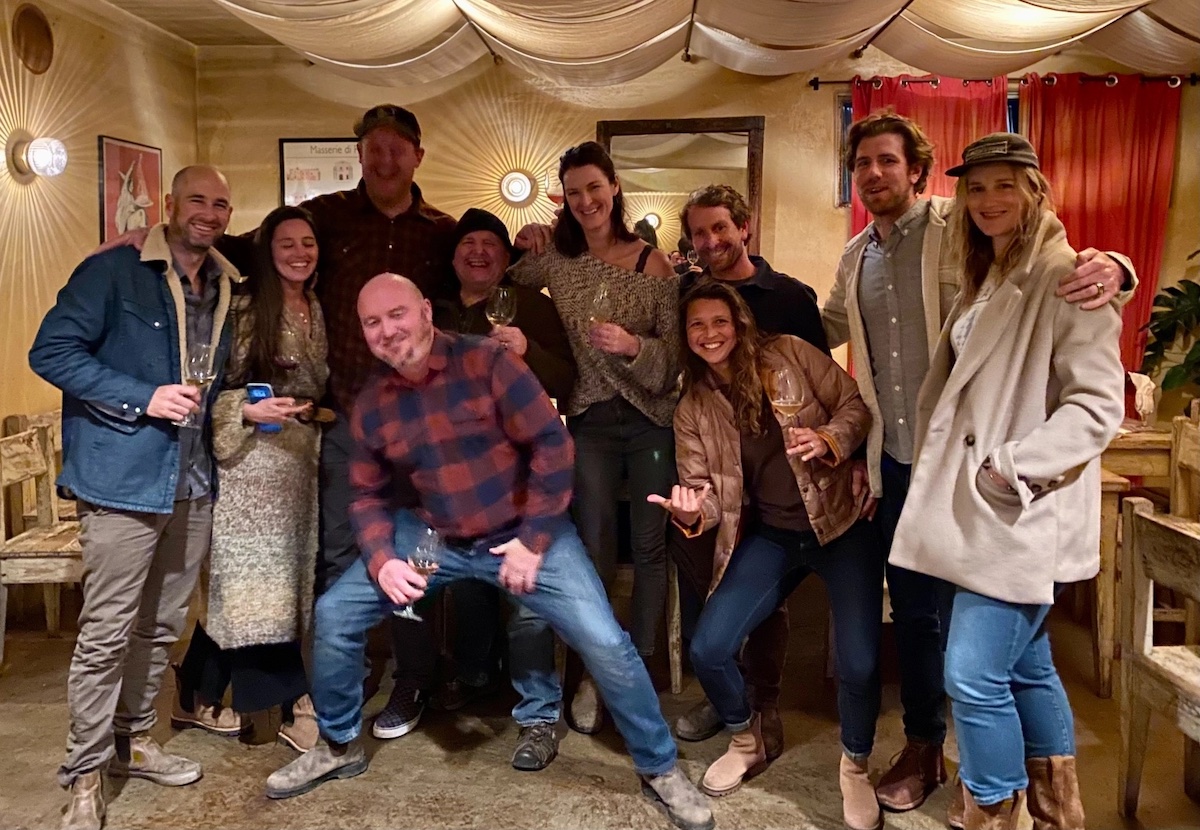 ---
This edition of Full Belly Files was originally emailed to subscribers on February 17, 2023. To receive Matt Kettmann's food newsletter in your inbox each Friday, sign up at independent.com/newsletters.
---
Though I'll always be loyal to Santa Barbara County wines, there's a special place on my palate for the S.L.O. Coast, the one-year-old appellation that encompasses all of the lands between the Santa Lucia Range's ridgeline and San Luis Obispo County's shoreline.
Back in 2016, I was the first journalist to break the news that vintners from the region were seeking their own appellation, which includes the existing Edna and Arroyo Grande valleys. My story turned out to be exceedingly early on the idea, given that the S.L.O. Coast wasn't federally approved for another six years.
Back in 2016, I was the first journalist to break the news that vintners from the region were seeking their own appellation, which includes the existing Edna and Arroyo Grande valleys. My story turned out to be exceedingly early on the idea, given that the S.L.O. Coast wasn't federally approved for another six years.
My first stop was to see Mikey and Gina Giugni, who together run the brands Lady of the Sunshine (more of Gina's baby) and Scar of the Sea, which Mikey founded more than a decade ago with former partner Michael Brughelli. After a few years of figuring out each brand's identity, Scar is now focused on a negociant-like process of buying grapes from friends' vineyards while Lady represents a vigneron side of their operation, relying on vineyards that they personally farm.
That includes Chêne Vineyards in the Edna Valley, which they started managing in 2018, and the Mountain Meadow Vineyard, which they just took over in January. Located in a high-elevation saddle between the craggy peaks of York Mountain west of Paso Robles, the five-acre, dry-farmed pinot noir vineyard is trellised in a curiously head-trained, bush-like style — or a "spiral cordon," as Mikey surmised. They'll be spending much of this year, and probably the rest of their lives, figuring out how to farm this incredibly unique spot.
Then we sipped their 2022 Scar pet-nat and slurped Morro Bay Oyster Company oysters from the side of Highway 46, overlooking the seas around Morro Rock. A couple of mornings later, we'd venture out into those waters on their small boat Camel, enjoying an extremely calm morning as we watched dolphins school, otters raft, and a whale breach near the Montana de Oro shoreline.
When Mike Sinor of Sinor-LaVallee Wines purchased the ocean-view Bassi Ranch a decade ago, two things happened: He became a godfather to the region's younger generation of winemakers, and the vineyard — which rides the hills west of 101 just inland from Shell Beach — quickly rose as a beacon for the greater S.L.O. Coast. (The person and place also served as my primary S.L.O. Coast intro, as relayed in this 2014 story.)
In 2021, Mike moved his winemaking operations to Filipponi Ranch, which nearly touches the Bassi vines. The property is owned by the Filipponis and includes the family brand's tasting room, as advertised by a high sign on 101. Mike is casually mentoring the newest Filipponi family winemaker, but is officially just leasing the space, not making their wine. As we tried his strawberry-ish pet-nat of pinot gris, zippy carbonic pinot noir, and intense cool-climate grenache bottlings, Mike showed off what he thinks is the oldest biodynamic mixing machine on the Central Coast and expressed excitement that his son, Tomas Sinor, is now on the path to becoming a winemaker.
We made a quick stop up the nearby Squire Canyon to check in with the ever-expansive Michael Callanan of Maidenstoen Wine. Though is main house was under construction, his skate ramps were covered in mud, and he was living with his large family in the tiny house that he once occupied alone many years ago, Callanan was ponderous as usual. With his latest rieslings and a new pinot noir project in our glasses, he waxed on about the parameters of a perfect wine and dreams for a cliffside deck.
That night's dinner was at Giuseppe's Cucina Italiana in Pismo Beach, where Sinor, the Giugnis, and I joined Ryan Pace and Natalie Siddique of Outward Wines, Tyler and Rachel Eck of Dunites Wine Co., and Nicole and Lucas Pope of Haliotide Wines for a seafood showcase. This tight group of vintner friends is actively defining what the S.L.O. Coast will be, and I was happy to be the excuse they needed to assemble in the same room together for the first time in many months.
Giuseppe DiFronzo has reigned as the darling of the Central Coast restaurant scene since opening this restaurant as a senior project at Cal Poly in 1988. "Papa Joe," as he's known, brought out his best to pair with the S.L.O. Coast bottlings: clam and nduja pizza with Dunites albariño; abalone piccata with Outward's pinot gris bubbles; baked rice with mussels with Haliotide's extra brut rosé from Topotero Vineyard, next door to Bassi; frutti di mare with cherrystone clams and Santa Barbara lobster alongside Lady of the Sunshine's nero d'avola-pinot noir blend; and even a 2010 Les Galets pinot by Sinor-LaVallee with the "Marco Polo" black cod in soy.
The next morning's Camel ride was followed by a tour of Chêne Vineyards with Mikey and Gina, who's been moving the property in a biodynamic direction for five years now. She proudly showed off her brick-lined manure hole, and lifted a pile of former poop to my nose, where it smelled pleasantly of the freshest soil imaginable. At their winery on the warehouse-packed edge of San Luis Obispo, we sampled through barrels and discussed Mikey's nonvintage solera theories on chardonnay before devouring sandwiches from High Street Deli.
I've been quite impressed with the early vintages coming out of La Lomita Ranch, an estate and event venue with overnight options that was originally developed as an Arabian horse facility by a princess and prince from Mallorca. The ranch features the only vineyard to be planted directly into one of the volcanic plugs known as the Nine Sisters, a dramatic range that stretches all the way out to Morro Rock. Mikey, who makes the wine, introduced me to the family in charge, and we took in views from atop the steep vineyard, which overlooks the entire Edna Valley.
For dinner that evening, I made my way to Center of Effort, where I toured the cellar with assistant winemaker Kevin Bargetto, whose dad and uncles I know from Bargetto Winery and Soquel Vineyards up in Santa Cruz. Our eventual destination was Center of Effort's sleekly designed hospitality center, where Chef Lindsey Morin was preparing a multi-course, family-style feast in the open kitchen. Also joining us were winemakers Steve Dooley of Stephen Ross Cellars, Fred Delivert of Tolosa Winery, Shanna Vanderstoel of Cadre Wines, and Coby Parker-Garcia of El Lugar Wines.
"This is San Luis Obispo County on a plate," said the chef when dropping the first course: locally caught bluefin with citrus, cucumber, avocado, basil, shaved red onion, heirloom radish, and aleppo pepper. She could have said the same for every other dish, and for every one of the energetic wines we tried: lettuces with dates, aged blue cheese, and toasted walnut in a shallot-champagne vinaigrette; just-spicy-enough mussels in a marinara sauce; texture-perfect kale pesto pasta in a trumpet shape; and grilled lamb shoulder in Morin's "smo-gurt," as in smoked yogurt. And the flourless chocolate cake with vanilla mascarpone and toasted fig-leaf ice cream was no afterthought.
My last stop the next morning was at Talley Vineyards, where I caught up with winemaker Eric Johnson and his crew. They thanked me for being their excuse to get out and taste wine in the morning hours, which we did while discussing vine care and clones atop Rincon and Rosemary's vineyards.
Heading home, I passed the sign to the Huasna Valley and decided to check it out. While the fancy food and fine wine is a centerpiece of my career choice, I was drawn to covering the Central Coast's agricultural universe because I knew that it would take me down so many roads that I'd never traveled before. Huasna — which occupies a verdant landscape in the valleys west of Nipomo, south of Arroyo Grande, and north of Highway 166 — was one such road.
Despite my digital map's confidence otherwise, I discovered that the way into Huasna is always a dead-end route if you're headed south. Historically, you could make it to 166 if you knew the right ranchers, but that's no longer the case at all, since the substantial Huasna River bridge was completely blown out by the last storms.
The drive was rewarding nonetheless, revealing epic vistas, historic farmsteads, and even metal dinosaurs on the hills of that hidden valley. I'll be back again one day, perhaps with plans to explore a bit deeper.
Next Week
Stay tuned for a bit more S.L.O. County fun in next week's edition, this time focused on ancient astronomy and a sun shrine at Ancient Peaks.

I'll also have reports on my first tastes of Black Sheep S.B. Brasserie and Gala, plus Persian food in L.A., Mexican food in the Salinas Valley, the MFK Fisher documentary at SBIFF, an old wine book, and much more!

Yeah, I've been busy, and very full…..
From Our Table
Here's a lineup of stories you may have missed from our pages and website: