Food
Anchor Rose Blooms at the Harbor
Santa Barbara Heritage and New Passion Fuel Classic Location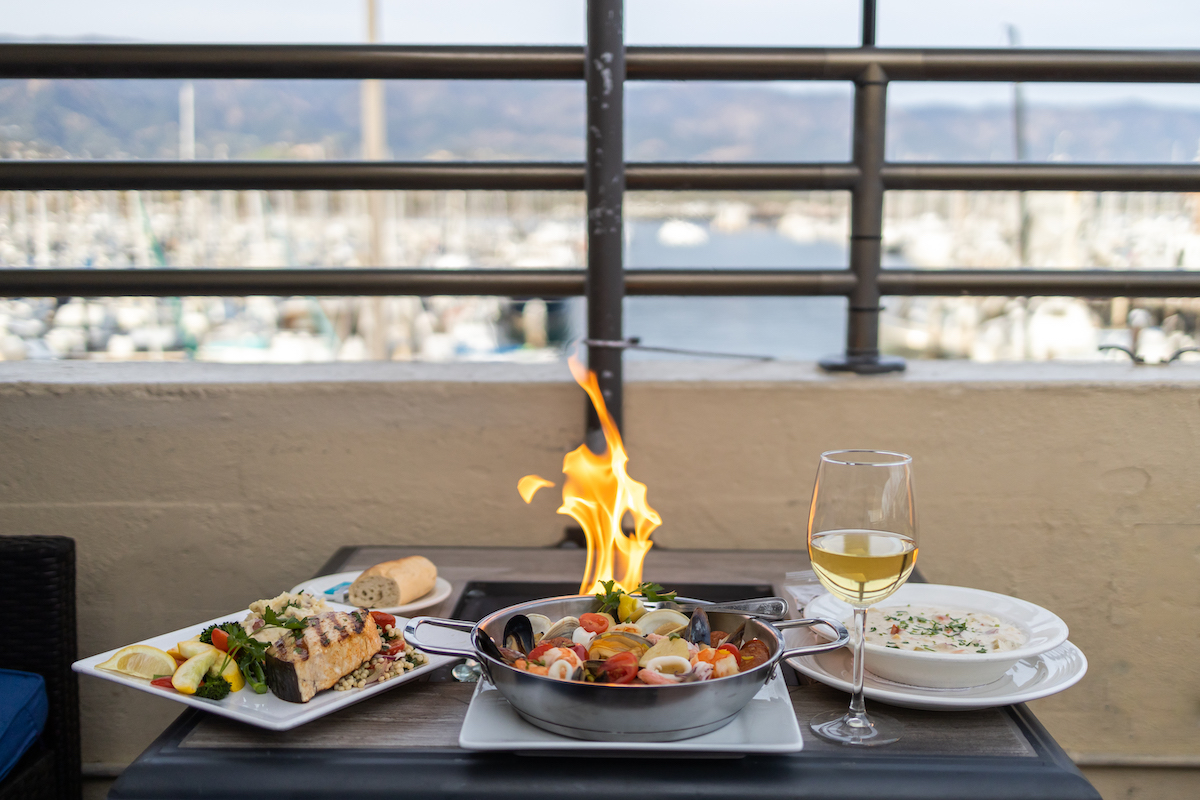 It's rare a place recently opened is instantly a family legacy, but not every place is Anchor Rose. The bubbly, quick with a hug owner-operator Amy Rose knows everyone's name as she cruises the dining room with the to-die-for harbor and mountain views. "I'm married to my work and my children are my people," Rose insists. But it's what the spot means to her for her father, Bob Rose, that's the real story.
Bob Rose lived in Santa Barbara and Goleta for 50 years, leading a restaurateur's life, including buying Harry's Café after the original Harry. Eventually his career led to owning six Black Bear Diners in the San Joaquin Valley. Though born and bred in Santa Barbara, Amy was living in Europe managing several Lululemon locations when her dad reached out in 2015 to say, "Come help me retire." So she came back to the states and put her business acumen to work.
But then COVID hit, and the family business went from 750 employees to 8. And personal tragedy struck, as Bob developed dementia. Hoping that opening a business closer to home might keep him going — Amy says, "When talking numbers, his brain started working again" — the Roses made a proposal for the Goleta Beach space formerly occupied by the Beachside, where Amy had worked for years back in her college days.
The County selected a different proposal, and the Roses continued looking for a local restaurant spot. When Aaron Petersen was looking for someone to take over Chomp on the Rocks/Salty on the Beach, "We signed the lease in October 2021 while my dad was still alive," Amy said, "but then he passed away in December." With the family estate tied up, she looked for partners and teamed up with Dennis Longaberger, owner of the Sunset Kidd, and Bryan Deminie, project manager at WD Construction in Santa Monica.
The Rose pitch for the Goleta location was to be called Port and Starboard, but that name didn't seem to fit the two-story, much larger Harbor Way location. "My dad was my guiding light and kept me grounded," Amy says, "so, given our location, it was easy to go with Anchor Rose as a way to honor him."
Anchor Rose also can be considered Beachside 2.0, as Rose has brought over some of the key personnel from that beloved institution. Her General Manager is Amado Simon, who worked at the Beachside for 29 years, including when Amy did. Her chef is Carlos Ramirez, also from the Beachside. But at Anchor Rose, Ramirez proudly says, "They let me have my own menu." That means the upstairs is an all-American seafood place with some Spanish and Mexican leanings, such as patatas bravas (Rose can't even get Ramirez to give her his bravas sauce recipe) and a customer-favorite chile rellenos con camarones. Everything is made from scratch (well, the bread comes from local faves Ethnic Breads).
The downstairs, or "below deck," as Amy calls it, is in the process of renovation, with a hoped-for opening in time for St. Patrick's Day. The goal is to build it out like the interior of a mega-yacht, with lots of teak and bespoke white leather booths — with a Spanish tapas style menu. The patio is also being redone with more fire pits and comfy couches. Amy is particularly happy to have co-owner Deminie in the restaurant construction business for support.
"The Bob Rose legacy is so layered, and now we're creating the Rose legacy," Amy sums up. "We're taking it up another notch. It's a long line of Santa Barbara heritage we're bringing back to this community."
113 Harbor Wy., Ste. 180; (805) 770-5069; theanchorrose.com