Drink
Tilden Nonalcoholic Cocktails Bring Complex Tastes to Sober Drinking
Vanessa Royle and Mariah Wood Enhancing Booze-Free Sipping Options from Santa Barbara to Boston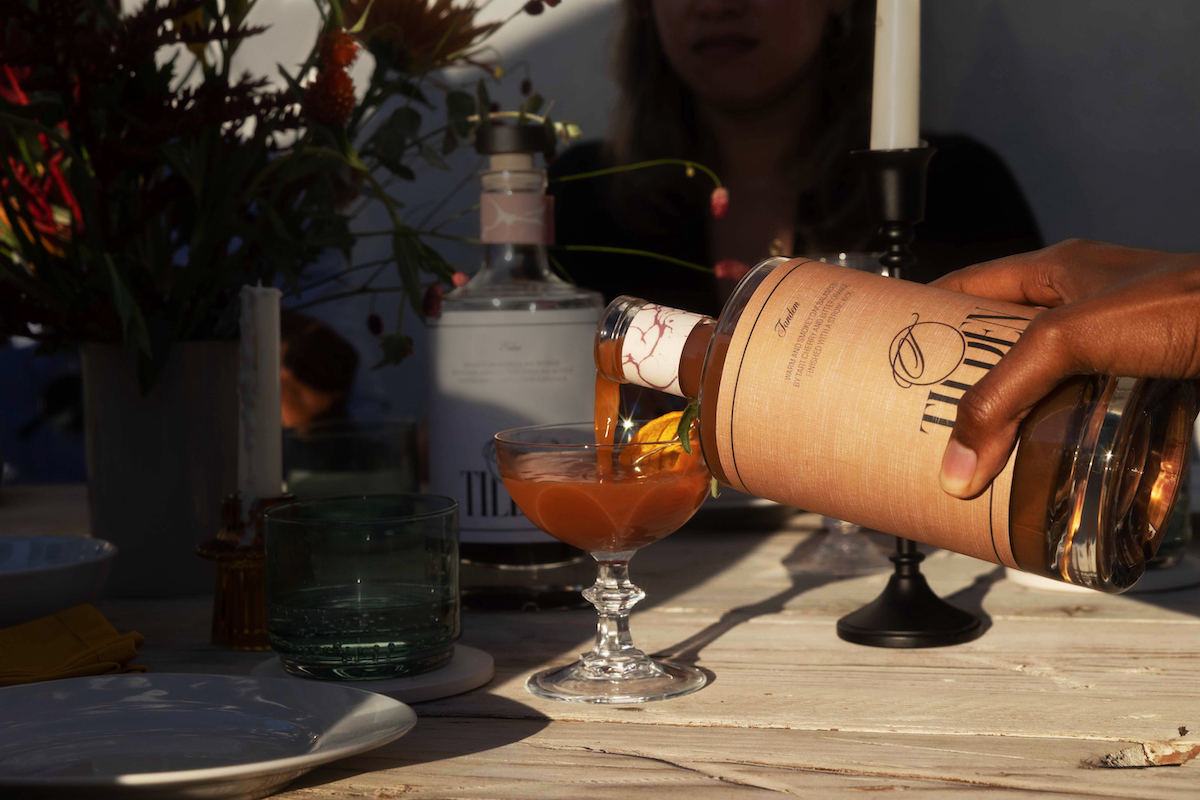 The pandemic divided people into two camps, explains Vanessa Royle, the cofounder of a just-launched line of nonalcoholic, ready-to-pour cocktails called Tilden.
"More people than ever increased their drinking, and more people than ever quit as well," said Royle, who found herself squarely in the latter group. "I was struggling mentally, and there didn't seem to be a reason for drinking, so I decided to quit."
The timing was right to reinvent herself. The San Jose–raised UC Berkeley grad was preparing to move from Santa Barbara, her husband's hometown, to Boston, where she was starting Harvard Business School in August 2020. Once there, and attending the school's boozy social engagements, she began telling people she didn't drink, and many responded that they'd also stopped or were cutting down. But no one knew what to drink at parties.
"It was like, 'Here's a scotch, and here's a really nice wine, and here's a La Croix for you, Vanessa,'" she recalled. "I'm 30 years old, sitting in a historic Boston bar, drinking a bubbly water."
Every January, the school hosts a two-week boot camp for students to explore potential business ideas. Given the dearth of mature nonalcoholic beverages — which was even more stark two years ago — Royle saw an opportunity to enter what's expected to become a $150 billion industry. The boot camp connected her to Mariah Wood, a lifelong teetotaler from Las Vegas with foodie and partying tendencies who had supply-chain-management experience.
They spent the next 18 months researching the market, crafting recipes, and connecting with sources for the unique ingredients that they wanted to include, like a black-currant extract only sold by one shop in New York. "All of our cocktails are concocted to have the sipping experience of a cocktail, with a beginning, a middle, and a finish," said Royle. "A lot of mocktails hit on the front but don't linger, and are chugged down quickly. We wanted something that forced you to sip it and be part of the conversation."
By August 2022, Royle and Wood settled on three flavors: Lacewing, a cucumber-basil-lychee blend that's herbaceous like a gin or vodka drink with hints of Szechuan pepper; the Eden, more tart in the vein of a margarita (this flavor won't be available for a few months); and the Tandem, which is smoky like a bourbon thanks to lapsang souchong tea. They're best poured over a big cube of ice and garnished with a cucumber ribbon or orange peel, but they work well with sparkling water or served warm like a hot toddy. And no one cares if you use it as a mixer for liquor either. 
---
Sign up for Indy Today to receive fresh news from Independent.com, in your inbox, every morning.
---
I tried the Lacewing and Tandem with Royle in my backyard just two days before her first commercial shipment arrived, and I found them both to be deliciously complex and quite satisfying. The only danger was drinking them too quickly, which could spell trouble since they do cost $29 per 750ml bottle. So hide Tilden from your kids, though they may find them a bit too adult anyway.
The extensive ingredient lists for each — which include cayenne for a bite on the finish and allulose as the primary plant-based sweetener/thickener — are completely natural, with no added sugar or preservatives. Unlike many NA competitors, Tilden does not feature "functional" ingredients like CBD or ashwagandha, as the founders wanted to focus purely on the sipping experience. Plus, they'd potentially lose customers who are pregnant, breastfeeding, or otherwise concerned about ingesting such ingredients.
For the name, Royle and Wood wanted something that was neither masculine nor feminine and that didn't come with any preconceived meanings. Tilden works well in that regard, unless you recognize it as the name of a park in Berkeley. Seeing the word "mocktail" as childish, they went with "nonalcoholic cocktail" as the description. Then they tested the name on the front lines. "We'd go to bars and yell at each other," said Royle. "'Tilden' was discernible."
While Wood remains in Boston, Royle returned to Santa Barbara in November. That's making these bicoastal cities the de facto test markets for the Tilden rollout, which started in February. Tilden is now being sold at such restaurants as The Daisy, Barbareño, Satellite, and the University Club, with retail available at Montecito Village Grocery. Orders can also be placed online at drinktilden.com.
With an eye on one day landing accounts for hotel minibars and airlines, Royle believes that her beverage is leading the way for younger people, especially Gen Zers who just aren't taking to alcohol like their parents or grandparents did. "Our generation will be the last generation that compares these to existing cocktails," said Royle. "It won't need to taste like a Manhattan or a gin and tonic, because they don't even know what that tastes like."
Even if Tilden doesn't win out in this highly competitive, emerging market, Royle knows her time has been well spent. "The beverage industry is so hard; CPG is so hard," she said of the notoriously cutthroat consumer packaged goods industry. "I learn so many new things every day."
See drinktilden.com.