Public Safety
What's with All the Fallen Trees in Santa Barbara?
Urban Forest Superintendent Nathan Slack Sheds Light on Storm-Damaged Trees Across the City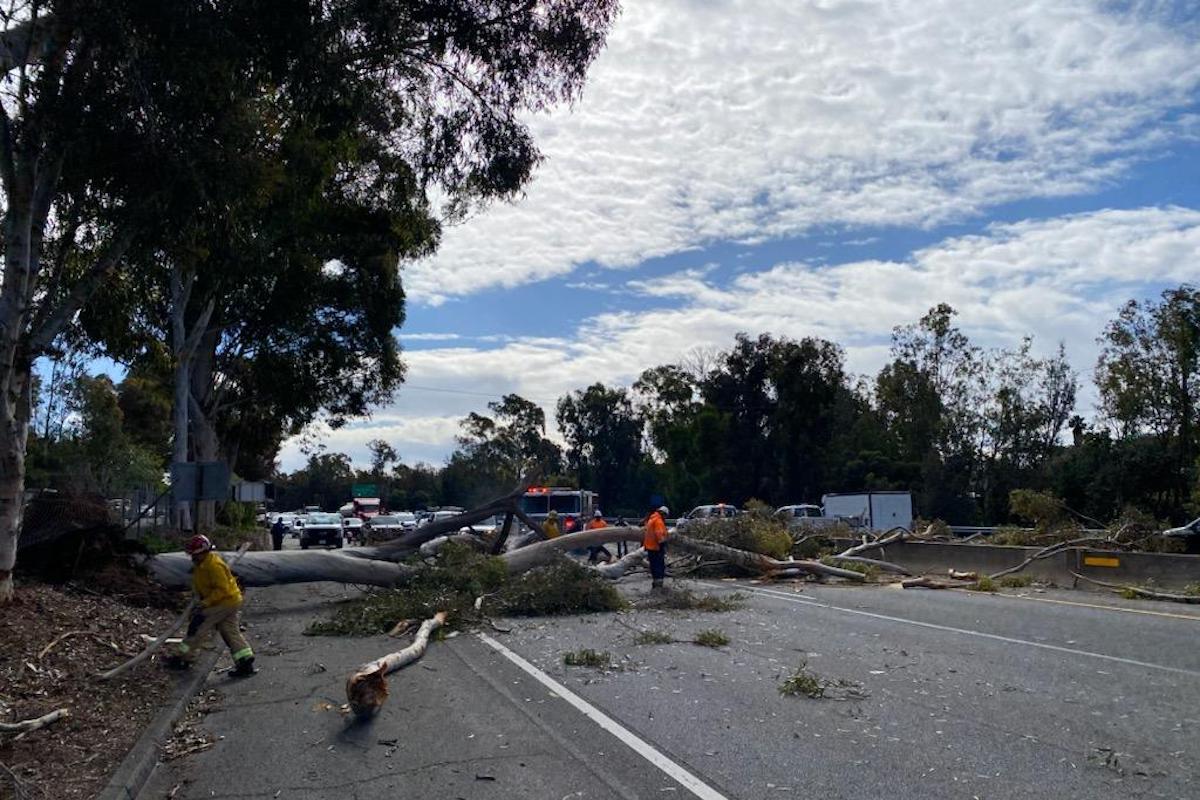 In recent weeks, severe weather has caused a wave of downed and damaged trees in the Santa Barbara area, with a pair of eucalyptus trees falling at Shoreline Park and another large eucalyptus dropping across all three lanes and shutting down one side of the 101 freeway for several hours while emergency crews cleared the debris, among several other reports of trees damaging houses and utilities across the city.
According to Nathan Slack, the city's Urban Forest Superintendent, there have been at least 40 downed trees reported since the beginning of the year, although the Parks & Recreation Department only keeps track of city-owned trees or trees that fall in the public right of way, so the actual number of fallen trees may be higher.
"This is higher than in past years, but we haven't had many storms in previous years, so it's not a perfect comparison," Slack said.
About half of the fallen trees this year have been on undeveloped parkland, where trees do not receive the same level of maintenance as street trees, he said, though each storm system and fallen tree tell a different story based on where they are located.
"Each storm system in Santa Barbara tends to be unique, and the species of tree failures often depends on which parts of town are impacted," Slack said. "Each tree failure is also unique, and a number of factors go into a failure, such as prolonged drought and site conditions that may affect a tree's root system."
In some areas, where a fallen tree has roots intact and the trunk and branches don't pose a risk to public safety or access, the city will opt to leave it as it is in order to let it "continue to provide the benefits trees are known for, like carbon sequestration and stormwater management," he said.
"This has been the case with some oak trees at Oak Park and Mission Historical Park that fell during January's storms," he said.
The heavy rains and high winds took down several species of trees in Santa Barbara this year, such as coast live oak, Monterey cypress, or most commonly, blue gum eucalyptus.
While eucalyptus in the area can grow especially large both in height and canopy spread, Slack said that "large trees are not inherently problematic, but are subject to different loads than smaller trees during storms."
Their roots typically rely on friction to hold up the tree, but with heavy rain the soil can become saturated and, "combined with high winds," he said, "this can lead to tree failure, regardless of species."
The city's Urban Forestry Program takes care of more than 35,000 street trees, more than 9,000 public trees in developed parks and landscaped areas of public facilities, and around 30,000 trees in city-managed open spaces. For more information, visit the department website.