Sports
SBCC Women's Lacrosse Dominates in Return to La Playa Stadium
The Vaqueros Are 8-0 This Season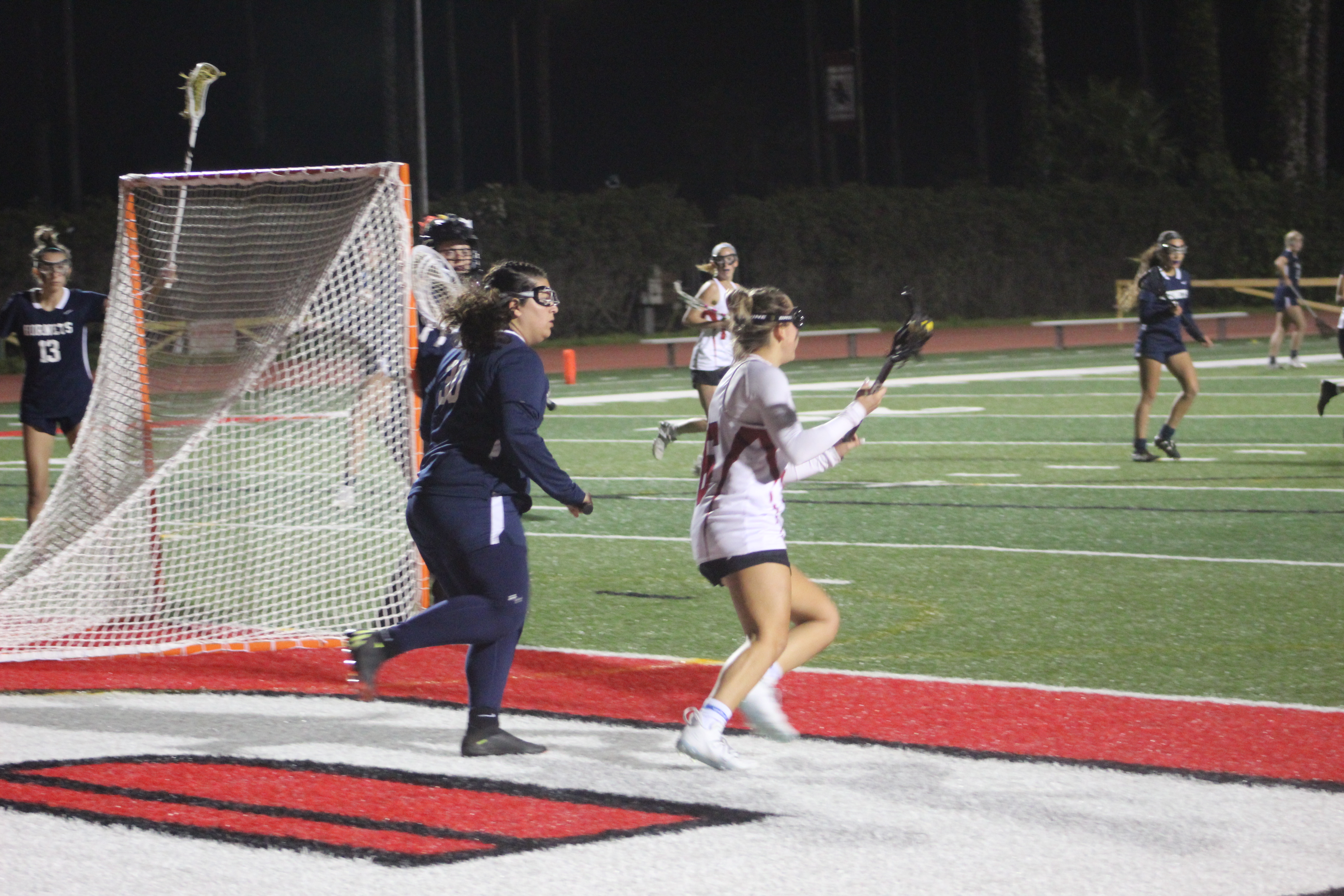 The SBCC women's club lacrosse team made the most of its lone home game of the season as the revitalized program that was paused due to the pandemic has emerged as a powerhouse.
The undefeated Vaqueros (8-0) defeated Fullerton College 17-4 on Wednesday night at La Playa Stadium, adding another victory to a string of dominant performances this season.  
"It's our first home game and only one of the season, so it's nice to get that played," said SBCC coach Paul Ramsey. "Everybody worked really hard during the game, and it was good to see that against Fullerton's intercollegiate varsity team."
In its first year of competition since the pandemic, SBCC is ranked No. 5 nationally according to the U.S.A. Lacrosse Division 2 rankings. The Vaqueros have defeated opponents by an average score of 18-3 with many of the wins coming against intercollegiate teams. 
The continuation of the SBCC women's club lacrosse team has been years in the making, and after players persevered through COVID-19-induced delays, finally gained steam in spring 2022 leading into this Spring 23 season.  
"This year they really pushed hard with the administration to get the team going and finally have the opportunity to play like this," Ramsey said. "You can see the talent. it would be a real shame if they weren't playing."
Jordan Mutscheller and Sabrina Forbes led the way for SBCC against Fullerton with five goals apiece. Ramsey was really happy with the play of his midfielders, including Forbes, Kiara Kofoed, and Marianna Gamet, who did an excellent job turning excellent defense into transition offense and scored the first three goals of the game.
As the game progressed, Mutscheller developed a rhythm on the attack from her forward position, which led to three goals in the third quarter. 
Sophomore goalie Tatum Davis had six saves on 10 Fullerton shots against her to save 60 percent. The entire defense played well and held Fullerton, a team that has demonstrated considerable goal-scoring prowess this season, to only four goals.
"They all happened to be here," said Ramsey of the talented collection of players that have made this season an overwhelming success. "COVID interrupted having a program; in 2021, they tried to start it for spring '22."
SBCC improved to 8-0 overall and is 3-0 in WWLL Central. Their competition is through the Western Women's Lacrosse League and not the CCAAA. The Vaqueros are looking forward to the WWLL State Championship tournament at UC San Diego on April 15-16. Fullerton dropped to 3-5 overall and are 2-2 in WWLL South.