Sports
Reagan Arnold's Buzzer-Beater Lifts Dos Pueblos Girls' Lacrosse Over San Marcos
The Chargers Move Into First Place with the Victory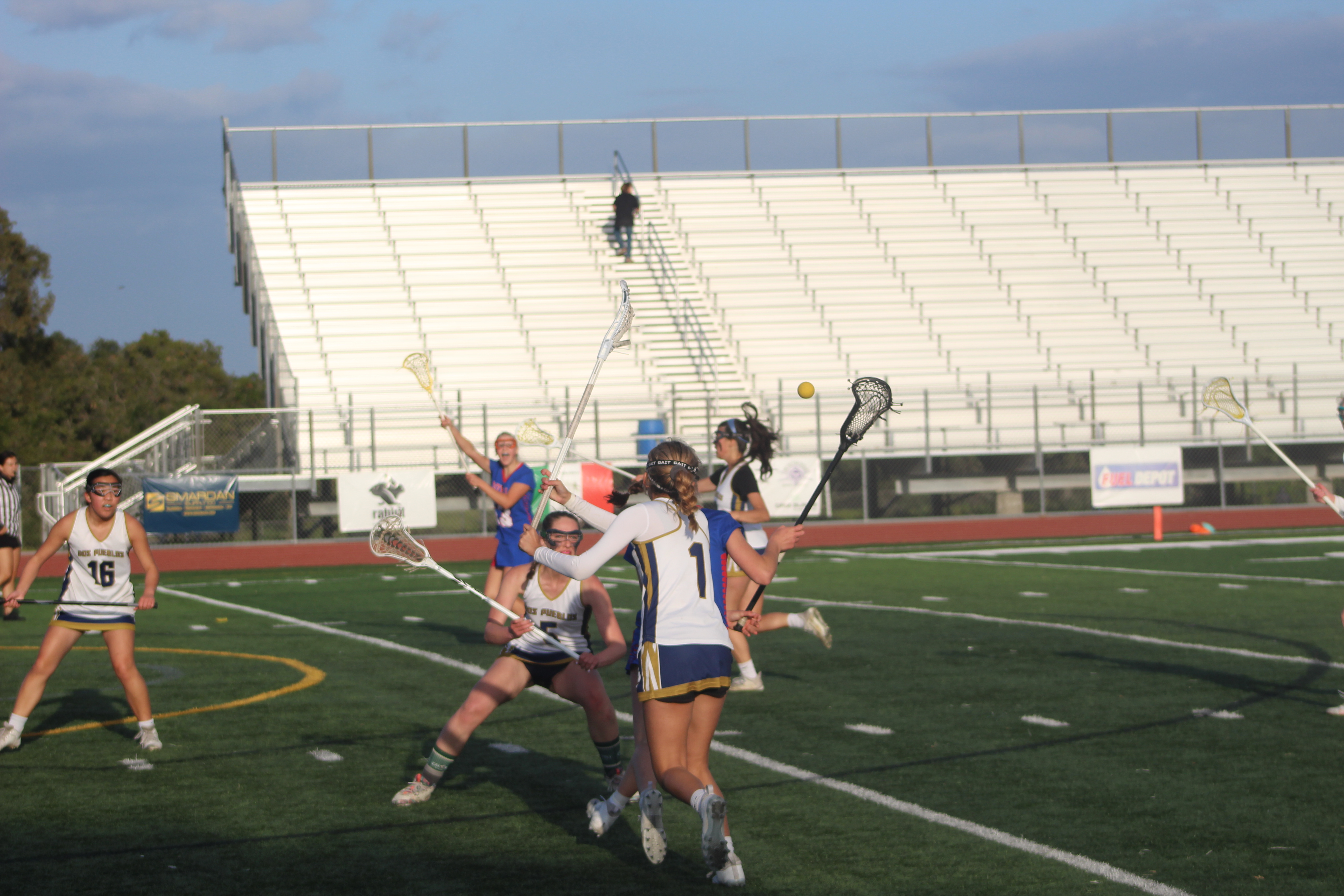 Reagan Arnold slashed through the San Marcos defense and scored the game-winning goal as the final buzzer sounded to lift the Dos Pueblos girls' lacrosse team to an 11-10 victory.
There were only five seconds on the clock when Arnold made her decisive move and created a moment she will never forget.
"I knew that it was the last play, and I had to make it count. Even if I didn't think it was the best play and I wouldn't usually go for it, I knew I just had to go for it and that I had to trust myself," Arnold said. "At the end of the day, I just relied on my fundamentals, and that's what got me there."
The two rivals went back and forth throughout the match with first place in the Channel League on the line. There were incredible performances all over the field, but it was Avery Ball of Dos Pueblos and Mia Martinez-Tomatis of San Marcos who carried the scoring load for their respective teams. 
Ball finished with a game-high eight goals and helped lift the Chargers from a 7-5 deficit early in the second half.
"When she has the ball, she knows what she wants to do with it and she'll execute with no hesitation," said Dos Pueblos coach Anais Jimenez. "She is just a natural-born leader. She is able to relate to everyone on and off the field. She helps me out coaching since I don't have an assistant, because she does have that high of a lacrosse IQ."
Martinez-Tomatis finished with five goals, including an impressive run down the field in transition that gave the Royals a 10-9 lead with 4:51 remaining.
"I would say Avery as a senior is more experienced and she has been playing lacrosse longer, but Mia is catching up to that level, which is really nice for us," said San Marcos coach Paul Ramsey. "They kind of each get their goals in similar ways."
Ball got the Chargers out to a 2-0 lead with two early goals, but San Marcos responded with a 4-0 run capped off by a Sadi Adams goal with 2:14 remaining in the first half. Ball came right back and scored off the ensuing faceoff to cut the Dos Pueblos deficit to 4-3 going into halftime.
The two goalkeepers Megan Taylor of San Marcos and Maddie Nees of Dos Pueblos played very well overall and made it tough to score, especially in the first half.
The Royals took an 8-6 lead with 15:13 remaining in the second half on a goal by KC Springer, but that's when momentum shifted. Dos Pueblos went on to score three consecutive goals, including a goal by Miranda Hough-Pattison on an eight-meter free-position shot that gave the Chargers a 9-8 lead with 10:18 remaining. 
"In the second half, we were able to focus on our fundamentals a lot better and focus our energy on playing better," Jimenez said. "We were able to get in more subs, which was nice to get some fresh legs out there, because it was a bit of a track meet for a while."
Ball evened the score at 10-10 with a goal in heavy traffic with 2:23 remaining in the game. The Chargers were able to dominate possession over the last two minutes, setting the stage for Arnold's game-winner.
"I'm proud of the way the girls brought their energy and enthusiasm into this high-level game in a battle with a crosstown rival who is five-time defending Channel League champion," said Ramsey of his team's performance in defeat.
The victory gives Dos Pueblos (6-5 overall, 4-1 Channel League) sole possession of first place.