Community
Chumash Elder Ernestine Ygnacio-De Soto Announced as Fiesta Parade Grand Marshal
For First Time in History, Tribal Elder Will Take Prominent Role in El Desfile Histórico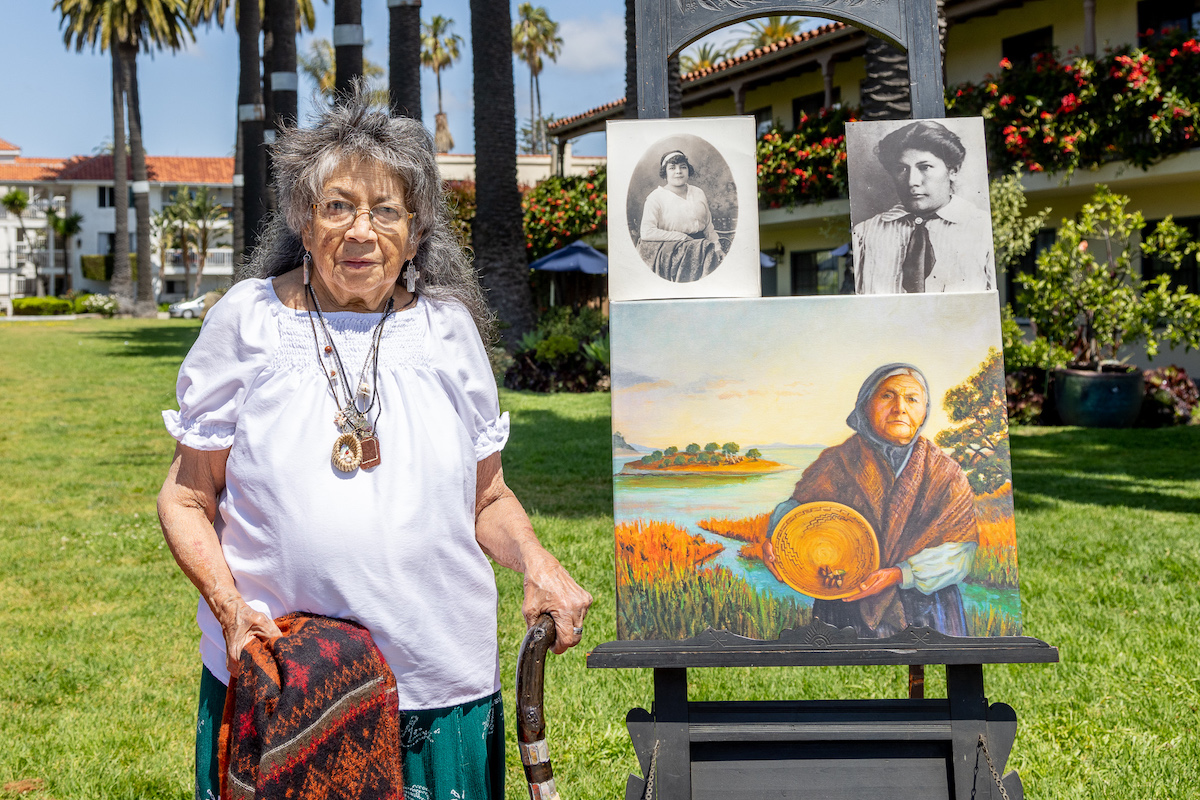 For the first time in history, a Barbareño Chumash elder will ride front and center as grand marshal of this year's Fiesta Parade, as it makes its way down Cabrillo Boulevard and past the site of the ancestral village of Syuxtun, which is noted to be among the largest Chumash communities along the South Coast.
Since the first El Desfile Histórico (Historical Parade) in 1924, the event has served as the centerpiece of Santa Barbara's annual celebration of Old Spanish Days. Now, nearly 100 years later, the parade will celebrate the area's deep native roots as well, with Chumash elder Ernestine Ygnacio-De Soto — whose family has been a part of the community for generations — selected for the most prominent role.
"Being asked to be the Fiesta parade grand marshal is a wonderful opportunity to show our Santa Barbara community that we Chumash are still here and that we have left our mark on this place," Ygnacio-De Soto said. "Our presence was the first, and our town of Syuxtun, located at the harbor front, was the first village here. Our younger generation is following us, making their contributions to our community and to keeping our Chumash traditions alive. I am pleased to represent the recognition of the Chumash roots of our Ygnacio family."
Old Spanish Days 2023 El Presidente David Bolton said that the choice for grand marshal is always based on honoring the "history, culture, and traditions" of the community.
"Old Spanish Days Fiesta is proud to honor Ernestine and the Chumash for their multigenerational contributions toward building the Santa Barbara community that we know today," Bolton said. "The Chumash were here first, and they remain here today. They have played an important role in our history. They truly deserve this honor."
Ygnacio-De Soto's family has deep connections to Santa Barbara and the Americas. DNA traces her ancestry as far back as 13,000 years ago; her great-great-grandmother Maria Ygnacio was the last known survivor to be born in the village of Syuxtun; and her mother, Mary Yee, is noted to be the last native speaker of the Šmuwič Chumash language.
"In our 178-member Chumash Ygnacio family alone, we represent the multi-ethnic diversity that is modern Santa Barbara. Our family today reflects many groups — Chumash, Chinese, Mexican, English, Norwegian, Danish, Filipino, French, Italian, and a host of other cultures that have contributed much to our community," Ygnacio-De Soto said.
Ygnacio-De Soto will ride along the parade route in a horse and carriage with other family members. This year's El Desfile Histórico will be on Friday, August 5, at noon, and will travel along Cabrillo Boulevard from Castillo Street to Calle Puerto Vallarta.
On the same day, a full-size replica of Juan Cabrillo's ship, the San Salvador — which observed the village of Syuxtun in 1542 — will be in the Santa Barbara Harbor, offering free tours to the community.