Over the mountains from the Riviera's palatial, ocean-viewing mansions and far up the Santa Ynez River on the southeast bank of Gibraltar Reservoir lie the dilapidated remains of the Sunbird Quicksilver Mine. There, crooked wooden walls and towers, iron smokestacks and antiquated machinery, a couple of old trucks and track-mounted ore carts sit rotted, rusty, and bent from exposure and decades of neglect. For those intrepid hikers and bikers willing to trudge the five or so dry, sun-soaked, poison-oaked miles in, and who enjoy beautiful landscapes pockmarked with post-industrial ruins, this desolate place offers all the elements for a nice little Saturday.
The Mine Back Then
Although the Chumash had hunted up and down the river basin long before maps placed it on the Mexican land grant for Rancho Los Prietos y Najalayegua, the Gibraltar Narrows remained fairly quiet until the 1860s, when miner-prospector Jose Moraga noticed a reddish rocky outcropping he suspected contained quicksilver.
For the extremely uninitiated, quicksilver is more than a surfwear company. It's the adventurous-sounding name for mercury, the heavy, scientifically instrumental, and highly toxic element. It has been used for thousands of years in everything from ancient Chinese alchemist's potions and Egyptian cosmetics to dental fillings, electronics, insecticides, munitions, and scores of other ways that often unwittingly helped end people's lives prematurely.
In nature it often occurs as mercuric sulfide, or cinnabar, a thick and massive reddish ore lodged in mountainsides. As early as 1558, Europeans discovered that if this is crushed and heated enough, the mercury evaporates and, if captured, can be condensed back to its pure liquid form, and then used to separate - or quicken - from their imprisoning rock precious metals like silver and gold.
After 1849, when millions flooded in to strip the American West of its gold and silver, many others flocked to the California Coast Ranges in search of cinnabar to supply the ore-seekers' sluice boxes and assay offices. Between the 1840s and 1960s, more than 220 million pounds of elemental mercury was produced from who-knows-how-many millions more pounds of ore in one of the state's first multi-billion-dollar industries.
By the 1870s, our own Gibraltar Mine was blasting, boiling, and bottling its way into the market, housing and employing up to 400 men at a time, including many Chinese to do the dirty work. Six-mule teams carried many hundreds of thousands of pounds of equipment and refined quicksilver over a battered road that crossed the river 22 times.
But over time, the mine's extreme remoteness and periodic weather-induced isolation made it less competitive with new mines springing up across the north. Later, a flurry of legal hassles over property lines and mining claims (Moraga even jumped one), an alleged "squatters rights" battle, and a handful of fatal accidents and suicides further complicated things for the mine's many subsequent owners. Eventually, the continually plummeting price of mercury set the mine's long slow course into disrepair and eventual desertion.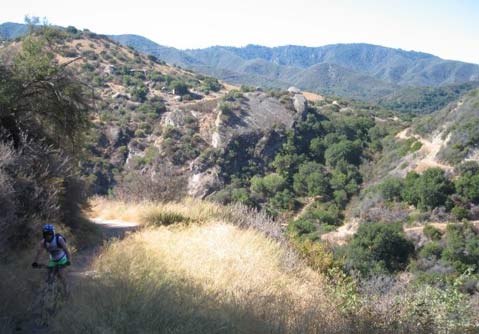 Devon Blunden