Santa Barbara prides itself on being a quaint little city with the cultural heartbeat of a metropolis. Though you could pretty much walk from one end of town to the other in an afternoon, we've got more concerts, plays, symphonies, galleries, restaurants, and bars than cities five times our size. One big-city sensation that Santa Barbara notoriously has lacked throughout the years, however, is late-night dining-the post-event, past-bar-closing-time activity that keeps the neighborhoods of Manhattan, Los Angeles, San Francisco, and elsewhere buzzing way past midnight. Thankfully, there's been a recent growth of such options in Santa Barbara-especially in the higher-end dining sector-and we hope that trend continues. Here's a look at some of these places burning their ovens into the wee hours.
Quick and Convenient
Lower State Street fosters a veritable cottage industry of late-night food service. Many bargoers find themselves at 2 a.m. passing the bouncer and waiting in line at Uncle Rocco's New York Pizza (437 State St., 884-0994), where a big slice or two will set up your stomach for a soft morning landing. The explosion of hot doggeries is also serving the bar crowd well, particularly in the form of Mad Dogs (505 State St., 963-4233), where there's always a late-night line. Link love is also on tap at Lettuce B. Frank (413 State St., 965-7948), though their menu doesn't stop with dogs, also featuring corn pups, fries with pulled pork, and chicken sandwiches.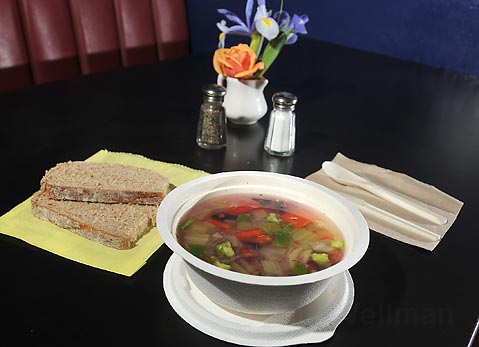 By Paul Wellman