To Edward Juarez, being at a mariachi concert evokes feelings for the father he never knew. When the band plays songs from Zacatecas, Mexico — his father's supposed place of origin — Juarez closes his eyes and imagines his dad listening to the swell of the violin, the twang of the guitar.
"Maybe my father thinks to himself, 'What ever happened to my son?' I know I wonder about him," he said.
Juarez is a resident of Guadalupe, a small city in northern Santa Barbara County served by ¡Viva el Arte de Santa Bárbara! It's a program that brings musical and dance performances to the Latino community — countywide and free of charge.
Now on disability after years of agricultural work that damaged his back and knees, Juarez, 51, attends Viva events with his sister and his girlfriend. The affordable entertainment and quality family time are precious to him.
Other Viva patrons and volunteers tell the same story as Juarez — the music connects them to their culture, reminds them of their grandmother's kitchen radio, and takes them back to childhood birthday parties that reunited family members traveling from far away.
In its sixth season, ¡Viva el Arte de Santa Bárbara! is a collaboration of UCSB's Arts & Lectures, the Marjorie Luke Theatre, Isla Vista School, and the Guadalupe Cultural Arts and Education Center. Grant monies underwrite admission charges. But it is the outreach efforts that make the program successful.
Three outreach coordinators — in Santa Barbara, Isla Vista, and Guadalupe — spread the word about all the Viva offerings: concerts, dance fests, school assemblies, and community gatherings. Latino families who would other­wise be priced out of a fine arts performance can enjoy an evening of mariachi or ballet folklórico. Earlier in the day, their children interact with performers in an informal workshop in the school auditorium. While in residence in Santa Barbara during a long weekend, the artists also meet neighborhood people at a community center, perform a few songs, and then sit down for tamales and horchata with their hosts.
For years, the arts establishment knew there was an underserved population of residents in Santa Barbara County. Working-class people couldn't always afford tickets to the Granada or the Lobero. And the university's venues were seemingly not accessible either. Families living in downtown Santa Barbara, sometimes without a vehicle, viewed UCSB as a place for the educated, for the wealthy — and certainly not for them.
Knowing that meeting this challenge would take a new kind of collaborative project, three geniuses of the arts world put their heads together and conceived ¡Viva el Arte! Rod Lathim of the Marjorie Luke Theatre, Celesta Billeci of UCSB's Arts & Lectures, and Patrick Davis, then director of the Santa Barbara County Arts Commission, mapped out a plan to connect ordinary people to the arts.
"There was a running joke," said Lathim. "If you had a singer with a Spanish surname perform in a classical music group, then you were successful. But that wouldn't really be bringing in a Latino audience. With this program, we build trust and involvement. We give the audiences culturally relevant arts."
So, how does Viva work? First, programming experts at the esteemed Arts & Lectures office compile a list of performers that is then circulated to the communities served by the Viva outreach workers. Community members choose their favorites, and those artists are booked at the Marjorie Luke Theatre, located in Santa Barbara's Eastside, and in Guadalupe, either at the Royal Theatre or City Hall auditorium. Other activities are staged at schools, housing projects, or community gathering spots.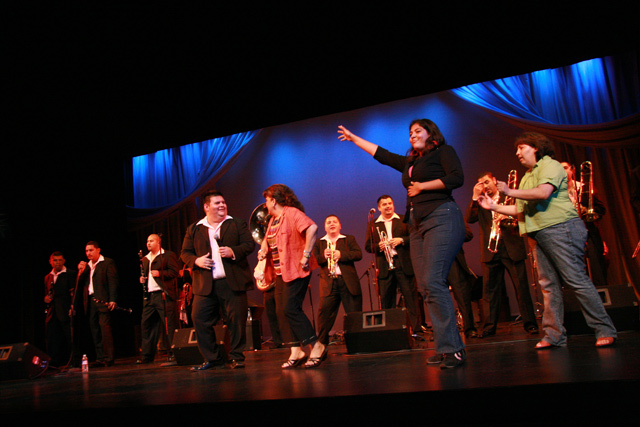 Rod Lathim