It's an open secret that Santa Barbara's U.S. Representative Lois Capps is notoriously nice. Four times running, she's been officially proclaimed the Nicest Member of Congress by Washingtonian Magazine, an award based on annual surveys of Capitol Hill staff. Over the years, Capps's numerous Republican opponents have seized upon this as if they somehow had discovered her fatal flaw. They first condescend to acknowledge Capps as "a nice lady," and then begin savaging her as an ineffective political lightweight, knee-jerk liberal, and Democratic Party stooge who never would have gotten elected had her late husband, Walter Capps, not died suddenly just nine months into his first congressional term. Lois Capps always returns the compliment by beating each and every one of her opponents — without ever raising her voice. Being nice definitely helps. As one of her victims, Vic Tognazzini, her 2006 defeated challenger, explained: "Before our debate, we shook hands. Afterward, we hugged. You really can't sling mud at Lois. She's too nice." But by the end of the race, Tognazzini, a big bear hug of a man and no stranger to high-stakes politics, said he felt "deflated and defeated." The nice lady, he discovered, "has a tremendous, tremendous grassroots organization. Just tremendous. And she raises a ton of money."
Capps's toughness, however, transcends political machine and campaign grease. She radiates that gracious, disciplined, quietly devout, get-it-done, Scandinavian resolve bred in the frozen marrow of small Wisconsin towns like Ladysmith, where she grew up the daughter of Milton Grimsrud, a Lutheran minister, and Solveig Gullixon, a professional violinist. Consider this: In the 12 months after her husband died in 1997, Lois Capps had to run no less than four times to hold on to his seat. Two years later, she ran again, in perhaps her most challenging contest, against Republican perennial Mike Stoker. Shortly before that race, one of her two daughters, Lisa Capps, died of cancer.
But her inner grit was no surprise to those who knew her well. Without his wife, many political insiders believe, it is doubtful Walter Capps could have won in 1996. Walter, the highly popular head of UCSB's prestigious religious studies program, had that rare political gift of always appearing wisely Lincolnesque, even when he was fumbling. But he wasn't a master of political organization. It was Lois who provided the emotional center and logistical core for his group of intensely idealistic but woefully inexperienced volunteers struggling to elect a Democrat in a district Republicans had held since 1947. Then, late in the campaign, Walter suffered a near-fatal, head-on collision on San Marcos Pass. Not only did Lois Capps have to help nurse her seriously injured husband, but she also had to serve as surrogate candidate in what was then one of the most bitterly fought, high-profile, big-money, partisan showdowns in the country. For a high school nurse who'd never run for office, it couldn't get more intense. To outside observers, she was the picture of stalwart calm.
Where Walter was radiant and could ruminate endlessly about the virtues of "Jeffersonian democracy," Lois was focused, practical, and always thinking two steps ahead. But they shared the same values and political ideals. Though she had already earned her nursing degree, she, like her husband, had attended Yale Divinity School, earning a master's degree, as well. Yale would have a profound effect on both of them. Lois had come from a family of lifelong Republicans. "All of them," she said, laughing with a sweep of her hand. What changed things for her, she said, was the civil rights movement of the early 1960s. At Yale, they met many Freedom Riders, idealistic white college students who had flocked to the South in support of voter registration and the end of segregation — and had their heads cracked for the privilege. That experience — and that time — helped reset their political clocks. When the couple moved to Santa Barbara in 1964, where they raised three kids, Lois Capps worked as a public school nurse and administered a program focusing on the needs of pregnant high school girls. Those experiences also helped form her political and moral viewpoints.
The Pleasant Powerhouse
Since then, in the 14 years she has represented her district, Capps — still tall, slender, and wholesomely apple-cheeked — has morphed from admitted political neophyte to bona fide Beltway insider. Though no landmark legislation bears her name, she serves on one of the three most powerful committees Congress has to offer, Energy and Commerce, out of which the historic health-care–reform package — now the prime target of the repeal-minded Republicans — originally sprang. As part of her commitment to constituent service — the thankless bread-and-butter by which many elected officials rise or fall — Capps makes a point to fly back to the district almost every weekend, sometimes over the groaning objections of her staff.
Recently, opponents have hammered Capps for losing nearly $14 million in earmarks she thought she had secured for her district during the waning days of 2010. But prior to that, she has certainly brought home the bacon. In 2009, for example, Capps delivered $44 million in federal funds to the district, securing the millions needed to build the Santa Maria Levee. She even snagged $1.6 million in Department of Defense earmarks at the instigation of her most recent campaign opponent, Tom Watson, who happens to be an executive with a Goleta-based R&D firm.
When it comes to issues of health care, education, coastal protection, and offshore oil, she's a player. It was Capps — a regular attendee of congressional prayer gatherings — who started the first congressional briefing on repealing "don't ask, don't tell" by linking key movers-and-shakers on the Hill with scholars at UCSB's Palm Center, the only think tank in the country to specialize on the subject of gays in the military. When pro-life congressmembers inserted language into the health care bill last summer that would restrict funding options for women seeking abortion services, Capps — the ex-school nurse —  jumped into the fray and sought to protect the status quo by suggesting compromise language. In that instance, her compromise was defeated. When BP execs were given the congressional hot seat after this summer's disastrous spill in the Gulf of Mexico, it was Capps — who lived through Santa Barbara's oil spill of 1969 — who asked some of the most pointed questions.
When right-wing Republican Congressmember Duncan Hunter of El Cajon succeeded in passing 2006 legislation making Santa Rosa Island a private hunting sanctuary for disabled veterans — over the objections of many veterans groups — Capps appealed to Senators Barbara Boxer and Diane Feinstein — with whom she's on good terms — who had Hunter's language removed from the Senate version of the same bill.
Less measurable in impact, but certainly more intriguing, is Capps's daughter Laura, who has a powerful Capitol Hill résumé of her own. She worked for Senator Ted Kennedy and for Clinton advisor George Stephanopoulos and is married to the Number-Two Man in President Barack Obama's communications machine, Bill Burton. Not only does this give Lois access to powerful political realms, but it also fuels speculation that Laura might want to succeed her mother in Congress, creating in effect, a Capps dynasty.
But despite all this, local Republicans continue to demand, what has she ever done? while Santa Barbara's progressive Democrats are inclined to ask, what has she done for us lately? Though Capps was one of few members of Congress — of either party — to vote against giving former President George W. Bush the green light to wage war on Iraq, she has since voted to give President Obama the funding he sought to wage war in Afghanistan. Some South Coast anti-war activists — as well as younger, more liberal Democrats — have expressed disappointment with this vote. Capps says she is concerned that Obama has extended troop exit dates, but that she is also concerned about the human rights and safety of Afghan women once the U.S. withdraws.
Such criticism aside, Capps remains the undisputed 800-pound gorilla in local Democratic circles. Even the ever acerbic campaign consultant Jeremy Lindaman said Capps's endorsement was the single greatest asset any Santa Barbara Democrat running for office could have; Capps is not just well-known, but well liked. Her endorsement matters. To an extent unusual for national or statewide office holders, Capps has aggressively inserted herself into city and county races. When Texas multimillionaire Randall Van Wolfswinkel spent $750,000 trying to elect a new conservative majority on Santa Barbara's City Council last year, Capps jumped in and lent both her name and her resources to get Helene Schneider elected Santa Barbara mayor, as well as to place on the council Bendy White and Grant House, all progressive liberals. Capps's support proved pivotal for County Supervisors Janet Wolf and Doreen Farr's elections, and it's hardly coincidental that former Capps staffers Chris Henson and Jeremy Tittle currently hold key positions with Supervisors Farr and Salud Carbajal respectively.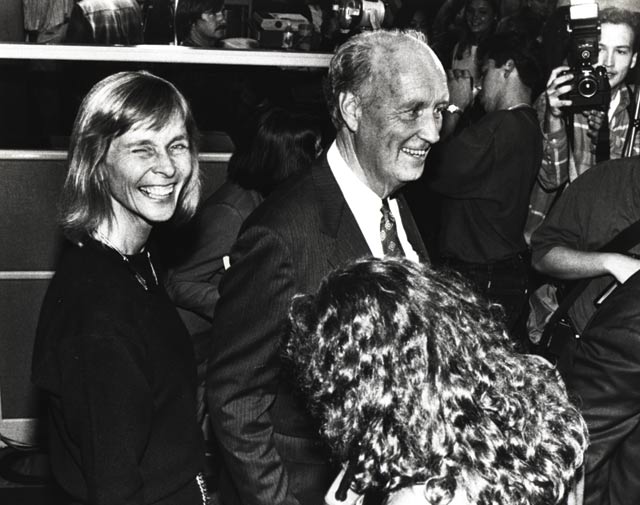 Kim Reierson