Cover Story
The Power of Nice
Lois Capps: From Accidental Representative to 800-Pound Political Gorilla
It's an open secret that Santa Barbara's U.S. Representative Lois Capps is notoriously nice. Four times running, she's been officially proclaimed the Nicest Member of Congress by Washingtonian Magazine, an award based on annual surveys of Capitol Hill staff. Over the years, Capps's numerous Republican opponents have seized upon this as if they somehow had discovered her fatal flaw. They first condescend to acknowledge Capps as "a nice lady," and then begin savaging her as an ineffective political lightweight, knee-jerk liberal, and Democratic Party stooge who never would have gotten elected had her late husband, Walter Capps, not died suddenly just nine months into his first congressional term. Lois Capps always returns the compliment by beating each and every one of her opponents — without ever raising her voice. Being nice definitely helps. As one of her victims, Vic Tognazzini, her 2006 defeated challenger, explained: "Before our debate, we shook hands. Afterward, we hugged. You really can't sling mud at Lois. She's too nice." But by the end of the race, Tognazzini, a big bear hug of a man and no stranger to high-stakes politics, said he felt "deflated and defeated." The nice lady, he discovered, "has a tremendous, tremendous grassroots organization. Just tremendous. And she raises a ton of money."
Capps's toughness, however, transcends political machine and campaign grease. She radiates that gracious, disciplined, quietly devout, get-it-done, Scandinavian resolve bred in the frozen marrow of small Wisconsin towns like Ladysmith, where she grew up the daughter of Milton Grimsrud, a Lutheran minister, and Solveig Gullixon, a professional violinist. Consider this: In the 12 months after her husband died in 1997, Lois Capps had to run no less than four times to hold on to his seat. Two years later, she ran again, in perhaps her most challenging contest, against Republican perennial Mike Stoker. Shortly before that race, one of her two daughters, Lisa Capps, died of cancer.
But her inner grit was no surprise to those who knew her well. Without his wife, many political insiders believe, it is doubtful Walter Capps could have won in 1996. Walter, the highly popular head of UCSB's prestigious religious studies program, had that rare political gift of always appearing wisely Lincolnesque, even when he was fumbling. But he wasn't a master of political organization. It was Lois who provided the emotional center and logistical core for his group of intensely idealistic but woefully inexperienced volunteers struggling to elect a Democrat in a district Republicans had held since 1947. Then, late in the campaign, Walter suffered a near-fatal, head-on collision on San Marcos Pass. Not only did Lois Capps have to help nurse her seriously injured husband, but she also had to serve as surrogate candidate in what was then one of the most bitterly fought, high-profile, big-money, partisan showdowns in the country. For a high school nurse who'd never run for office, it couldn't get more intense. To outside observers, she was the picture of stalwart calm.
Where Walter was radiant and could ruminate endlessly about the virtues of "Jeffersonian democracy," Lois was focused, practical, and always thinking two steps ahead. But they shared the same values and political ideals. Though she had already earned her nursing degree, she, like her husband, had attended Yale Divinity School, earning a master's degree, as well. Yale would have a profound effect on both of them. Lois had come from a family of lifelong Republicans. "All of them," she said, laughing with a sweep of her hand. What changed things for her, she said, was the civil rights movement of the early 1960s. At Yale, they met many Freedom Riders, idealistic white college students who had flocked to the South in support of voter registration and the end of segregation — and had their heads cracked for the privilege. That experience — and that time — helped reset their political clocks. When the couple moved to Santa Barbara in 1964, where they raised three kids, Lois Capps worked as a public school nurse and administered a program focusing on the needs of pregnant high school girls. Those experiences also helped form her political and moral viewpoints.
The Pleasant Powerhouse
Since then, in the 14 years she has represented her district, Capps — still tall, slender, and wholesomely apple-cheeked — has morphed from admitted political neophyte to bona fide Beltway insider. Though no landmark legislation bears her name, she serves on one of the three most powerful committees Congress has to offer, Energy and Commerce, out of which the historic health-care–reform package — now the prime target of the repeal-minded Republicans — originally sprang. As part of her commitment to constituent service — the thankless bread-and-butter by which many elected officials rise or fall — Capps makes a point to fly back to the district almost every weekend, sometimes over the groaning objections of her staff.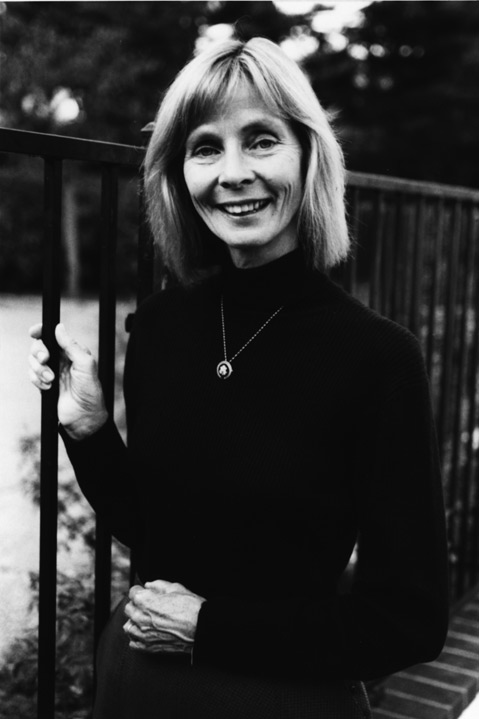 Recently, opponents have hammered Capps for losing nearly $14 million in earmarks she thought she had secured for her district during the waning days of 2010. But prior to that, she has certainly brought home the bacon. In 2009, for example, Capps delivered $44 million in federal funds to the district, securing the millions needed to build the Santa Maria Levee. She even snagged $1.6 million in Department of Defense earmarks at the instigation of her most recent campaign opponent, Tom Watson, who happens to be an executive with a Goleta-based R&D firm.
When it comes to issues of health care, education, coastal protection, and offshore oil, she's a player. It was Capps — a regular attendee of congressional prayer gatherings — who started the first congressional briefing on repealing "don't ask, don't tell" by linking key movers-and-shakers on the Hill with scholars at UCSB's Palm Center, the only think tank in the country to specialize on the subject of gays in the military. When pro-life congressmembers inserted language into the health care bill last summer that would restrict funding options for women seeking abortion services, Capps — the ex-school nurse —  jumped into the fray and sought to protect the status quo by suggesting compromise language. In that instance, her compromise was defeated. When BP execs were given the congressional hot seat after this summer's disastrous spill in the Gulf of Mexico, it was Capps — who lived through Santa Barbara's oil spill of 1969 — who asked some of the most pointed questions.
When right-wing Republican Congressmember Duncan Hunter of El Cajon succeeded in passing 2006 legislation making Santa Rosa Island a private hunting sanctuary for disabled veterans — over the objections of many veterans groups — Capps appealed to Senators Barbara Boxer and Diane Feinstein — with whom she's on good terms — who had Hunter's language removed from the Senate version of the same bill.
Less measurable in impact, but certainly more intriguing, is Capps's daughter Laura, who has a powerful Capitol Hill résumé of her own. She worked for Senator Ted Kennedy and for Clinton advisor George Stephanopoulos and is married to the Number-Two Man in President Barack Obama's communications machine, Bill Burton. Not only does this give Lois access to powerful political realms, but it also fuels speculation that Laura might want to succeed her mother in Congress, creating in effect, a Capps dynasty.
But despite all this, local Republicans continue to demand, what has she ever done? while Santa Barbara's progressive Democrats are inclined to ask, what has she done for us lately? Though Capps was one of few members of Congress — of either party — to vote against giving former President George W. Bush the green light to wage war on Iraq, she has since voted to give President Obama the funding he sought to wage war in Afghanistan. Some South Coast anti-war activists — as well as younger, more liberal Democrats — have expressed disappointment with this vote. Capps says she is concerned that Obama has extended troop exit dates, but that she is also concerned about the human rights and safety of Afghan women once the U.S. withdraws.
Such criticism aside, Capps remains the undisputed 800-pound gorilla in local Democratic circles. Even the ever acerbic campaign consultant Jeremy Lindaman said Capps's endorsement was the single greatest asset any Santa Barbara Democrat running for office could have; Capps is not just well-known, but well liked. Her endorsement matters. To an extent unusual for national or statewide office holders, Capps has aggressively inserted herself into city and county races. When Texas multimillionaire Randall Van Wolfswinkel spent $750,000 trying to elect a new conservative majority on Santa Barbara's City Council last year, Capps jumped in and lent both her name and her resources to get Helene Schneider elected Santa Barbara mayor, as well as to place on the council Bendy White and Grant House, all progressive liberals. Capps's support proved pivotal for County Supervisors Janet Wolf and Doreen Farr's elections, and it's hardly coincidental that former Capps staffers Chris Henson and Jeremy Tittle currently hold key positions with Supervisors Farr and Salud Carbajal respectively.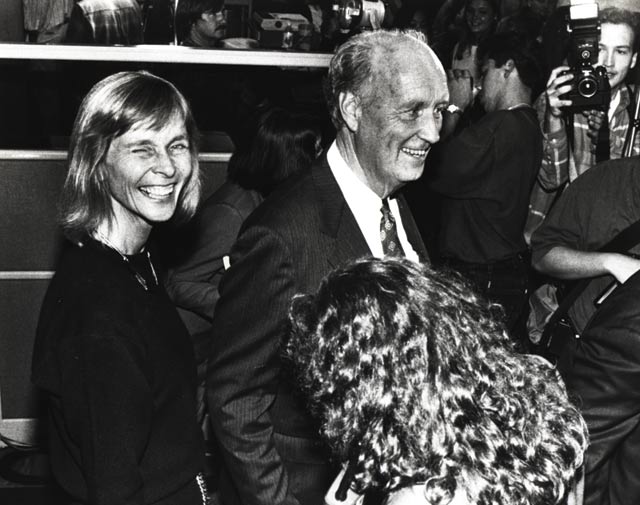 Learning New Tricks
Capps's real legacy is the massive get-out-the-vote effort she spearheads in Isla Vista every election cycle, which has won for UCSB national awards for the numbers of students newly registered. But the organized effort is about more than good citizenship. When Walter Capps first ran in 1994 — against right-wing zealot Andrea Seastrand — he registered only 1,500 new voters in Isla Vista. Not coincidentally, he lost by that same number. Two years later, his campaign registered 10,000 new voters in Isla Vista. This time, he beat Sea­strand — again, not coincidentally — by 10,000 votes.
When it comes to the media, Lois Capps has made herself readily accessible, but she's never been a master of the catchy sound bite. That's part of her appeal. As a result, when Capps says things like, "The last election was all about changing the guard; this election is all about guarding the change" — as she's taken to doing recently — it feels forced and out of character. But with the recent drubbing Democrats took in nationwide elections — giving Republicans a majority in the House — Capps is willing to learn new tricks. "We need to learn to tell our story," she said in a recent interview. "We need to translate what people are passionate about so others can hear."
Given the sudden change in political winds, Capps will need her considerable power of nice coupled with her innate grit just to stay afloat. She spent her first eight years in Washington as a member of the minority. During the past four, she's savored being part of the majority, and especially so the past two while Obama — whom she endorsed over Hillary Clinton — has been in the White House. With the new Republican majority in Congress, the issues nearest and dearest to Capps's heart will be on the chopping block.
"We got beat," Capps said. "Whether it's fair and square, that's another matter." Capps noted that millions of dollars were poured into certain swing districts during the last two weeks of the campaign by conservative organizations unfettered in their ability to collect funds and unbound by any requirement to report the donors' identities. Districts that polled in favor of Democrats earlier fell to Republicans. "I'm not whining or complaining, but we don't want people buying elections in this country," she said. To remedy this, she said, Congress should pass the DISCLOSE Act, which will require big donors to identify how much they gave and to whom.
Republicans, she cautioned, should take note. "As you may have noticed, the polls didn't favor the new majority much more than the new minority."
Other than that, how did Capps read the election results? Part of it, she said, was the political pushback that accompanies any historic change that's challenged the status quo, like health care reform. But a lot of the swing she attributed to raw economic pain. "It said, 'I don't have a job, and I'm angry, and I want these guys out — the one who are in charge,'" she said. Republicans, she cautioned, should take note. "As you may have noticed, the polls didn't favor the new majority much more than the new minority." Ever the steely optimist, she continued, "There are still a lot of reasons to get up in the morning. I've been in the minority before, but I got stuff done. I managed to get a bill [the Nurse Reinvestment Act] signed into law when George Bush was president."
Yet even with a Democratic majority in the Senate and Obama in the White House, it may be tougher now for Capps to execute her reach-across-the-aisle act. Moderate Republicans may find it harder agreeing to compromises with the freshman class of principled ideologues aligned with the Tea Party breathing down their necks. Certainly, life will be very different in the Energy and Commerce Committee, which for the past two years was chaired by Los Angeles Democrat Henry Waxman, who pushed an aggressive agenda where health care and climate change were concerned. Waxman is now the ranking minority member of the committee; in his place as chair is Fred Upton, a Republican from Michigan, who has made the repeal of health care reform his number-
one priority. To that end, he appointed Gary Andres, a lobbyist for the health care industry, as his chief of staff. Upton also appointed one of the most anti-abortion members of Congress, Joe Pitts, to head the Health Subcommittee of the Energy and Commerce Committee. Where Capps voted in favor of the climate change bill passed by the House (though not by the Senate), Upton has come out squarely against any new emissions regulations on utilities or energy companies. Upton has denounced the Environmental Protection Agency (EPA) as having "its foot firmly on the throat of our economic recovery" and has vowed to hold so many hearings on the matter that EPA chief Lisa Jackson will need a permanent parking space.
Ordinarily, Capps would be appalled by anyone with Upton's agenda. But under the new political alignment, Capps said Upton qualifies as "a moderate." She knows Upton and his wife from a faith-based extra-curricular organization whose meetings they both attend. And she noted that Upton had been savaged by Rush Limbaugh and Glenn Beck as a "socialist" for supporting a minor bill extolling the energy-efficient virtues of fluorescent light bulbs over incandescent bulbs. By contrast, Upton's only real competition for the post came from Joe Barton of Texas, who infamously apologized to BP oil executives for the rough treatment they received in the aftermath of the Gulf spill. Realistically, it's not likely that Upton — or the Republican majority — can or will repeal health care. But they can surely hobble it.
Capps, however, is intent on telling the Democratic side of the story. On health care reform, the story Capps wants to tell — and has done so on the floor of the House — is that of Gwendolyn Strong, a three-and-a-half-year-old Santa Barbara girl afflicted with a rare spinal disease that means she needs machines to eat, breathe, and digest. Seven years ago, her parents — relatively affluent — saw fit to enroll in a health care policy with a $5-million lifetime maximum. They've already burned through about $1.5 million of that, and that doesn't count the $30,000 a year they spend on ancillary expenses. Bill Strong, Gwendolyn's father, reported that their insurance premiums have increased by 100 percent over the past three years. But that's not his main concern. Before reform, he said, "Once we hit $5 million, we'd have to look for new coverage. And because of Gwendolyn's preexisting condition, no one would have touched us." But under the new rules of "Obama-care," lifetime spending maximums — such as the Strongs' $5 million — are banned, as is the practice of denying coverage to people with preexisting conditions. "When people say they want to repeal health care, what do they want to take it back to?" asked Capps. "The existing system is broken. We didn't just make that up. These are not merely fanciful ideas. For a lot of people, it's really the difference between life and death."
Capps had been talking about the loss of civility in politics well before a deranged Tucson gunman, Jared Lee Loughner, made it fashionable to do so — shooting 19 — including Arizona Congressmember Gabrielle Giffords — and killing six of them. "The language has become so vitriolic it's crossed over from issue-based to personality-based," she complained. "You talk about character assassination. There are people who really do want to tear down other people. I'm not fearful for myself or even my party; I'm fearful for democracy."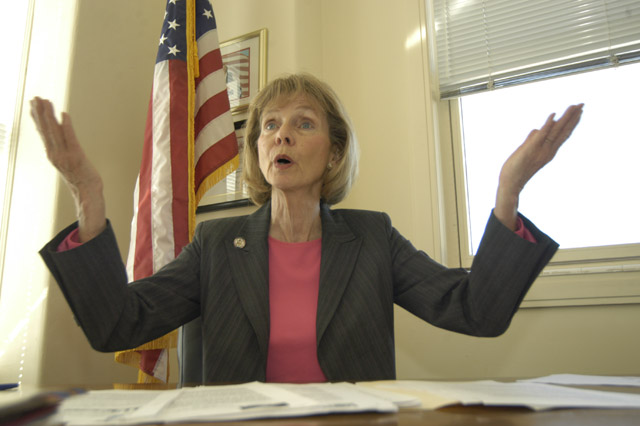 The Way Ahead
Almost as daunting as Republicans in Washington is that the boundaries of her 23rd Congressional District — gerrymandered 10 years ago into a Democratic safe house known as "the ribbon of shame" — will be redrawn by August. The configuration of her present district, an improbable coastal snake — two to 12 miles wide — winds from Oxnard in the south through Santa Barbara and just shy of Hearst Castle to the north. California's new commission to redraw the district boundaries — created by a ballot initiative and made up of 12 good-government citizen appointees — has cited the 23rd District as Exhibit A in its indictment of political gerrymandering. Capps, like many California congressional Democrats, donated $10,000 last November to a ballot initiative that would have abolished the new commission before it could get started. That effort failed. Capps has said she supports redistricting reform but charged that the new commission was not directly accountable to anyone and that its composition did not reflect statewide voter-registration trends. The commission is scheduled to release its new map of California state offices and California's congressional delegation this August. No one pretends to know what the new map will look like. Everyone expects Capps's district to be far more competitive.
Many vanquished Republicans are convinced they could have beaten Capps under the district's earlier configuration — Mike Stoker for one, and Brooks Firestone, who was poised to run against Capps for Congress in 1997 immediately after the death of her husband. He had scads of money, an intact political organization, and a moderate track record on which to run. He also had former President Gerald Ford urging him onward. But instead, he was brutally savaged in the party primary by arch-conservative Tom Bordonaro, who tagged Firestone "a baby killer" for his support of abortion rights.
Capps went on to beat Bordanaro not once but twice. And she beat him in the previous district, which included pretty much all of Santa Barbara and San Luis Obispo counties, with a few exceptions. "I love my district now," said Capps. "But I loved the old district too. I won there," she said. "It was harder, but I still managed to win."
"I have to chuckle," she said. "I have two neighbors [Republican Congressmembers Elton Gallegly and Kevin McCarthy] who are both beneficiaries of the same decision-making process, and I don't hear complaints about their districts."
To the extent Capps feels any embarrassment over "the ribbon of shame," she's not showing it. She maintains that the coastal communities of Ventura, Santa Barbara, and San Luis Obispo counties have far more in common with each other than with the more inland communities in those same counties. And she maintains her district is taking a bad rap. "I have to chuckle," she said. "I have two neighbors [Republican Congressmembers Elton Gallegly and Kevin McCarthy] who are both beneficiaries of the same decision-making process, and I don't hear complaints about their districts."
The prospect of new district boundaries has caused considerable hyperventilation among political speculators. Will Capps run again? If not, will there be a political feeding frenzy among interested Democrats like County Supervisor Salud Carbajal and former assemblymember Hannah-Beth Jackson? And what about Capps's daughter Laura, now pregnant and living in the nation's capital? The less feverish calculation suggests that Capps will run again once the new district boundaries are drawn. As an incumbent and the proverbial 800-pound gorilla, she would stand the best chance of keeping a more competitive seat in Democratic hands. The only one who might know for sure is Lois Capps herself, and she's not saying. After pledging to serve only three terms when first running — a pledge she obviously reconsidered — Capps is more careful when discussing future plans. "Saying what I said the first time, that was a mistake," she said. "I haven't made a decision."
In a brief moment of introspection, Capps looked back to when she first went to Congress. Republican warlord Newt Gingrich was attempting to paralyze government, and partisan gridlock was the order of the day. But the economy was booming, and there was a surplus in the treasury. "When I ran, people were astonished. I was a total outsider. I was a woman, I was a nurse, and I had never run before," she said. "But in this last race, the outsider was running against me, the incumbent. I was told I shouldn't be reelected because I'm an insider. That sort of tells the story right there."