Our irregular feature "Make Me Dinner!" is back, with another story of a pro doing the cooking in the humble home kitchens of regular folks, while keeping costs low, technique not too tricky, and end results tasty. And there will be wine — this is Santa Barbara, after all.
The Chef
This time, we're fed by chef Brenda Simon, who does world cuisine on demand as a caterer under the name The Secret Ingredient (805-637-9523, and is also the executive chef at the Foodie-Award winning Santa Barbara Museum of Art Café (1130 State Street, one of town's secret lunch treasures. She's also cooked for the likes of John Cleese and Michael Jackson. "Try to read a recipe and understand its chemistry and process," Simon says of learning to cook. "Try to create rather than follow tedious instructions (unless it's pastry making). Rely on the senses to balance taste, visual appeal, and cooking times. That's difficult to master, but over time, it's what got me where I am today."
The Challenge
We told Simon she'd be cooking for six, gave her a small budget ($50), asked for three courses, and made it clear she had to come up with a menu non-chefs like us could pull off, too.
The Booze
We were honored to have partner/winemaker Aaron Walker from Pali Wine Co. and Tower 15 Winery (tasting room at 116 East Yanonali St.) join us and play sommelier. "The light body, bright acidity, and floral notes in our 2011 'Sunset' Rosé from Tower 15 Winery paired beautifully with the salad," he points out. "The peppery notes from the arugula played very nicely with the earthy notes in the rosé. The wine and salad together epitomized summer for me." He could have said "for us," but he's not presumptuous.
About the main course he says, "The chef prepared the halibut so beautifully and delicately, I didn't want to overpower the dish with a heavy wine. Initially I choose a medium-bodied pinot noir (our 2011 'Huntington' Santa Barbara County) that I thought would work well with the accompanying quinoa dish and broccolini — and it did match very well. Of course, white wine is the traditional pairing with fish, especially a mild-flavored, delicate fish like halibut. So, I also brought our newly released 2011 Durell Vineyard Chardonnay. That paired great too! It's not a super-oaky or overly buttery chardonnay, but it does have some of those characteristics — balanced with bright acidity."
Dessert is always tricky, but Walker had a trick up his sleeve — the 2008 "Central" Late Harvest Chardonnay, Sierra Madre Vineyard. "There's a reason why you don't see late harvest chardonnay," he admitted at dinner, "because the grape already ripens late. But sweet wine with sweet berries and coconut ice cream — SOOOOO good!"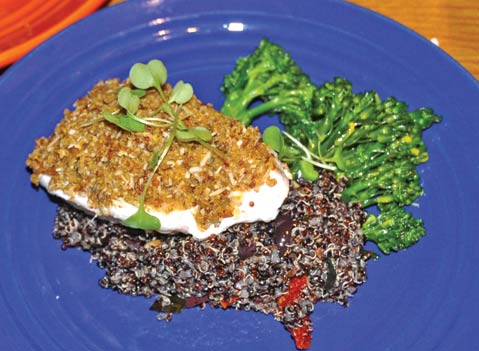 By Courtesy Photo
GEORGE YATCHISIN