About this time Monday evening, fire commanders were hoping to hold the southwestern edge of the Thomas Fire at Toro Canyon. By dawn Tuesday morning, with flames licking up the sides of Romero Canyon almost two miles to the west and residents from Montecito to downtown Santa Barbara growing alarmed at the visible blaze, Plan B became the way forward.
At a now-daily town hall meeting on Tuesday at San Marcos High School, Chris Childers, battalion chief with Santa Barbara County Fire, reviewed the fire's daytime progress: "We only gained a few thousand acres, but we gained them in the wrong place." Thomas has grown another 6,000 acres since Monday, and the fire chiefs indicated that it was likely to overtake the Zaca Fire in size. Zaca burned more than 240,000 acres in the Santa Ynez Valley in 2007; Thomas is now at 236,000 acres, with containment at 25 percent. Almost all of the 701 structures burned thus far have been in Ventura County — just five have been in Santa Barbara County as of Tuesday evening.
Inmate and engine crews were staging and preparing to do structure defense at the top of Toro Canyon on Tuesday and near Casitas Pass on Monday as the Thomas Fire continued to jump canyons and creep further to the west.
"Toro and Romero canyons are one canyon too far. The intent now is to wall it off above Carpinteria, Montecito, and Summerland. If we can steer it to the northwest, it's gonna run into some stuff," said Los Padres Public Affairs Officer Andrew Madsen. Romero Canyon lies just over a mile north of Highway 192 in Montecito.
That "some stuff" is old burn areas and fire breaks. In the last decade alone, at least four major wildfires have burned near Thomas's western flank — Zaca to the north, Rey to the northwest, Jesusita and Tea to the west. "We've got the burn scars from the Zaca, and we blew out some fire breaks on the east side of the Rey Fire. There's a lot of Phos-Chek on either side of the Rey fuel break," Madsen said. Fire commanders are looking to the Zaca and Rey Fire burn areas to keep the fire out of the Santa Ynez River watershed and lessen its effect on the South Coast's water supply.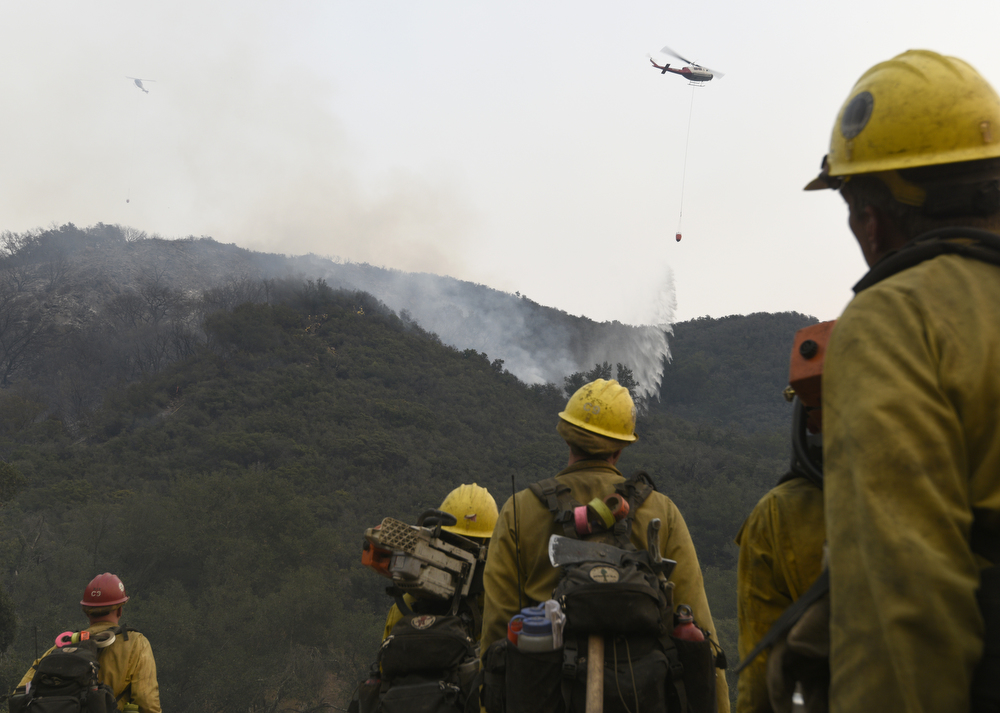 By Paul Wellman