Education
Class Warfare?
Matef Harmachis Fights for His Right to Teach
Despite being exonerated recently at a State-level
administrative hearing, former Dos Pueblos High School social
studies teacher Matef Harmachis is still fighting for
his job and his good name in the face of what he perceives as race-
and class-motivated attacks from the Santa Barbara School District.
Though a 26-page state hearing board report — not to mention
countless former students and colleagues — deem Harmachis, 49, fit
to teach, the Santa Barbara School Board voted unanimously earlier
this spring to appeal the state board's decision, upholding its
July 2005 decision to fire Harmachis. While a superior court judge
is expected to rule on the matter sometime this fall, both sides
have recently reiterated their resolve.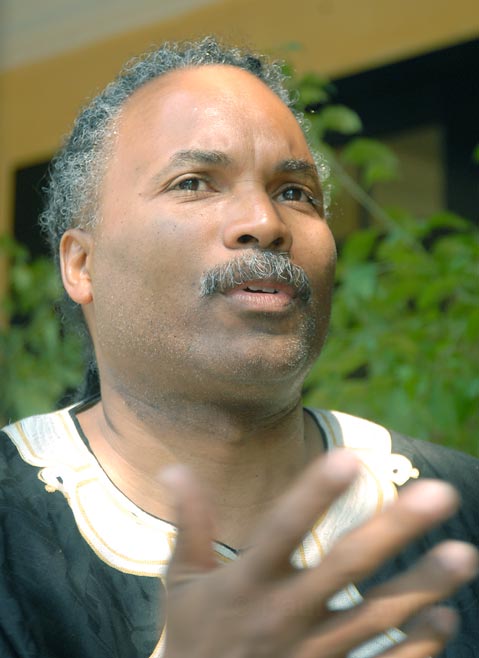 Superintendent Brian Sarvis
commented last week, "Simply put, we cannot have Matef teaching
high school students." And Harmachis — who has been on paid leave
to the tune of $50,000 a year for the better part of two years —
considers his return to the classroom an inevitable issue of higher
calling and karma.
"It's not up to me and it's not up to them [the
district]," he said. "They don't have the power. They can't do what
the almighty don't want them to do. … I am going back to the
classroom."
Fueling the school board's determination to keep Harmachis out
of the classroom is a series of events dating back to 2004. The
trouble began on a warm June morning at Dos Pueblos High, with the
school year nearly done and Harmachis teaching a mid-morning senior
economics class. Sometime during the class — which was intended to
be a discussion of final-exam results, senior checkout paperwork,
and a customary yearbook-signing session — the atmosphere turned
confrontational. After the smoke cleared and the class bell rang,
Harmachis found himself accused of physically and verbally abusing
two Jewish visitors to his class.
By Harmachis's recollection, "There were two un-enrolled kids in
my room, uninvited. They acted a fool and I got them out. Case
closed." However, according to testimony in the state hearing,
things may have gone down a bit differently. The visitors in
question — though unknown to Harmachis — were not strangers to the
school; they were sophomores who had taken the semester off to
study abroad in Israel. Having recently returned home, the twins —
who are sons of prominent local rabbi and Loyola Law School
Professor Arthur Gross-Schaefer — had come to campus that day to
fill out enrollment papers for the following fall and to give a
presentation about their experience in Israel to a different class
later in the day. Their presence in the econ class was not
surprising, as Harmachis's classes were often attended by other
students eager to hear the popular teacher talk. In fact, on that
particular day, there were six other visitors in the class, in
addition to approximately 30 enrolled students.
The conflict flared when Harmachis asked one of the boys to turn
his T-shirt inside out, considering it a breach of school policy.
The shirt was military green and emblazoned with the words "Israeli
Police Force." Harmachis and at least one other witness maintain
that the shirt also had an insignia of two crossed rifles on it,
thus rendering it a violation of the dress code; but the twins and
several other witnesses say it did not. According to Harmachis, the
15-year-old boy refused to turn the shirt inside out in a very
confrontational manner. Harmachis then put his hand on the boy's
shoulder, directed him toward the door, and told him to "cool it"
with a promise to discuss the issue outside the classroom once the
lesson was done. However, the twins testified at the state hearing
that Harmachis said something along the lines of "turn the fucking
shirt inside out," grabbed the teen, and escorted him outside the
classroom. He then slammed the door and shouted, "Get the fuck out
of my room with the IPF shit, fucking pigs!" Of the eight witnesses
not directly involved in the altercation who also testified, six
went on the record saying they did not recall Harmachis using the
f-word during the incident, and none of the uninvolved witnesses
remembered any racial slurs.
At the request of the Gross-Schaefer family, the district
investigated the incident and placed Harmachis on paid
administrative leave. In the end, Harmachis was reprimanded for
improper language and behavior, but he was not fired, as the
Gross-Schaefers had hoped; instead, he was transferred to Santa
Barbara High School in January 2005 and instructed to curb his
obscenities and refrain from touching students. However,
Harmachis's trouble was only just beginning. As Sarvis explained,
"The Harmachis situation isn't just about the T-shirt incident. It
is an aggregate of the sexual harassment and then the incidents at
S.B. High."
THE PLOT THICKENS
The superintendent
was referring to an allegation by a former female student that
surfaced during the T-shirt investigation. While the student
readily admitted to having a "good" relationship with Harmachis,
she testified that he made comments such as, "Just because you are
good in bed, doesn't mean you can eat in class"; and, "It is okay
if you come to class naked, but you cannot drink Naked juice in
class." Further, after serving a suspension, the girl reported her
return to Harmachis's class was marked by a "weird" hug and a kiss
on the cheek. However, since little or none of the accusations were
corroborated by other witnesses, the state board ruled that the
district had "failed to establish" that Harmachis's actions
constituted sexual harassment.
By the time he had taken the reins of social studies and history
classes at Santa Barbara High in February 2005, Harmachis felt he
could put the sexual harassment accusations and the T-shirt
incident behind him; he had been cleared. But within two weeks, he
found himself in hot water once again. The first reprimand in his
new school came a mere three days after he started to teach again,
when he shouted at a repeatedly disruptive student in his law
class, "Shut the hell up!" While Harmachis does not deny the
outburst, he counters, "You think a teacher has never yelled shut
up before? Come on now!" Furthermore, he feels, "There should be a
choice on campus and you should take your child out of my room if I
am scaring you. That's okay. … Choice is good."
The proverbial third strike came 10 days later when he
confiscated a cell phone from a student in his special-education
U.S. history class. According to Harmachis, the kid was defiant on
a daily basis, and when he refused to turn over the cell phone —
which school policy outlaws in the classroom — the teacher admitted
he "snapped" in his handling of the situation, physically removing
the phone from the student's shirt pocket and possibly uttering
obscenities. Three days later, on February 17, Harmachis was once
again placed on paid administrative leave, where he remains
today.
Putting aside the expected contradictions of he said/she said
debate, the Harmachis situation is probably most intriguing for the
outpouring of support the embattled teacher has received. From
former students to colleagues, the message is clear: This man can
teach. Liz Bush — who also teaches history at Dos Pueblos and
supervised Harmachis's student-teaching stint in 2001 — described
him as "head and shoulders above anybody I have ever worked with
before or since." And Shane Coggins — a former student of
Harmachis's who was in the classroom at the time of the T-shirt
incident — said recently, "I wasn't doing too hot in high school
and he made me realize I could go to college; he raised my
awareness of social issues at a time when I needed it most." Riki
Berlin — a Jewish woman who has worked as a special-education aide
in the district for 25 years and often visited Harmachis's class —
remembered how parents transferred their kids to Dos Pueblos just
so they could take a Harmachis history class. "He got kids to go
out into the world and try to fix things and to get civically
involved. He was a real inspiration. … It is a true tragedy to lose
a teacher like that who can get kids interested in history," she
lamented last week. Even Sarvis has offered that Harmachis was a
"spirited teacher who certainly connected with a lot of kids." But
"there were also some students who were afraid," he added.
Harmachis acknowledges his tendency to provoke fear and
considers it indicative of what he perceives as the real reason
behind his dismissal. "[The district knows] I ain't no liberal and
they know I ain't no conservative," he explained. "But I hate
oppression and I am out to kill it wherever I find it. Stomp it out
and kill it. People come first with me, no matter what, and I think
that scares other people." In a district with only 12
African-American teachers, Harmachis feels that "this whole thing
has never been about me. It is about white male privilege and
politics." To Harmachis — who readily refers to the United States
as an "anti-nigger machine" and often dresses in traditional
African garb — the Dos Pueblos incident would have been seen in a
vastly different light had the roles been reversed; that is, if the
un-enrolled students had been students of color and he an Anglo
European teacher. "I would have had no problems and no complaints
if that had been the case," he opined. As for the allegations
against him for his behavior at Santa Barbara High, Harmachis
chalks it up to "card stacking" and dismisses it as "just an excuse
to get rid of me."
Still, Harmachis admits to having made mistakes in the
classroom. "Yes, I need better self-control when faced with
disobedient students," he said. "From now on, I'll be the first
person to call the principal or the administration or whoever." But
that isn't good enough for Sarvis and the school board, who seem
poised to fight reinstatement to the bitter end. "The board is
resolute in their determination to make sure we don't see him in
front of a classroom ever again," Sarvis vowed. "It would be quite
a quandary for us if he wins." Accroding to Harmachis's lawyer, Bob
Bartosh, the entire process will most likely wind up costing the
cash-strapped district in excess of $200,000 with no guarantees
that it will win.
Winning or losing seems to be beside the point to Harmachis. A
former journalist and active political organizer, Harmachis
considers his job as a teacher to be part of a higher calling. "I
have no worries," he explained. "To worry is sin. … Teaching came
to me, I was pushed toward it, and if I just do the right thing,
it's my assumption that things are going to go right … I am going
to go back and teach exactly the same way I always have. I am good
and they know I am good." And then, as if addressing his
detractors, he confidently added, "Don't believe the hype. Come to
my classroom and you'll see. Not one person who is trying to exile
my career has ever been in my class."