Arts & Entertainment
StompRocket's Bid for the Big Time
Santa Barbara Band Makes Finals of National Contest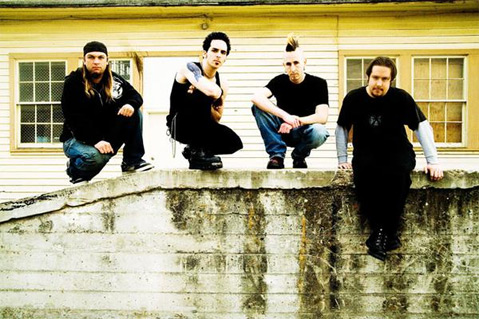 For nearly 10 years, local genre-bending pop/metal/alternative group StompRocket has been working toward the daunting goal of being a successful band-recording songs and doing shows-but never scoring a major label deal. But now the group, which includes bassist Gary Braun, lead guitar and vocalist Sado, The Independent's own Bob-E, and guitar player Dave Escobar, is one of five finalists in a competition on the Web site garageband.com. In less than a week, the results of what could be a make-or-break competition for the band will be announced.
The Web site, which features more than 35,000 groups from across the country, is a place where unsigned acts can upload their songs and have them rated and reviewed by other bands in similar positions. The first annual garageband.com FaceOff competition has been going on now for a few weeks, and the boys of StompRocket, who have made it to the final round, are waiting for the big finale while the rest of the bands finish up the competition.
The contest pits two bands against each other, with the winner being decided by votes submitted online and via text messaging. However, the process is complicated by that old standby: cold, hard cash. Each band that survives a head-to-head round with another can forfeit its place in the next round by taking increasingly lucrative cash prizes, from $2,000 up to $25,000. The result is a hybrid of American Idol and Deal or No Deal, minus Howie Mandel and plus some genuine talent.
According to Sado, the band has just turned down $25,000 for a place among the five bands in the final competition, in which the grand prize is a recording contract with Capitol Records. When asked if he had any reservations about not taking the money, Sado said, "It was never a hard decision for me because ultimately I want to have success with my music. Twenty-five thousand dollars after taxes and split between the band's members could be gone really quickly." This outlook indicates the band members' mix of committed idealism about their art and realistic business outlook, a balance that has been acquired during their long time together.
For Sado, who quit high school at 16 to practice guitar full-time, garageband.com was the perfect promotional tool for StompRocket. "I've always had a difficult time selling my music," he said, clearly not into "that kind of car salesman attitude, where I try and sell myself and talk my band up, schmoozing and going out to Hollywood. I've always been more interested in creating songs. We got discovered because we put our music out there, and it was reviewed, and we got good reviews."
Sites like garageband.com and myspace.com have helped lower-profile acts like StompRocket immensely, creating an environment where music can be freely and easily shared and reviewed by peers. "It's pretty difficult to get in the door at a major label, especially when you aren't playing music that fits in with what's on the radio," said Sado. And though the contest has provided the open door so elusive to many unsigned bands, the bands themselves are the ones bringing the talent.
According to Sado, "Every band at this level is worthy of being signed." That may well be true, but around these parts, we tend to think StompRocket is a little bit more worthy. To cast your vote for them, visit garageband.com/faceoff during the final round on December 12.
4•1•1
StompRocket plays a CD release show for their new record Inside Out on Friday, December 8 at Velvet Jones; the GarageBand.com FaceOff finals begin Tuesday, December 12. For more info, visit myspace.com/stomprocket or stomprocket.net.