If you've ever walked by 28 W. Figueroa Street during your lunch break, you've probably been enticed by the deep smell of chocolate wafting from Henning's Cake Boutique. But you might not have noticed that the cake and pastry shop that has been voted best in Santa Barbara for at least a decade has geographically expanded its cuisine to include pastries, snacks, and lunch boxes from Japan.
I made the invaluable discovery the other day as I was headed for my afternoon coffee-and-a-treat break. My caffeine/sugar partner in crime had recently returned from 11 days of gorging herself on a cruise ship. So when I started listing our usual treat hot spots-"A brownie and lemon bar from Savoy? Sarah Bernhardt from Anderson's? Ooh, how about some ice cream from the Sweet Shop?"-she clutched her stomach and begged, "Stop! Stop!" This was a truly frightening display that demanded a previously taboo break in our routine. Tempted by the sign boasting free coffee with the purchase of a pastry, we ventured into Henning's and found Far East fare that even a cruise-bloated gal could stomach. The cases and shelves were filled with sweet gooey rice cakes, gummy apples and pineapples, rice crackers, Hello Kitty cookies, and green tea-flavored "omelets" (Read: bean paste and sugar advertised as "a fantastic harmony of deliciousness;" I'd have to agree.)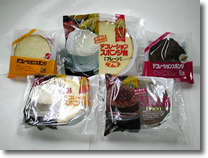 Since that first introduction to the world of Japanese treats, I've made Henning's a regular stop during my afternoon breaks. The Japanese pastries are so seemingly healthy-what with creamy insides that are soy- or red bean-flavored-that I often treat them as a high protein meal paving the way for a brownie or cupcake dessert. And if you're one of those health nuts who insists on eating real food before gorging on sugar, Henning's also sells Bento boxes, a boxed lunch including vegetables, rice, and fish or meat.
Not only is Henning's now the only place in town to get authentic Japanese snacks and fast food, but it might also be the last cafe in Santa Barbara with decent prices. The other day I bought a chocolate cupcake with a frosting flower the size of my face with loose change from my purse-and was awarded with a steaming cup of coffee on the house.