Living
Summer Camp Guide, 2007:
Full Daycamps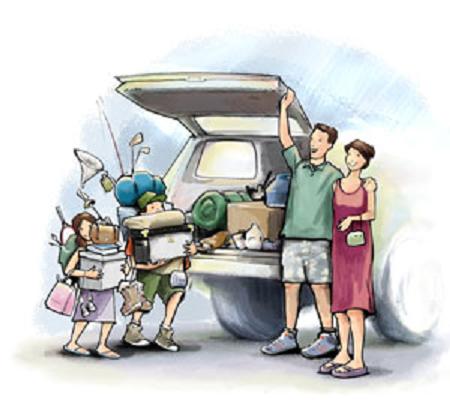 Beit HaYeladim Summer Camp
Beit HaYeladim provides preschool-aged children summer fun in an enriching, educational environment. July 2-Aug. 29; full and half-day programs available. Themed weekly activities include Little Picasso, Hollywood Bound, Kibbutz & Kritters, and an annual campout, complete with s'mores and storytellers. Currently enrolling summer and fall applicants. Congregation B'nai B'rith, 1000 San Antonio Creek Rd. Contact 9676619, beithayeladim.org.
Camp Haverim
Non-denominational Jewish day camp. Art, music, newspaper, drama, maccabia, talent shows, swimming, soccer, softball, gaga, basketball, touch football. Ages 5-12, grades K-6, grades 7-8. Cate School (transportation available). Session I, July 16-27; Session II, July 30-Aug. 10; 9am-3pm (bus transportation meets earlier). $400/session; $750/four weeks; includes field trips, T-shirt, snacks. Contact camp director Itzik Ben Sasson, 895-6593, camphaverim.com, camphaverim@gmail.com.
Cliff Drive Summer Camp
Enthusiastic and CPR-trained counselors help children experience art, reading, cooking, singing, games, sports, and Bible lessons. Social skills are developed, and children go on educational, fun field trips. Grades K-3. Supervisor-to-child ratio 1:14. $620/five days (daily, weekly, and monthly rates available). Mon.-Fri., 7:30am-5:30pm. 1435 Cliff Dr. Contact 965-4286 x227, fmcsb.org/daycares.html,christina@fmcsb.org.
Dunn Day Camp
Enjoy a new theme each week that ties art, crafts, sports, pool time, music, drama, science, and field trips together. Field trips every Thurs. include Monta±a de Oro, Zodo's, Boomers, S.B. Zoo, the beach. 8:30am-3:30pm, aftercare available. Lunch, snacks included. June 25-Aug. 3, no camp July 4. Costs vary. Call Ilise Garvin, 688-6471 x619, igarvin@dunnschool.org.
Endeavour Day Camp
Explore the world of rocketry, aviation, astronomy, and much more in this hands-on science and technology camp. Week-long sessions run June 18-Aug. 10. Ages 7-14., 8am-5pm, Mon.-Fri. $325/camper. Discounts for multiple campers. Located near Vandenberg Air Force Base. Fax 734-1030, endeavours.org/sec.
Learningden Preschool Summer Program
Preschoolers ages 212-PreK. Art projects, dance, dramatic play, field trips, and Spanish in a caring, fun setting that fosters learning and creativity. Children do not have to be potty trained. Space limited. Priority given to fall enrollments. 4485 Hollister Ave. Mon.-Fri., 7:30am-5:30pm. Full and part time available. Call Erika at 683-5801.
Lompoc Family YMCA Summer Day Camp
This traditional Day Camp will give your youth, pre-K-6th, the opportunity to experience a variety of indoor and outdoor activities that includes arts, crafts, sports, games, songs, skits, science, cooking, music, math, swimming, field trips. Mon.-Thu., 6:30am-6pm; Fri., 6:30am-5pm. $110/week, Financial assistance available. Call 736-3483.
Rainbow School's Summer Camp
Safe, secure, noncompetitive, stimulating environment for children entering grades 1 and up. Daily field trips to parks, beaches, natural, cultural, and historical sites. Drama, creative writing, cooking, bowling, crafts, games, and art also offered. June 18-Aug. 24, all-day and half-day schedules available; one to 10 weeks. Contact 964-4511, rainbow.school1@verizon.net.
Raintree Ranch Equestrian Center Summer Horse Camp
Enjoy hands-on time with horses. Knowledgeable, experienced counselors teach many aspects of horsemanship, beginning with safety. Children learn ground handling skills, grooming, the joy of riding, the history and mystery of horses. Ages 7-14. $550/session, $500/session with payment in full three weeks in advance. Please contact for more information, 571-6995, raintreeranch.com.
Santa Barbara Youth Foundation
The SBYF is a non-profit corporation whose sole purpose is to develop in young people, through the sport of sailing, self-reliance, responsibility, teamwork, sportsmanship, with a constant awareness of safety. Ten-week sailing program for ages 8-17. Instruction for all levels using different types of one-design performance dinghies, including the U.S. Sabot, Laser, Laser Radial, CFJ, and 420. Contact 965-8112, sbyf.org.
S.B. Zoo Camp
The S.B. Zoo's award-winning Zoo Camp introduces kids to the world of animals and science. Three week-long, age-appropriate, themed programs, June 25-Aug. 24. Ages 3 to kids entering 7th grade. Games, teacher-led workshops, behind-the-scene visits, up-close animal encounters, hands-on science, crafts. 9am-2pm ($166 member/$187 non-members); extended care, 8am-5pm ($226/$256). Multi-week discounts/scholarships available. Contact 962-5339 x16, sbzoo.org.
Tiny Tykes
Dunn's experienced teachers will enhance your child's summer through hands-on activities. Days are spent using imagination, innovation, and fun. Snacks included. Full-day or half-day options available, minimum of two days. 2-3 year-olds. June 25-Aug. 3. No camp July 4. Full day: 8:30am-3:30pm, $40/day. Half day: 8:30am-noon, $25/day. $170/week. Register for 3 weeks or more to save $10. Ilise Garvin, 688-6471 x619, igarvin@dunnschool.org.
UCSB Summer Day Camp
Boys and girls, ages 5-14. Swimming, gymnastics, arts, crafts, ropes adventure course, field games, more. Ten one-week sessions June 18-Aug. 24, Mon.-Fri., 7:15am-5:30pm. If sign-up occurs 4 weeks in advance $125/week, 2 weeks in advance $135/week, less than two weeks in advance $145/week. Sibling discount: $20 off additional children. Contact 893-3913, recreation.ucsb.edu.
United Boys and Girls Clubs of Santa Barbara County
Ages 5-18. Socialize, play, grow academically, learn leadership skills. Children are in a safe and supervised facility with caring adults. Open year-round, after school, and school holidays. Wholesome, adult-guided activities and services offered. No child turned away, even if unable to pay $20 annual membership dues. Carpinteria 684-1568, Goleta 967-1612, Lompoc 736-4978, Santa Barbara Westside 966-2811.
Westside Boys and Girls Clubs Daycamp
Summertime day camp offering breakfast, lunch, snack. Activities include athletics, swimming, and field trips. Ages 5-12. June 8-Aug. 17, 7:30am-6pm. Scholarships available. 602 W. Anapamu St. Call 560-8852.