Music is forever, but sadly, people must retire. That's what Mahlon Balderston, the celebrated organist for five decades at the Unitarian Society of Santa Barbara, is doing, anyway.
The 83-year-old Balderston has postponed fate for much longer than most do, and he could probably delay it a few years more, in fact, but he's ready for a rest. Balderston has, after all, played the organ with the Unitarian Society for more than 50 years, and on June 30, the Santa Barbara musician and composer is retiring.
Balderston estimates it was 53 years ago that he joined the church as the new organist, but he can't be sure.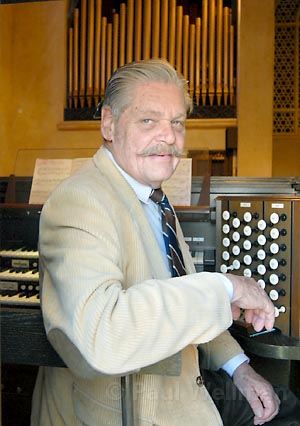 "Nobody seemed to keep records then, and I know I didn't," Balderston said.
Balderston has seen members, minions, and ministers come and go from behind the keyboard, and he recalls a time when the Unitarian Society had 700 followers. When he first arrived in Santa Barbara there were 200. Today, the church consists of approximately 500 members, and on Sunday, May 6, the Unitarian Society held an honorary service and reception for the accomplished composer and keyboardist. The church was packed wall to wall with fans of music and fans of Balderston, and he played several preludes, feature pieces, and postludes, interspersed with performances by other musicians who wished to offer their respects.
Soprano Ellen Rockne performed "Gentle Mahlon," a tribute based on Stephen Foster's "Gentle Annie." Pat Carver performed "Stream of Life" by Tagore. And the whole choir performed Virgil Thompson's "The Road Not Taken," with lyrics drawn from Robert Frost's famous poem.
"Mahlon actually selected that song," said Phyllis Dunn, a member of the Unitarian Society's choir and a longtime friend of Balderston's. "He chose it because he had so many choices in life, but he chose Santa Barbara."
A native of Trenton, New Jersey, Balderston's full experience as a musician goes back more than 70 years. He learned to play the piano and organ as a child, and in 1949 he began his formal training at Oberlin Conservatory of Music and subsequently attended Iowa State, where he received his master's degree in composition.
"I was always sort of a musician," he said. "I began playing when I was nine years old, and I've done some composing. Back in the '60s, I wrote a musical, but it never went anywhere. Now, I'm just going to be a wandering substitute organist around town for a while."
Balderston's first job after moving to Santa Barbara in the early '50s was with the Unitarian Society as organist, although the bulk of his income has always come from teaching music, both with the public school system-where he started in 1955-and at S.B. City College. Now, with his retirement, the Unitarian Society finds itself in a bind.
"We don't have a replacement yet," said Dunn. "Organists are hard to find. We've called the Organists Guild and the colleges, but to no avail. We're just going to hire organist substitutes in the interim."
Rumor has it that Balderston himself is going to be looking for work soon. He and the Unitarians should definitely talk and discuss substitutes' rates.