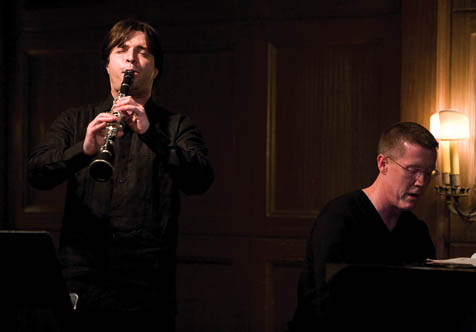 What a pleasure to hear the music of Aaron Copland as performed by the Santa Barbara Chamber Orchestra. The original 1944 score of Appalachian Spring remains very moving, full of memories and longing for lost innocence. Copland wrote the piece for dancer Martha Graham, and, so the story goes, Graham is the one who titled it. Copland didn't necessarily have that particular physical setting in mind when he wrote the work, but listening to the piece in this context, with the Stravinsky Pulcinella Suite on the same program, the source of Graham's inspiration became quite clear. Appalachian Spring often comes quite close to the Rite of Spring; at times, one feels Copland's piece even touches the other. The relationship is that close. The well-known interpolation of the Shaker hymn "Simple Gifts" conveys a message of hope that, when heard against the stark contrast of Stravinsky's sacrificial primitivism, resounds with a power that approaches the "Ode to Joy" at the end of Beethoven's 9th Symphony.
Jose Franch-Ballester has the presence and musicality of a major star, and, in the Copland Concerto for Clarinet, he gave a performance that left one wondering how even the great Benny Goodman, for whom it was written, could have played it any better. Franch-Ballester was all over the clarinet, as the work calls for extended virtuosity in every one of the instrument's three registers, and, in many sequences, all three at once. This man is already a great musician, and one day soon, people will be talking about having seen him here first.
The second part of the concert wove together a Purcell piece for string orchestra-the Chacony in G Minor-with Stravinsky's neo-baroque Pulcinella Suite. Both works require a creative approach to the rigors of traditional variation form, and Maestro Heiichiro Ohyama and his musicians were very much up to the task. At the curtain, the conductor called out the brass first, then the winds, in recognition of the extraordinary contributions they made to the fanciful world of Stravinsky's dance.