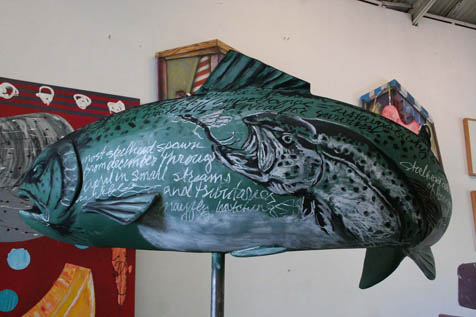 Around noon on Cinco de Mayo, Mike Irwin and his wife, Denise, are working on a chalkboard-green fiberglass steelhead trout. One of several created by South Coast artists, the six-foot fish is to be unveiled at the upcoming Steelhead Festival on Sunday, May 20, at Stearns Wharf. His wife is writing a sentence about the steelhead's loss of freshwater tributaries on the tail. After the addition of a few more markings and a coat of matte spray, Irwin declares the fish finished.
Not one to just make pretty pictures, Irwin imbues his works of art with meaning. His "Layered Combines," which hang on the walls surrounding the trout, are painted sculptures mostly of overlapping metal highway signs and airplane parts. They are "the musings of a madman after the Holocaust. But put together in a beautiful way. A religious icon, a shrine," he said.
The trout replica is also a shrine, half devoted to the story of a species threatened by human development, half devoted to the wonder and awe of that species. One side has a recipe for "Broiled Steelhead Trout with Rosemary, Lemon, and Garlic," and the other a chalk drawing of a steelhead feeding on a flying insect.
No wonder the creator of the chalkboard fish has been teaching for 30 years. No wonder, either, that as a teacher "the chalkboard becomes a huge source of inspiration."
With its "faint ghost of an image," the chalkboard and its half-erased markings work nicely as a metaphor for the fading of a species. It also looks pretty cool. But don't take my word for it; visit the Steelhead Festival on Sunday, May 20, and form your own conclusions.
To see more of Irwin's art, see mirwinart.com. And for more on the Steelhead Festival, see sbsteelheadfest.org.