For Australian singer/songwriter Fiona Kernaghan, the how of her emergence as a musical force is just as intriguing as the why. As part of the first family of Australian country music, her evolution in the business can be attributed, at least in part, to a monster truck. And not just any monster truck; it was a record-setting, jet engine-powered truck that went by the name of Waltzing Matilda.
"My brother Lee wrote a song about that truck when he was about 17 and my dad sang it," Fiona recalled. "It was the truck's theme song. My dad then bought the truck and we took it on the road with us. The jet truck would get unloaded off the back of the 18-wheeler that carried it around and we would set up the band on its trailer and play a concert. Lee and my sister Tania would sing, and my dad would close the show with some of his songs. Then Dad would climb down and start the jet truck as a finale!"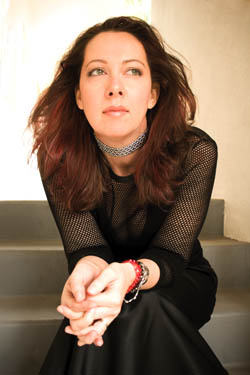 While it might have been Waltzing Matilda that propelled the Kernaghan family into Australian music notoriety, it's their undeniable talent and tireless dedication that has kept them there. Both Lee and Tania now occupy the upper heights of Australian country music, but getting there was a family affair. And it wasn't simply their parents who set them on their way. The songwriting of their younger sister, Fiona, has also played a significant role.
During high school, Fiona resisted the urge to start a music career, instead preferring to have a social life. But she soon found the family calling too great to ignore. With the help of her siblings, she learned to play guitar and found herself back on the road. But the thrill of performing in a cover band soon gave way to a desire to record her own material. Songwriting became Fiona's chosen career and her family was there to help her get her creative juices flowing.
"Tania would take me out to the bush to hang out with her friends to help me get inspired, but I was a real fish out of water," laughed Kernaghan. "I would be out there in my hippie outfit and was a full-on vegetarian. I remember visiting one family who took great delight in feeding us animal organs for lunch. And that was supposed to be inspiring! But it was definitely a reality check. They were Tan's crowd and that was how they lived."
With the assistance of another emerging talent, Keith Urban, Fiona recorded her first demos and her career quickly gained momentum. Her debut album, Cypress Grove, came next, and then a nomination for the Australian equivalent of a Grammy Award. After a stint on the road with the renowned Australian band the Badloves, Fiona packed up her music kit and headed for Nashville.
Again, things went well. Tania won female vocalist of the year at the Country Music Awards of Australia with Fiona's song "Dunroamin' Station," and Mindy McCready recorded one of her songs, "Take Me Apart." Despite her successes, Fiona decided to follow her own musical heart and instead started writing contemporary pop music. Nashville gave way to L.A., and Fiona began to rework her career.
While a number of Australian musical luminaries recorded versions of her work, she decided it was time for another album of her own. To do so, she and her producer husband Dan Kresco holed up in Santa Barbara, where they remain. And another chance to be writing solely for herself is something in which the Australian transplant is reveling.
"For years, I have had to check myself when I write," explained Kernaghan. "When I am writing for other people, I have to get as close to their truth as possible. Sure, there is a little bit of me in each of those songs, but those songs are ultimately dealing with other people's experiences. These new songs are all my own truths and I am finding that so incredibly liberating. I am free to say what I really feel."
4•1•1
Fiona Kernaghan joins Kenny Edwards at the next session of S.B.'s Songwriters Showcase. The concert takes place at Jensen Guitar Mainstage (2905 De la Vina St.) on Thursday, June 21, at 7 p.m. Call 563-3200 or visit www.myspace.com/sbsongwritershowcase.