Visual Arts
Bathers, by Thomas Zika. At Edward Cella Art+Architecture. Shows through July 29.
Lost Horizon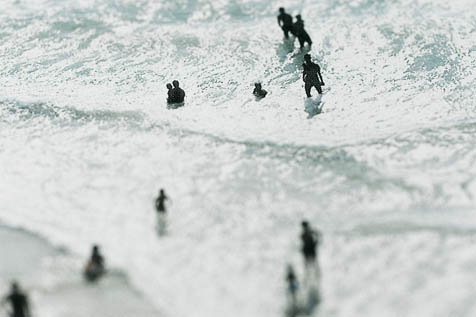 Thomas Zika's pictures of bathers currently on view at Edward Cella are an extension of the direction Cella took in the recent Davis Birks show, toward objects that read as though they belong to traditional genres-painting, photography-but on closer inspection, reveal that they have been crafted in ways that significantly complicate the categories. Zika's photographic process involves appropriation and digital and analog manipulation of the image. The artist gave me a wonderfully detailed and specific description of his process, including the ways in which he works with pixilation and how he desaturates the colors; but what really got my attention was the very last step, which he described like this: "Then the horizon line, I take it away."
With that lost horizon in mind, this suite of pictures came together in a new way. Zika likes to say, "You fall into these pictures" because "it is a double aerial view." While that description does justice to the immediacy of the experience, it would be as true to say that you swim through these bathers, taking them in from a point of view that is not fixed in the manner of traditional photographic perspective. Whatever metaphor one adopts to contain it, the sensation of gazing on these works remains at once distinct and elusive. The visual field pitches and rolls, comes close and recedes, pulling the eye further into the horizonless frame. Zika referred to information theory to explain the "white noise" aesthetic of some passages-"totally full and totally empty at the same time"-but he can also cut loose from any strict program to simply reflect on the conditions of how photography sees the world. He described his work as "part abstract, part concrete: oscillation figures." Testing this oscillation theory, I asked: "Are they erotic, bathers?"
And Zika really unwound into the answer: "I don't think : they can have :" he said, shaking his head. "But the oscillation is more between; they might be drowning; it could be a collective suicide. It's like the end of the world in some cult-everybody wants to go." This is a fascinating show that introduces another dimension into the aquatic.