Living
Life and Death in the Sandy Shadows of Coastal Armor
Don't Fence Me In
Whether or not Al Gore is responsible for it, mainstream America seems to be fast waking up to the realities of global warming and the associated doom and gloom of Earth's rising sea levels. And while these new ocean heights will no doubt equal polar bears dancing on ice cubes and State Street going all Lost City of Atlantis, they also portend some very real and disturbing scientific trends, the depths of which the scientific community has just now begun to examine. One of these areas, thanks to some unprecedented work being done by biologists at UCSB, is starting to shed some light on a deeper and startling truth about an unnatural but common occurrence on the sandy shores throughout the South Coast: coastal armor.
Take a trip to the beach anywhere in Santa Barbara County, especially the Gaviota Coast, leave your shoes in the parking lot, and get lost for a while. Before long, you will find yourself in the shadow of coastal armor-that is, you will be walking along a stretch of beach where the ecology underfoot will be vastly different and decidedly less diverse than it would have been had there not been some sort of concrete or boulder structure erected along the bluffs, presumably in the name of the war on erosion.
They come in many shapes and sizes. Some are massive concrete sea walls put in by railroad companies nearly 100 years ago. Some are strategically placed boulders dropped in more modern times by well-intentioned home owners. Still others are decades-old splintering wooden fences. According to data from UCSB biologist Jenifer Dugan and her associates, the long-term impact of the concrete wall structures is adversely affecting "nearly half of the diversity of the beach's food chain." In short, everything from shorebirds to seals to macroinvertebrates-that is, visible sand-dwelling bugs-are feeling the pinch. And, as if that were not enough, the armor also appears to be shrinking the actual size of the very beach it is meant to preserve. In layman's terms, sea walls not only take away the meals for beach species, but, as Dugan explained, "Birds don't even have a place to roost anymore."
Working as an associate research biologist at UCSB, Dugan began looking into the impact of concrete structures a few years ago as part of the ongoing discussion about Goleta Beach and what should or should not be done to save the beach in front of the popular county park. Ironically, despite the fact that coastal armor covers more than 12 percent of California's coastline-including more than 10 percent of Santa Barbara County's and 25 percent of the City Santa Barbara's-Dugan found that "nobody had looked at the ecology of how beaches respond to armor." So, with funding from UCSB's Shoreline Preservation Fund, Dugan dove headlong into a first round of surveying along the Gaviota Coast, looking to understand what, if any, impact the presence of sea walls had on beach life. Selecting four specific portions of armored beach between El Capitan and Gaviota State parks, she and her coworkers would survey the abundance and occurrence of shorebirds like plovers, killdeers, and sandpipers as well other beach birds like gulls, egrets, and sparrows in the sandy areas directly in front of the sea walls. They would then, so as to have a point of comparison, survey an equal amount of adjacent, un-armored beach, making sure it had a similar north-to-south orientation.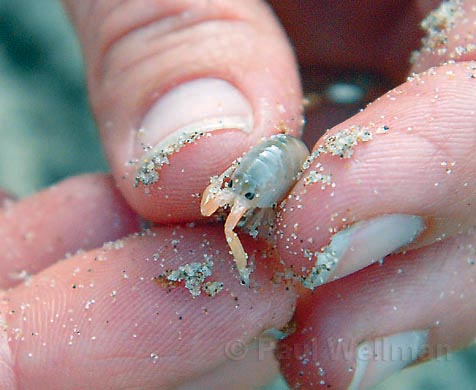 In addition to bird counting, the research also included the careful analysis of the beaches' size by measuring the specific dimensions of the wet and dry sand portions. Lastly, and perhaps most tellingly, they surveyed the macrophytes-or, in completely unscientific terms, the species that constitute bird food-as well as the various amounts of seaweed and kelp decomposing on the beach areas.
After just two months of research, the results-which were published last spring in the scientific journal Shore and Beach-were pretty clear. Shorebirds were more than three times more prevalent in non-armored beaches. Those with sea walls yielded significantly fewer macroinvertebrates as well as intertidal zones-the middle area between the high- and low-tide points on a beach-that were 47 to 67 percent narrower that those of their "unprotected" counterparts. Basically, what Dugan's research proved was what many a beachgoer has long suspected or at least detected: The beaches in front of sea walls are different.
Simply put, birds rely on little critters living in the sand for food. These critters survive on the decomposing seaweed left on a beach during the course of tidal changes and moon cycles. However, when you put armor on the beach, you change the nature of the interaction betwixt sand and waves from one of a constant subtle dance to a much more violent mosh pit. As a result of this increased wave action and bouncing of shoreline currents, the seaweed never really gets a chance to settle on the beach, meaning it never starts to decompose. In turn, the macroinvertebrates don't get the sustenance they need and, with them out of the picture, the birds start starving or simply move away. The end result is a complete redesign of the food chain that, by Dugan's estimate, will get exponentially worse as ocean levels continue to rise as a result of global warming. Alluding to the rising ocean level issue, Dugan predicted "even sea walls that today aren't causing a severe impact will become more of an issue in the future."
Despite the alarming nature of her findings, Dugan was hesitant to ring the bell last winter and instead opted for a full year of additional surveying. After all, her first round of work was done in the late summer months of August and September, when bird traffic is high but wave action is low. Now with the second round of study behind her-and the results soon to publish-Dugan can say definitively that sea walls equal big trouble for the animals looking to the beach for sustenance. Surprisingly, it is during this time of improved clarity and understanding that her funding has run dry and her research has been-at least temporarily-brought to a halt.
The first to admit the investigation of the impact of coastal armor really has only just begun, Dugan bemoaned her lack of current funding and what it means for a better understanding of the big picture of coastal ecology. "Our research didn't even take into account sand crabs or clams. : And you also have to consider the differences between sea walls and other types of armor like revetments [such as boulders]," she explained.
And while the latter is of particular local concern as it is used liberally in Carpinteria and has become a popular choice for a possible resolution at Goleta Beach, it isn't likely to be looked at anytime soon as, according to Dugan, "There aren't many faculty members on the West Coast who specialize in sandy beach ecology." Deploring this fact, Dugan hopes to secure a new funding source soon and resume her work. "There is a lot that needs to be known about the cumulative effect of structures on our coast," she said. "We have to think of it as a whole unit rather than just these certain bits and pieces that we care about."