Arts & Entertainment
The Moishe Mobile at Bonnaroo
A vivid green bus and 8 UCSB grads took a love of art and the message of environmental sustainability on the road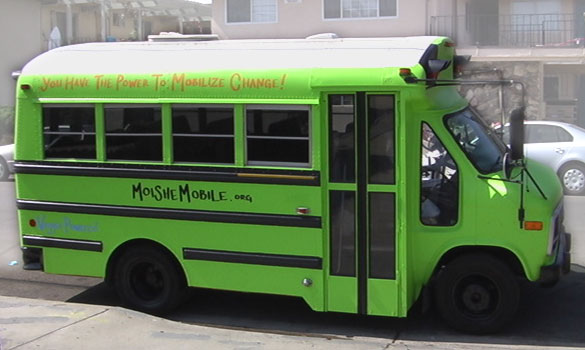 A vivid green bus and eight recent UCSB grads took a love of art and the message of environmental sustainability on the road last week while en route to the Bonnaroo Music and Arts Festival in Manchester, Tennessee. The Moishe Mobile-a short, yellow school bus in a past life; see moishemobile.org-was converted by Los Angeles-based Lovecraft Biofuels to run on vegetable oil and solar power, and was driven by a group of environmental enthusiasts from Santa Barbara to Tennessee, making stops in five cities along the way.
At each destination, from Flagstaff, Arizona, to Little Rock, Arkansas, the group showed communities that "being an environmentalist is cool" by using a combination of drum circles, interactive art, poetry, movie screenings, and self-growth workshops. The crew-including one of the minds behind the Isla Vista sustainability festival, Chilla Vista; a Forest Foundation employee; and a masters student at the London School of Economics-filmed their journey across the American South and Southwest for footage in the future full-length documentary titled Chillaroo.
But the Chillaroo crew did not stop advocating environmental awareness when the wheels on the bus stopped turning in Manchester. Bonnaroo-a campground culmination of a wide assortment of music from The Police, Tool, Ben Harper, The White Stripes, Franz Ferdinand, and Damien Rice-has held a high standard for recycling and green awareness in its five-year history. Now entering its sixth year, the festival teamed up with Clean Vibes, Clif Bar, and WastAway to ensure that music fans were informed. During the festival, the Moishe Mobile acted as a display of this intersection between art and environmentalism while the crew worked with Clean Vibes to recycle and reduce waste.
The green bus returns to Santa Barbara on Friday, June 22.