Food & Drink
S.B.'s Top Chef
Clay Bowen Is Out, But Not Down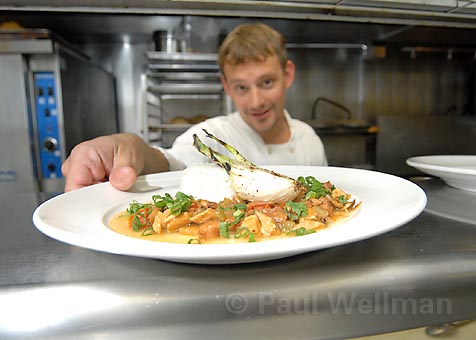 It's one thing to lose; it's another to lose in front of two million TV viewers. That's what Clay Bowen had to face when he was the first of 15 "cheftestants," as they're billed, to be eliminated on season three of Bravo's Top Chef. Of course there's always consolation going back to a job in Santa Barbara, where Bowen works as sous-chef at the University Club (1332 Santa Barbara St., 966-0853). But solace isn't enough for Bowen, who wanted to prove it's not whether you win or lose, it's how delicious an amuse bouche you can create. That meant yours truly got invited to a full lunch so Bowen could put his best cooking forward.
On his only episode, the Quickfire Challenge was to crank out an amuse bouche, and Bowen created a fruit gazpacho in a cored-out apple, thereby presenting something the judges felt was too big for mere amusement. Bowen joked, "I was making amuse bouches back in Mississippi; we just called them appetizers or hors d'oeuvres if we got that hoity-toity. We do wear shoes down there."
True enough, the show's judges seemed to want to make the 28-year-old Oxford, Mississippi, native come off like a country rube. Instead, they should have given him a chance to let his Southern roots shine, for his double-barreled presentation of amuses for me was the highlight of the lunch. The first was a pecan-and crawfish-crusted New Zealand green mussel with fig-balsamic reduction. Bowen could bottle and sell the oozing with flavor, rich with butter crust, and the fig-balsamic hit just the right counter-balancing notes.
The second amuse made me wonder if he knew of my weakness for doughnuts-a shrimp and andouille stuffed beignet with classic remoulade. It arrived piping hot (with quite a bit of pep to its spice), an inch-or-so globe of food that I kept trying to eat in smaller bites just to make it last. Bowen's creation played up that miracle mix that better beignets achieve, being both doughy and not pasty. You wouldn't want to start a meal with a million of these (maybe three would be nice), but it certainly perks up the taste buds.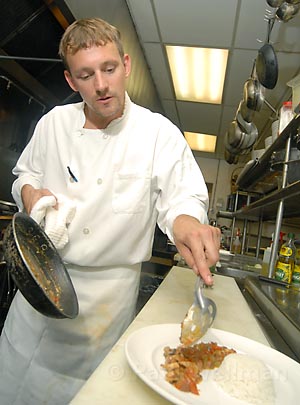 It's little surprise that Bowen, who got his first fine-dining kitchen time in at Oxford's acclaimed City Grocery restaurant (whose head, John Currence, was just nominated for a James Beard Award as best Southern chef), and who dreams of opening up his own restaurant in New Orleans some day, would keep bringing me Southern food. When he arrived with the entree he said, "It's my version of surf and turf, ironically, featuring pork, ironically"; the Elimination Challenge main dish that got him booted from Top Chef was wild boar with scorpion fish (the contestants were forced to cook with odd proteins, in case you missed it). This plate is much lovelier, and since I had heard searing going on through my first courses, I knew the pork wasn't being cooked too far in advance, one of his sins on the show. Turns out that grilled bone-in pork chops with red onion marmalade and blackened rainbow trout with uni sauce drizzle served with three-pea succotash with wilted swiss chard (recipe here) is a mouthful, and a delicious one at that.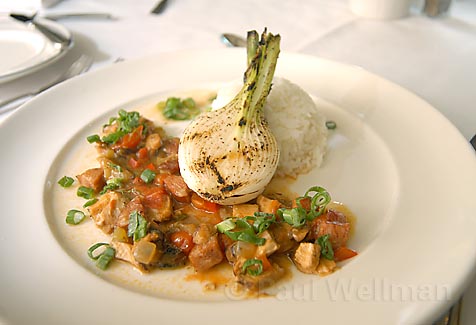 Bowen foregoes the current craze for brining pork and instead does the time-honored Southern approach-he makes a dry rub and lets the spices work their magic. The chop was mouth-watering and properly pork-tender, which of course isn't fork tender, but slightly pink (why do so many people overcook pork?) and easy to chew. The trout I was less thrilled with, but I have this thing about blackened fish: It never seems that attractive (why serve something that is charred for you on purpose?). That said, Bowen did manage to keep the thin filet moist even with its blackening. And the Santa Barbara accoutrement, the uni drizzle, was brilliant; so much of the sea in a mere tablespoon or two of sauce. My guess is it might have even kept Tony Bourdain, the Top Chef guest judge meanest to Bowen, from cracking wise.
Then there was dessert-a chocolate hazelnut cake with organic raspberry coulis. Again Bowen proved his deft hand with sauces, as that grand coulis made me want to say, "Damn." The cake was a fascinating mix of textures-some baked cake, some mousse-and in its way sort of old-fashioned, closer-to-the-club food you might expect from someone working at a place called the University Club. Indeed, the usual lunch menu offers gussied-up versions of the expected, so those Dungeness crab cakes sit on lemon-scented crimson lentils and heirloom tomato confit.
The meal, and his brief time on Top Chef, came into better focus when he told me the three things that all cooks can learn from Southern cooking: "Presentation isn't everything; that's number one," he said, and I could practically see a slightly browning, too-big cored-out apple in his eyes. "My mom's given me a big old bowl of chicken and dumplings that could almost scare you away the way that it looks, but if you dig in, it's the best thing you've ever had in your life. Number two, I'd say half of what makes Southern cooking so good is it's not afraid of fat, so don't be so afraid of fat. The good fats are the bacon fat and the butter; it's very deep in Southern cooking. And number three, just learn through your family more than a school or a job. You'd be surprised what mom or grandmom has been whipping up all these years and why it actually tastes so good."