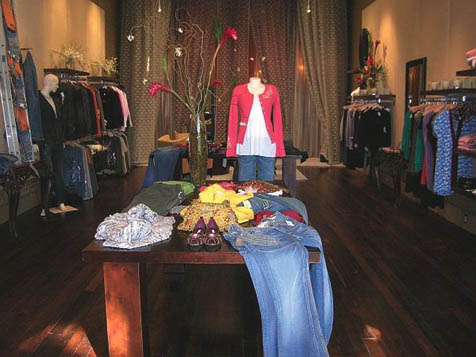 Au Courant:
Subscribing to Style: Lower State Street style mecca beca:christian (432 State St.) just launched its Boutique Membership program, which should give fickle, commitment-phobic, and shopaholic stylephiles reason to celebrate: For a monthly fee, members score a 20 percent storewide discount (reason enough to enlist), as well as the services of personal shoppers; "concierge shopping," wherein the store'll front for the goods you're eyein'-even if you don't wind up plunking down your credit card; exclusive access to new collections before they hit the store's racks; Girls Night cocktail parties; fashion shows; trunk shows; food and wine tastings; spa parties; aaaaaand free use of the shop's hottest accessories. Yep, the latest couture handbags (Gucci, Chanel, Prada, LAMB, and Chloe, to name but a distinguished few) and designer jewelry will be yours to take home, use as long as you like, and exchange whenever the mood strikes. In a word: Genius!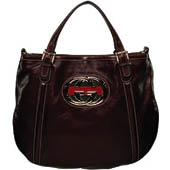 There's no place like home: In a move that would make Dorothy proud, Simple Shoes has teamed with Joe Curren Photography to launch its special edition ecoSNEAKS, which come printed with Curren's images of Santa Barbara and the Central Coast. The graphic kicks are made sustainably with organic and recycled materials and minimal packaging, and will be available August 20 at Santa Barbara Outfitters (1200 State St.) and Hempwise (971-B, Embarcadero del Mar, Isla Vista). Those ruby slippers have nothing on these.
Hello, hello again? Pacific Pride Foundation announced the opening of From My Heart Thrift Store (418 N. Milpas St.), which will benefit people living with HIV and AIDS. The store sells used clothing and household goods, and is always on the hunt for (tax-deductible!) donations. : Scavenge (418 State St.), beloved purveyor of all things party, will pack it in (and, word is, relocate) come the end of November. At least we're covered for one more Halloween.
Spotlight On: Arcobaleno trade
Last May, Carpinteria resident Sandie Doles decided it was high time to try something new. The social services worker was selling fair-trade goods out of her home, but, through San Francisco-based Global Exchange, became inspired to focus completely on her side project. (That, and her inventory was threatening to overtake her home.) With the recent opening of her store, Arcobaleno Trade (7 W. Haley St.; 963-2726), she's bringing her wares to the fair-minded consumer who doesn't want to sacrifice style for a clear conscience. Buying fair-trade products means you're supporting fair wages, employment opportunities, healthy and safe working conditions, and environmentally sustainable production practices-and, as Doles pointed out, fair trade means it's fair for everyone, which translates to low prices for you. Whether you're in the market for art, clothing, jewelry, or housewares, you're sure to find something unique: In addition to the expected coffee, tea, and chocolate, there's luxuriously soft clothing made from bamboo fiber, Indian scarves made from silkworm-friendly Ashima silk, recycled juice-box bags from the Philippines, recycled candy-wrapper bags from Mexico, even metal work using recycled oil drums from Haiti. Nearly 70 percent of the products are made by women, and, Doles said, "When you empower women, you're investing in communities." What other purse do you know that can say that?
Shop this:
Crush Cosmetics (1229 State St.; 963-4176 to RSVP) has plans to seriously spoil any beauty junkie worth her products. This Saturday, August 18, in conjunction with mineral makeup pioneer La Bella Donna, Crush will kick down complimentary makeovers; Saturday, August 25, Crush's staff will station itself at Spectrum Downtown, where they'll offer free mini-facials using OSEA products-and goody bags for the first 50 RSVPs. On Thursday, September 13, stop by Crush's Sushi Pink Party between 6-8 p.m. to receive a complimentary mini-facial and makeover using UTOWA goods, which will be 25 percent off. Space is limited, so RSVP early. : Don't miss CoutureCandy.com's Back to School promotion, which'll score you anywhere from $25-$200 off, depending, of course, on how much you spend (the progressive discount kicks in at a tab of $125). Just enter the discount code "BACKTOSCHOOL" at the end of checkout anytime from now through the end of September. : Stop by Global Feet (930 State St.) anytime this month and be rewarded with 25-45 percent off selected styles-and a 20 percent student discount to temper those back-to-school blues.
Check Out:
Next time you're in the mood to do a little treasure-hunt-style shopping, stop by Renaissance Fine Consignment (1114 State St., Ste. 10). Tucked discreetly into La Arcada Court, it's remained a well-kept secret in the two-and-a-half years it's been around. Here's why it's worth putting on your list of must-shops:
1) The variety. Owner Joann Younger also has two locations in Sacramento, and rotates her merchandise between the three stores constantly; also, the store accepts consignments every day, so there's always something new.
2) The designer area downstairs. The vintage area upstairs. The huge selection of designer bags and leather jackets-one of the best, and most extensive, in town.
3) The wish-list program. Are you dying for some vintage Pucci? Or perhaps a new pair True Religion jeans? Just tell Joann and her staff, and should the object of your desire ever cross their counter, they'll let you know-and let you have first dibs, before they put it on the racks.