Living
'Tis the Season for Elderberry Shrubs
Purple Haze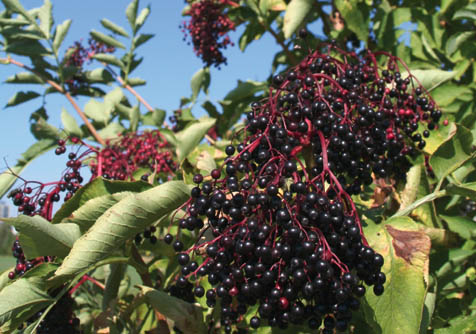 They are easy to miss for most of the year, but right now these native shrubs are laden with a bounty of purple fruits. Western elderberry (Sambucus mexicana) bushes grow in almost any situation. They naturally occur along creeks and at the edges of hard chaparral in the foothills. They are also very adaptable to garden situations from full sun to partial shade.
The shrubs are classed as deciduous and need no supplemental irrigation to thrive. In the garden, however, a little extra water will have them looking good most of the year. Usually multi-trunked western elderberry grows 10-30 feet in height, making it a good background plant. With careful pruning, a single-trunked specimen can be created to provide an interesting focal point. Since they grow quickly and rampantly, prune hard to return them to a manageable size and shape. The serrated leaves are a medium green and handsome in their own right. There are some named varieties selected for fruit production as well as some with more ornamental foliage, including golden-green-colored leaves or more divided leaves resembling ferns.
In late spring and early summer, western elderberry sports an abundance of large, flat-topped clusters of tiny ivory-colored flowers. By mid to late summer, these flowers are maturing their deep purple berries for a striking display. The flowers are attractive to many beneficial insects and the fruits are also good food for wildlife. What many may not know is they are also edible by us humans. The flower clusters can be dipped in batter and fried for a tasty fritter. The fruits, however, are the crop to be coveted. Although each berry is tiny-only about ¼ inch in diameter-the clusters hold many within reach for easy harvest. Berries can be used for juice and wine, made into jellies and jams, or baked into pies. Flowers can also be used in making wine for cooks serious about preserving their delicate flavor. The rest of the plant is poisonous, so care should be exercised when picking flowers and fruits to avoid leaves and twigs contaminating the harvest.
September Tips
• Plant trees and shrubs, especially California natives, this month. They will have the next couple of warm months to make good root growth.
• Plant for winter color: Canterbury bell (Campanula medium), calendula, foxglove, Iceland poppy (Papaver nudicaule), and snapdragon, to name a few.
• Keep camellias evenly moist and boost blooms with low nitrogen/high phosphorus and potassium formulations.
• Go to the Santa Barbara County Horticultural Society plant sale on Sunday, September 16, from 10 a.m.-3 p.m. at MacKenzie Park for unusual plants.