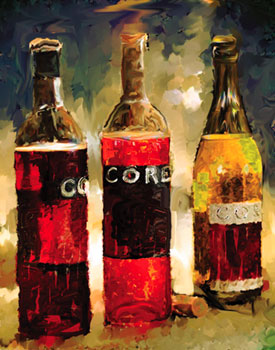 I met Bob Dickey a few years ago and identified him immediately as an artist. Dickey can be in a room full of people, all of them milling about, all immersed in their conversations about what it is they do for a living, or where they plan to vacation, and there will be Dickey : entranced by a certain slant of light coming through a living room window and illuminating a vase. He'll be swept away by the aesthetics of a seemingly ordinary moment the rest of us might not even notice. In other words, Dickey always has time for the beautiful and fascinating, and his dream is to record these moments for the rest of us to enjoy.
All artists have their muses, and Dickey's is Santa Barbara, and, more particularly, the wine industry here. It's as if they were made for each other; Dickey finds inspiration in every corner of our county and in every vineyard conceivable. Santa Barbara is rife with the kind of raw materials that inspire Dickey. When I asked him to identify what it is about Santa Barbara that he loves, he couldn't help but wax poetic and rhapsodic.
"First, there's the beauty," he said. "The colors, the shapes, the contrasts, and, especially, the textures: big boulders against sand and surf; delicate bougainvillea flowers with treacherous spikes against the rough white adobe; the curves and colors of tile roofs; arches creating light/dark contrasts in the Mediterranean-style buildings. In the wine country itself, the rolling hills, dotted with oak trees; undulating vineyards with rows disappearing over a hill, like a viticultural rollercoaster; clusters of sauvignon blanc catching the morning sun and multicolored fall leaves catching the setting sun; barns developing character as they weather in the elements.
"Then there are the shapes and textures of winemaking: clusters of smooth grapes being dumped into bins; stacks of textured barrels with the smell of yeast and wine; and the sensuousness of the bottling line as the bottles proceed through the filling, corking, and labeling machine as if to a minuet," Dickey continued. "Those images just scream to be recorded, either as photos or as paintings. They sometimes rush over me, giving me the sense of standing under a waterfall. I love being immersed in this."
In the interest of full disclosure, Dickey and I are in a wine tasting group together called the Wine Profilers. We meet periodically and discuss wines from around the world with our mutual friend, Gabe Saglie, and other friends and wine lovers from the area. Often, during our tastings, Dickey walks quietly around the table full of empty and near-empty wine glasses and bottles, and snaps photos of them, sometimes picking up a bottle and setting it down next to a burning candle.
Dickey not only loves to taste and learn about wine, but he allows it to inform him and his work in a way that is very intimate and personal. "I've consulted in other industries and have often been involved with projects creating excitement," said Dickey. "But in our local wine industry, there's a passion that I think is more typical of what artists and musicians must have when creating something spectacularly original. And it's expressed also in the lovingness and friendliness of the players.
"It's fun to be included in that passion and love whether it's in the vineyards, the winery, or at a wine-related event," he continued. "I like trying to paint those images in a way that portrays what I sensed and felt, as well as what I saw. That might require additions or subtractions, changing colors, or adding textures, lighting, or shadows until I see on the screen the feeling in my head. When it works, it's great. When it doesn't-I put it in a folder for a possible later review. And start on a new one."
A visit to Dickey's Web site (winecountrypics.com) is merely an introduction to his work, but it's a thorough and thoughtful one, and presents an artist with a sweeping vision that expresses itself in several different mediums.