Business
Feds Target S.B. Medical Marijuana Shops
Up in Smoke?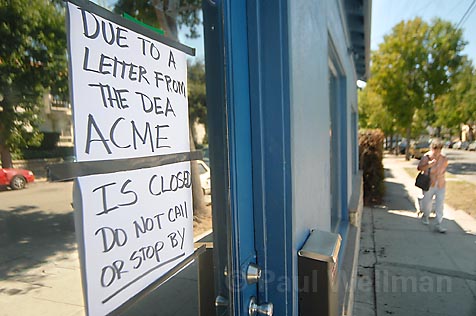 After enjoying years of relatively hassle-free business, Santa Barbara's medical marijuana scene is feeling the heat this week, with a distinctly ganja-scented cloud of uncertainty hanging over its future in the wake of a federal Drug Enforcement Administration (DEA) letter-writing campaign.
In recent days, more than a dozen local property owners have received word from the DEA that they could face the potential seizure of their property and assets if they continue to rent space to cannabis companies-a threat that has dispensary operators and building owners alike waiting to exhale. Feeling the fallout from the letters, at least two of the City of Santa Barbara's 10 dispensaries are facing eviction notices, while many others are working overtime with their landlords to prevent a similar fate from befalling their storefronts. "Make no mistake about it: The DEA has officially come to Santa Barbara," said Jennifer Nelson, the head of Santa Barbara's chapter of Americans for Safe Access (ASA), a national nonprofit dedicated to protecting the rights of medical marijuana patients.
Though no actual litigation has yet resulted, the DEA has in the past month sent out at least 150 similar letters to property owners throughout the state-the bulk of them to addresses in Southern California, said Kris Hermes, an ASA spokesperson. "Basically, for no more than the cost of postage, [the DEA] gets to shut down as many dispensaries as possible," Hermes said. In his estimation, the letters are "no more than scare tactics," given the fact that in the 11 years since Proposition 215 was implemented in California, the federal government has been successful only twice in seizing a building or house related to a medical marijuana dispensary raid. That being said, Hermes admits the letter campaign is a huge setback for dispensaries, as it works to scare away both current and potential landlords. "Without a doubt, this makes it more difficult to operate facilities in Santa Barbara and throughout California, for that matter."
An informal survey of Santa Barbara's 10 dispensaries on Tuesday morning showed business as usual for club owners and employees, though all universally expressed a certain degree of worry about eviction or-even worse-a federal raid. "If nothing else, this is a reality check for us," said one of Santa Barbara's longtime operators. "It is a reminder of the serious risks we and our landlords take : Let's just hope it isn't a sign of things to come." Another club owner, who had already been told he was going to be evicted in coming weeks, commented, "As a businessman, I can't say I blame them. Unfortunately, this makes it up to the landlords from now on and whether they personally want to take a stand or not." (Both dispensary operators asked that their names not be used.)
Adding a serious wrinkle to the DEA development, the Santa Barbara City Council voted unanimously this week to place a moratorium on medical cannabis clubs within city limits. Retroactive to August 14, the decision-which was supported by a coalition of club owners-was meant to stop the perceived proliferation of dispensaries pending the development of a set of universal rules and regulations governing everything from zoning to hours of operation for the clubs. While an unknown number of businesses are grandfathered in under this legislation and therefore exempt from the moratorium, it remains to be seen whether clubs evicted in the coming weeks will lose their grandfathered status, given that their current business licenses are based upon addresses that might become inaccurate if their businesses were to be evicted.