News
Das Williams Leads Money Chase
Dialing for Dollars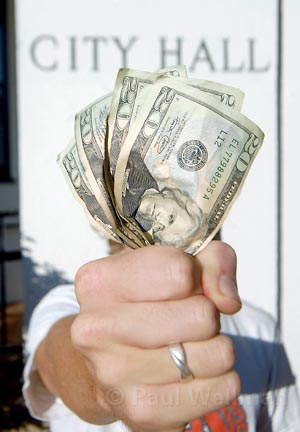 If money talks, Santa Barbara City Council candidate Das Williams is shouting at a time when the rest of the candidates-and certainly the challengers-are whispering. Since the beginning of the year, Williams, an incumbent, has raised nearly $55,000, including $22,500 in the past three months alone. That's a lot, especially considering $80,000 was the most any candidate spent in the last race.
But Williams-an outspoken operator who has sought to fuse environmental, social justice, and neighborhood preservation agendas under his political tent-has also spent way more than any other candidate: $42,000. Williams said $8,000 went to pay for a survey he commissioned several months ago that showed, among other things, strong popular support for City Hall's anti-global warming agenda but little for efforts to impeach the president.
Williams's biggest donation came from Ray Mahoob ($2,000), a State Street real estate owner whom Williams said he's known since the two attended fourth grade together. Realtor Suzanne Perkins gave $2,000 as well; Perkins has supported Williams in the past because of his efforts to limit development along the Gaviota Coast. Williams got $1,500 combined from two ChannelKeeper supporters, Craig Madsen and Dan Emmett, both Los Angeles attorneys with property on the South Coast. He also got $750 from a Manhattan Beach compressed natural gas company, Clean Energy.
After Williams, incumbent Helene Schneider, another progressive Democrat with strong ties to Santa Barbara's community of feminist activists, reported the second-largest campaign war chest at $33,000. Most of Schneider's donations reflected her base, but she received $250 from Pete Jordano and $250 each from Susan and Jim Petrovich, three people typically associated with much more conservative causes. Jordano's wife, Gerd, has reportedly been an active supporter of Planned Parenthood, where Schneider worked before securing a spot on the council four years ago. The Petroviches were vocal supporters of Sheriff Bill Brown in his successful campaign against then incumbent sheriff Jim Anderson a year ago, and Schneider was one of the few elected officials to endorse Brown in that race.
Coming in third was challenger and first-time candidate Dale Francisco, spurred into the race by his outrage over the mini-roundabouts; he's raised $15,700. Of that, he loaned $10,600 to himself, and another $3,000 came from activists who lobbied unsuccessfully to stop City Hall from making the temporary mini-roundabouts permanent.
Incumbent Brian Barnwell came in fourth, reporting $10,421 in campaign contributions, one-third of which came in the past three months. Barnwell, who surely raised more money at his Monday night campaign party at Eos, raked in many small donations from architects, land use attorneys, and politicos. But his biggest donations came from the police officers' union-which contributed $2,500-and trash czar Mario Borgatello of MarBorg Industries, who donated $2,000 through two holding companies, Asti and Spumoni. Barnwell-who is regularly criticized in the News-Press editorial pages-received a $250 check from former News-Press publisher Joe Cole. Cole's resignation in April 2006 triggered the News-Press meltdown that began later that summer.
Challenger Michelle Giddens reported raising $5,300; $2,000 of that came from anti-roundabout activists James and Sharon Westby. She also received $500 from developer Wayne Siemens-who typically gives to liberal causes and candidates-and $500 from former school boardmember Lanny Ebenstein, who ran unsuccessfully for mayor against incumbent Marty Blum last year. Giddens is another newcomer to Santa Barbara politics, having gotten involved during the uproar over "mansionization" of certain Mesa neighborhoods. Giddens argued that property owners should be allowed greater flexibility in designing their remodels and lobbied unsuccessfully against the more stringent ordinance passed last year by the City Council.
Frank Hotchkiss, a onetime actor and ex-PR mogul turned writer and real estate broker, reported having raised $3,900. Hotchkiss, who took issue with the controversial Light Blue Line project and efforts to extract more below-market housing from developers, received $1,000 from Beth Rogers, the moderate Republican with libertarian leanings who ran for Congress against Lois Capps a few years ago.
With regard to challengers Bob Hansen and Dan Litten, neither has raised enough money to trigger campaign disclosure laws. Litten, a doctor at Cottage Hospital who moved to Santa Barbara in 2001, said he intends to run without asking for any money.
Last but not least, the committee in favor of Measure A-which would require the City of Santa Barbara to hold its elections the same years as state and federal campaigns-failed to raise the $1,000 necessary to trigger reporting requirements. The committee against Measure A raised $500, all from Lanny Ebenstein.