Opinion
2007 Endorsements: Santa Barbara City Council
For too long, the City of Santa Barbara and its elected leaders rested on their environmental laurels as the so-called birthplace of the environmental movement. But, in fact, many similar-sized cities were pursuing more innovative programs than our own. In recent years, however, that's changed-and dramatically for the better. City Hall approved two major solar installations on its own structures and has eliminated design guidelines that hindered private residents from going solar. City parks use far less pesticides today than they did four years ago. Santa Barbara's creeks are being managed better, providing hope that our once famous steelhead trout can better survive. And City Hall is leading the charge to convert South Coast trash into cleaner burning fuels. None of this happened by accident. Many have contributed to this effort. But key among them are the three incumbent councilmembers running for reelection: Brian Barnwell, Helene Schneider, and Das Williams. When you go to the voting booth Tuesday, November 6-or cast your ballot absentee style-we strongly urge you to keep them in office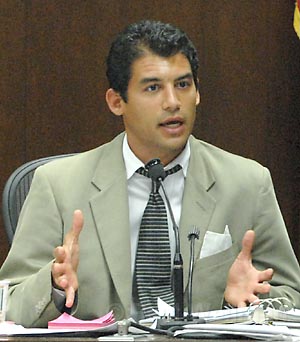 Each member of this trio brings decidedly idiosyncratic sensibilities to the job. Barnwell, a centrist Democrat and a passionate planning wonk given to brilliant, if at times anguished, soliloquies, has amassed a voting record that defies easy prediction. Schneider, who emerged out of Santa Barbara's wellspring of activist women, tackled seemingly insoluble social problems-like chronic homelessness-deploying administrative savvy and behind-the-scenes bureaucratic expertise. And Williams, a progressive Democrat, has sought to harness his evangelical Christianity, local surf-dude environmentalism, and economic populism into the service of his considerable political ambition.
On their own merits, each of these three incumbents richly deserves to be reelected. As a group, they don't always agree, and, in fact, have on occasion expressed exasperation with the behavior of each other. But, over time, this threesome has achieved a cooperative working style that has been put to good use. Certainly all three have worked energetically to address the stiff challenges confronting both City Hall and the broader Santa Barbara community. All three have exhibited good faith in their efforts to come to terms with Santa Barbara's conflicting and often polarized constituencies. And all three have done exactly what they said they'd do when they were elected for the first time four years ago. Given this, we enthusiastically endorse the reelection of the three incumbents.
We don't delude ourselves into thinking this group has all the answers. We are convinced, however, that on the big issues, they will try to ask the right questions. And that's huge.
While the key challengers in this race-Dale Francisco, Dave Hotchkiss, and Michelle Giddens-have pointed out some shortcomings in City Hall's decision-making process, we don't feel they provide the depth of experience or breadth of vision required to step into the post. And to the extent they have articulated a broader vision of city government, we think it's way too narrow and limiting for the challenges ahead. Challenger and homeless advocate Bob Hansen has played the role of political court jester to good effect, livening up otherwise predictable forums with irreverent wit coupled with some good ideas. It's worth noting that he has thrown his support behind the incumbents.
Certainly one of the toughest problems confronting the South Coast is that of gentrification and the attendant loss of community character. As real estate values soar, Santa Barbara's working people and middle classes find themselves increasingly forced out of the city by market forces largely beyond government control. Yet this City Council has chosen to address-and when possible, prevent-such social upheaval. In the coming four years, during the crucial general plan update process, Santa Barbara as a community will seek to achieve maximum affordable housing while preserving the personality of individual neighborhoods and the city's cherished small-town character. We harbor no illusions that this tension will be easy to navigate. But we are confident that Barnwell, Schneider, and Williams are best suited among the candidates to synthesize such conflicting objectives into as coherent a government plan as humanly possible.
On the question of gang violence-posed with violent urgency when 15-year-old Luis Angel Linares was stabbed to death on State Street-the council as a whole found itself scrambling to respond. We were disappointed that no one on the council provided the much-needed voice of moral witness that the moment demanded. But we were also impressed by how hard Schneider and Williams went to work securing more city funds for anti-gang prevention programs. As a result, City Hall will be spending about $200,000 more in general fund revenues on youth programs and about $600,000 in a youth jobs program funded with grant money City Hall just secured. In addition, Schneider and Williams found the funds to reinstate bike patrol officers to neighborhoods on the Westside and Eastside plagued by substantial gang activity. Santa Barbara has always had gangs; gang violence has always ebbed and flowed. It's not sufficient to proclaim, as some challengers have, that gang members must either leave their gangs or get out of town. A more nuanced approach is required, and we think these incumbents will provide that.
Many of the challengers have accused the City Council-and City Hall-of an anti-automobile bias that is dangerously at odds with the two-car reality of most Santa Barbara families. The charge "social engineering" is frequently leveled. They just don't get it.
Santa Barbara's roads are already dangerously congested. We lack the money and real estate to meaningfully expand the carrying capacity of our streets. To its credit, the current City Council-with the incumbents again leading the charge-has significantly expanded funding so that the Metropolitan Transit District can provide better and more frequent bus service. Commuter rail is an absolute necessity, not the Holy Grail its critics claim. Barnwell, Schneider, and Williams have an impressive record achieving small successes in the pursuit of commuter rail service despite their opponents' derisive pessimism.
This is an impressive record for councilmembers in their first term. Brian Barnwell, Helene Schneider, and Das Williams deserve our votes. All three are honest, hardworking, diligent, and effective public officials. But there is still much work to be done. Let them finish the job they started; reelect to the Santa Barbara City Council Brian Barnwell, Helene Schneider, and Das Williams.