Arts & Entertainment
Santa Barbara Symphony Opens Last Season At the Arlington
Orchestral Maneuvers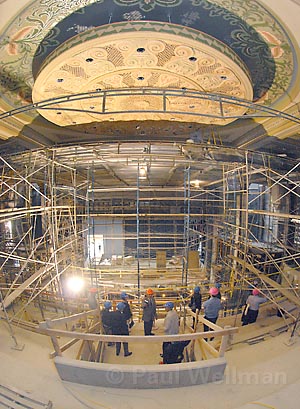 "It's been a long process, but a very good process," said Santa Barbara Symphony Executive Director John Robinson on an early morning last week in the symphony's upper State Street offices. "It's been May since our subscribers have heard anything from us. That's the longest lull in our year. Our staff is going to be waiting [for opening night] with bated breath, too."
But Robinson's eye is on a bigger prize than the opening strains of Benjamin Britten's Four Sea Interludes. Saturday, October 13 at 8 p.m. will mark the opening of the orchestra's 54th season. But this season is also notable because it is the last to be spent in the Arlington Theatre. As the symphony looks back, it looks forward too. Conductor Nir Kabaretti will be clicking his baton for a second year as official maestro. "It's the first year he has programmed the season from A to Z. He had a big hand in this one," said Robinson.
Robinson says that he believes the symphony is in a very good place right now. "In 2004, a year after our 50th season, we hired a consultant to come in and advise us about the state of the orchestra," he explained as the office began to fill. The consultant's report, filed a few months later, identified three areas the organization needed to address to keep itself firmly ensconced as a regional power. "The first was a world-class conductor to replace Gisle [Ben-Dor]," said Robinson. This was done after an expansive search and with a season of conductor tryouts, in which Kabaretti, an Israeli who trained in Austria and makes his home in Florence, showed mad conducting skills amplified by his rich connections to Europe.
"The second area was identifying a venue," said Robinson, an eclectic soul who studied the Tea Ceremony in Kyoto for two years and later managed musical careers such as those of the conductor Simon Rattle and the Los Angeles Guitar Quartet. Now poised for the symphony's new home in the Granada Theatre, Robinson is happy despite frustrating construction delays. The 2007-08 season marks the third year in a row that the symphony has begun its season expecting to move. A giant gala Granada debut this spring is a go, Robinson asserts. For their part, the Granada's board of directors has made concerted efforts to please the symphony, including an expensive widening of the proscenium arch and other musician-oriented amenities. "We are the number one tenant," said Robinson with confidence, and he seems happy about that, too.
The third concern raised by the consultants was conquered as well. "That was to give Nir the support he needs, providing him a great orchestra," according to Robinson. To that end, symphony management met with the orchestra in the most recent round of union contract negotiations, and everybody walked away smiling. "We didn't give them what they first asked," said Robinson sheepishly, "but we ended up a lot higher than they expected us to go," he claimed. This is important nowadays because most of the S.B. Symphony's musicians-more than 70 percent of them-commute from Los Angeles, where they could work for any number of "competing" orchestras in places like Los Angeles, Long Beach, Orange County, and Thousand Oaks-not to mention the thousands of movie and television gigs available to performers of their caliber.
Fortunately, musicians are drawn by "aesthetic scintillation" as well as big dough, and Robinson believes this year's program will provide the multiple frissons that will keep this group tingling. The Britten piece's nautical theme will be picked up again later in the year by Debussy's La Mer and the Pirates of the Caribbean-themed New Year's pops show. A first-ever Percussion Festival in April will feature the West Coast premier of Jennifer Higdon's Percussion Concerto-before the L.A. Philharmonic tackles it.
Robinson further believes that a great symphony orchestra program balances entertainment and challenge with a reaffirmation of tradition. It isn't just adventurousness or the name soloists that the symphony brings that make a season great. "Nir is the number one draw, because he is a great musician. He's warm and personal, but he's no-nonsense too. Every musician I know loves playing Beethoven with a great conductor," said Robinson, and that should be immediately apparent to audiences this weekend: Beethoven's Piano Concerto No. 4 is on the program, along with Brahms's Symphony No. 1. "Which a lot of people call Beethoven's Tenth Symphony," Robinson said. "The goal is to play Beethoven like it was just written, and to play contemporary pieces like the Higdon as if they had been around since the 19th century," said Robinson. "I didn't make that up," he said. "But I'm sure Nir would agree."