Living
Honk for Justice
Teens Protest DA's Prosecution of Youth as Adult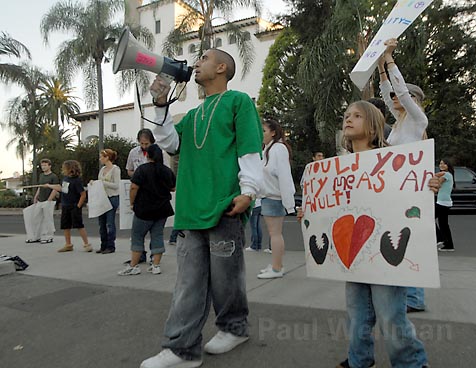 In a peaceful yet vocal gathering on Monday afternoon, close friends and relatives of Ricardo Juarez held signs and chanted slogans in front of the Santa Barbara County District Attorney's Office in the first of what is scheduled to be five days of protests this week.
Around 30 people, mostly high school-aged students, stood in front of 1112 Santa Barbara Street to voice their support for Juarez, 14, who is charged with the murder of Luis Angel Linares, 15, an alleged associate of a rival gang. While none present denied Juarez's involvement with Linares' death, they argued that it was unfair to try a 14-year-old boy as an adult when numerous assailants allegedly killed Linares and the rest of them are being tried as juveniles.
The decision to try Juarez as an adult means the possibility of a life sentence. While one young girl tearfully read from a letter to DA Christie Stanley printed in The Daily Sound over a bullhorn, other youths held signs and chanted slogans such as "Children do not deserve adult punishment." Some of the protesters were reluctant to speak to reporters, but as passing cars began honking to show support for their cause, the timidity melted away and many of those who have known Juarez for many years began to speak fondly about a boy who they describe as a good, responsible student and friend with no previous criminal trouble. One woman, who noted that she has known Juarez since he was in elementary school, said she worried that sending Juarez to prison for the rest of his life he would be exposed to dangers and influences he would not have to face otherwise, going on to suggest there are some inside the prison system who might seek revenge against him.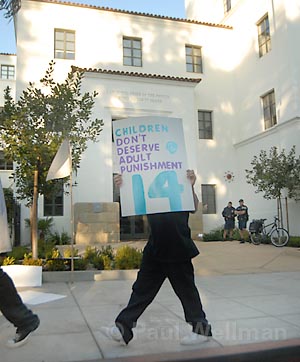 Some who had known both the victim and the accused said that it was only a matter of fairness that Juarez be tried as a juvenile because of his age and the disputed evidence. The mother of one of the protestors pointed out that many stabbings and other violence occur in Santa Barbara on a regular basis but that this case was receiving notoriety "because it happened at Saks Fifth Avenue." Many of those who do not know Juarez personally were against the practice of charging minors as adults. "Are we trying him to make him an example for other children in our city?" asked Santa Barbara resident and UCSB student, who added that prison only serves as a "finishing school for criminals."
Though the Tuesday protest featured fewer people – around 15 – the protesters plan to reconvene in front of the DA's office at 3:30 p.m. for the rest of the week in order to raise awareness of the gravity of the DA's decision and how it will weigh on Juarez's life, but also to support their friend, who they contend has been unfairly portrayed as a ruthless criminal instead of the young boy they know.