Arts & Entertainment
Evanescence Frontwoman Amy Lee Steps Up, Delivers an Album All Her Own
Brought Back to Life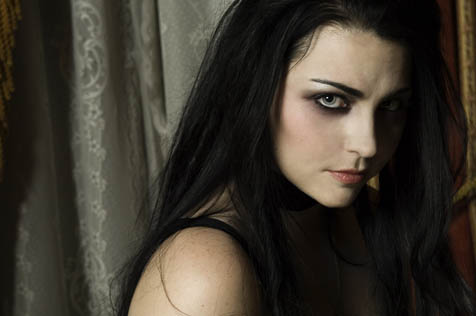 Since finding almost unprecedented commercial success in 2003 with Fallen, the hard-rocking folks of Evanescence have seen illness, public breakups, and more tumultuous lineup changes than Destiny's Child. And while press and fans questioned lead singer Amy Lee's ability to craft a follow-up that would perform (by May 2007, Lee was the only original member still standing), 2006's The Open Door successfully slammed in the face of her disbelievers. Rich in instrumentation-organs, elaborate string arrangements, and lush choral vocals abound-and led by Lee's intense lyrics and classically trained piano skills, the album moves in a direction that is simultaneously new and reminiscent of the potential at which Fallen once hinted. Lee phoned in to chat about married life, women in rock, and how The Open Door came to be.
Hi. Happy Halloween. Ha. Yeah. Actually, after I finish, I need to go quickly wash my hair and scramble to find costumes for tonight's show.
Do you know what you want to be? I have no idea:I guess, if all else fails, I could just be the chick from Evanescence. But people will think that's a really lame cop out. They'll be like, 'Awww.'
How's married life? Good, very good. I think it's probably different from most people. We got married, went on a honeymoon for a week, and then went straight back on the tour. We've been sort of all over the world since we got married. But it's almost over and we're going to get to experience what it's like to just be home and be somewhat normal. I never want to be totally normal, but, you know, like regular people.
Looking back, popular music had these strong females fronting commercially successful, but still hard-rocking, bands: Chrissie Hynde, Patti Smith, Joan Jett. Why do you think the strong female rock figure doesn't really exist today? It's the hardest question for me to answer, and I don't know the answer. : I think it's one of those things that's either random, or generally, I think when you see women in music people assume it's just not them being the group. Because so much of the pop industry is what we see. : It's just a girl, and that's the gimmick, and there's some mastermind man behind the scenes doing all the actual work. So it's harder for people to buy a chick in a rock band. And that was really the only seriously big challenge for me, being a woman in the industry. I didn't think it was anything specifically hard, except for the fact that I had to prove that I was real, and that I'm actually a writer first and a singer and performer second.
But I totally didn't answer your question. Where's Joan Jett? I dunno. I wish they'd all come back. I think there are female-fronted rock bands out there that are good, they're just not big, and we need to support 'em.
On The Open Door, you draw on classical influences more heavily and blatantly than you have in the past. Do you think that stems predominantly from your background in piano? Playing piano for me was something that I begged for because I was influenced by Mozart. I was really young and I saw Amadeus and I was obsessed with the movie and the whole idea. : I mean, the music's always been part of my life. My dad is a musician and it's just always been around. : Definitely, I think, that's been one of the original inspirations for this band and my idea about it. But when we were making Fallen, Ben [Moody] and I were writing together. : His range of influences were a lot different from mine, and I think the number-one, most important thing to him was being commercial and becoming successful. So it was always a push and pull between us, for me, because I was constantly trying to pull it to a more creative place. It's cool because Fallen really is a lot of compromise. It definitely leaned toward what he wanted a lot of the time. We stuck to a lot of patterns and structures. : By the time we did The Open Door and Ben wasn't in the band anymore, it was really my show and I started using Terry [Balsamo] to bounce ideas off of. : So you hear a lot more of my influences coming out. I guess that's the long story of all of that.
I absolutely love organs; [we] played B-3 on almost every song somewhere in the background, and plush choirs, and weird, dissonant strings, all that stuff. It was really cool for me because I wasn't a piano player on Fallen. I wanted to really know that I was the piano player and I wanted to prove myself in that way, so the piano parts are a little more classical and interesting.
When you look back now, you kind of took a huge chance with this record. It must have been quite a relief to have it do as well as it has. I mean, I think I would have been disappointed. : I know I would have been disappointed if Fallen had done so well and then when I got the chance to be in control and do it myself it sucked. But I was prepared for it at the same time. I was like, "Okay, Fallen was huge. And the only reason it was huge was because it was really easy to swallow in a lot of ways. I wanna branch out and I wanna do things that some people won't like. I wanna really make a record that I think is better for me. And if that doesn't bring everyone along with us, then I'm okay with that." Thankfully, I think that good music does speak for itself and I love The Open Door so much more than Fallen. And I think that's the point. It's not really about record sales; it's about making great music and putting it out there.
You've found an amazing amount of success in a genre that normally doesn't lend itself to Top 40 status. Do you ever find it funny that you've become a staple on adult contemporary radio? [Laughs.] I'm at a point now where-especially with all the countries we've been to and all the different fans I've met from all different places, different backgrounds, different ages, different colors, different everything-I think that's the coolest thing of all. Our music doesn't fit into a box. But, at the same time, it sort of works in any format if you pick the right song. I'm not the kind of girl who turns on the AC station and listens to it, but, at the same time, that's what we're going for with "Good Enough" because that's what kind of song it is. : It's fun. I think it's really cool to be so versatile. That's part of what I want to do as a musician is incorporate everything I love about music into one thing. There's no reason to try to separate different genres, or say, "This isn't heavy enough," or "It doesn't sound like this," or "This can't be an Evanescence song." Whatever. As long as it's genuine and passionate, I think it's cool if it's all over the map.
As the only original member still standing, how much of the songwriting falls on your shoulders and how much of it is a group effort? Well, it was all really up to me, but since I'm not really an electric guitar player-I mean, I can play, but I don't do it for the band, usually-I want to take somebody who's a really good guitar player and cool guitar writer and work with them. So, for The Open Door I thought, 'OK, I'll give it a shot,' and got everyone in the band to try and write together. And out of everybody, it was really just Perry and I that clicked. I was so lucky to find him, and to have him already in the band. Like, we hired him on just to play and it turns out he's like a genius writer. I was really lucky. So, I'd say, most of the songs were collaborations between Terry and me.
And Will [Hunt] and Troy [McLawhorn] of Dark New Day are still touring with you guys. Have there been discussions of keeping them on board? We're not really worried about it at this point because we're about to stop anyway. And they're still in Dark New Day and working on a lot of songs and have actually been in the studio in between tours with us, working on that album. So, since we're finishing December 8, it doesn't really clash with anything we're doing for them to go do their thing. So they're going to do the Dark New Day thing while we're off anyway, and we don't really have a time frame for when we're starting up again. We're just going to have to see where we'll all at then. But I love playing with them, I would love to try writing with them, and I just admire them both as musicians. I like Dark New Day and I think it makes a lot of sense with our music, so we'll just see how it goes. I would love to work with them again, I really would.
Walking into a situation like that, and considering the number of lineup changes Evanescence has gone through, is it difficult to bring musicians on board knowing that you're going to have to let them go? Well, I don't know. I think I've grown up a little and I've seen so many people come and go-not just in the band, but in the business in general-people that you work with, people that you love, people that you're friends with. Saying goodbye is a big part of this world. But no, I wasn't worried about that when they came in. When it happened it was all so fast. It was this emergency, last minute thing, like 'Oh great. In the middle of touring and everything else we have to loose these guys.' And [that] we needed some awesome people to finish out the rest of the year with us; that was the important thing. And when I heard they wanted to tour with us, I was thrilled because I like them a lot. That wasn't something that really entered my mind, but I guess I also didn't realize how great they would be. And they've turned out to be wonderful. I hope it doesn't turn out that way, but either way I want to be moving in a lot of different directions. I'm trying a lot of new things myself. [I want] to take a lot of time off, so it will be a goodbye for everybody for a little while.
4•1•1
Evanescence and the Sick Puppies play the Santa Barbara Bowl on Sunday, November 11, at 6:30 p.m. Tickets are $34.50-$49.50. Visit sbbowl.com for details. For the full interview, visit independent.com/evanescence.