Opinion
Robert Grande Weiss 1936-2007
Robert Grande Weiss died in peace at Sarah House on November 6. Close friends and family were with him in the final days as he lost a valiant fight with recurring pancreatic cancer. Grande Weiss was a true fighter in many ways. Without his self-sacrificing perseverance and perfectionism, Ensemble Theatre Company (ETC) would never have flourished and survived for going on 30 years-the longest-lasting professional theater company in Santa Barbara. What really kept ETC afloat was Grande Weiss's boundless love for the arts, his artists, and his audiences.
Born on Staten Island in 1936, Grande Weiss's career began at 19 when he acted in the first national tour of the Broadway hit Tea and Sympathy. In the '60s he worked in Europe, especially in France with the acclaimed filmmaker Fran§ois Reichenbach. Moving to Santa Barbara in 1973, he soon became artistic director for Theatre Paradox and cofounded two experimental theater groups-Cranks and Calyx. Artist Rich McLaughlin said, "Robert was a wonderful and skillful painter, illustrator, and graphic designer-in the '70s we created many epic moments together." Director Jenny Sullivan said, "In the late '70s and early '80s, he and others kicked up a lot of artistic fever in town. He painted a magnificent backdrop for our Summer Solstice Festival at the Bowl and a set for a Mime Caravan Christmas show at the Museum of Art. It was a time when we all felt we could do anything and do it for nothing except the joy of creating."
Grande Weiss joined ETC as an actor in 1983, becoming artistic director in 1985. In the early days, he directed, acted, and designed the sets and lights. He was truly a renaissance man of the theater. Of the more than 100 stage productions he directed in Santa Barbara, 81 were at ETC. Among them were the world premiere of John Ford Noonan's
A Critic and His Wife and the first U.S. production of The Farndale Christmas Carol. As a playwright, he wrote and directed three Molire adaptations. In 1992, he directed a critically acclaimed My Fair Lady for Santa Barbara Civic Light Opera.
Throughout the years, Grande Weiss received numerous directing awards, an Individual Artists Award from the Santa Barbara Arts Fund, and an L.A. Backstage West Garland Award for directing Picasso at the Lapin Agile. In 2005, he accepted a Lifetime Achievement Award for ETC's 25th anniversary. In 2006, he was named artistic director emeritus at ETC and in 2007 he received a Lifetime Achievement Independent Theater Award. Grande Weiss accepted these laurels shyly and with surprise, as his devotion to the stage was not for fame or personal gain.
Under his stewardship, ETC grew from a fledgling experimental stage and community playhouse to an established professional theater. Grande Weiss loved to produce risky plays without catering to marketability. With enthusiastic collaborators, a token salary, and the help of his great friend Valerie Huston, he created theatrical miracles on shoestring budgets; every production was a totally new world within that humbly rustic Alhecama Theatre space.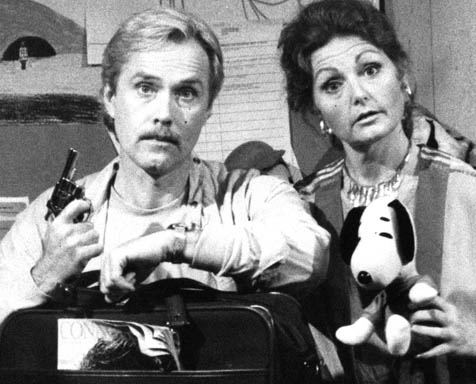 Although a private person by nature, to his theatrical colleagues Grande Weiss was a friend, protector, and mentor who loved giving young talents a chance to grow in an environment of encouragement, learning, and support. In addition to main stage productions, he instituted programs of wide appeal such as the Storybook Theatre, Starting Point, and Monday Night Second Stage. While many artists participated in single shows at ETC, throughout time, a solid core developed of those who worked at ETC with relative consistency. This gave the Ensemble its unique flavor and the sense of identity that made it so beloved in the community. The words of the members of this circle say best what Robert Grande Weiss meant to them, both in art and life:
Actress Alison Coutts: "ETC emerged organically out of this community and survived against incredible odds, consistently putting out original, large, complex work."
Technical Director Mike Madden: "Robert was a mentor to me. He was a great artist whom I am honored to call comrade."
Actress and Playwright Emma-Jane Huerta: "Robert was an enormous talent and a very dear friend. He could make me laugh harder than anyone I know."
Actress Sylvia Short: "Robert was an idealist; he was challenging, creative, and a demanding director-able to bring out the best in all of us, one way or another."
Actress Nancy Nufer: "Robert was the turbine engine that kept our theater community alive, and he was one of the funniest people I've ever known."
Costume Designer Barbara Lackner: "I got to work with Robert on 55 productions throughout 14 years. This great collaboration was sometimes trying, but always for the sake of art."
Actress Gretchen Evans: "Robert once said, 'All of us can hold those years at Ensemble like a golden ball in the palm of our hands.'"
Friend Dominique Smith: "For many, Robert's untimely death means the loss of theater at its best. The plays he directed will be his legacy."
Actress Dena Anderson and Director/Stage Manager Eric Mills: "He really allowed for our growth as artists, but he also shared a certain pride that we met under his influence-one of many relationships that started at Ensemble."
Actor Rudy Willrich: "This wonderful artistic director had an aversion to Lifetime Achievement Awards, saying: 'That's it! Once they give you one of those it's over.' The gods are laughing."
Two of the critics who reviewed Grande Weiss's work throughout the years, Gerald Carpenter and Philip Brandes, also contributed their remembrances.
From the Critics
It would be difficult to imagine a person of the theater who was less "theatrical," in the pejorative sense, than Robert Grande Weiss. He was quiet, modest, soft-spoken, and he never-at least in my presence-indulged in self-dramatization. In the lamentably few conversations we had during the course of 20 years, he was invariably attentive, and there was always a bright, intelligent gleam in his eyes that was both flattering and reassuring. I only saw him act once; playing Spooner in Pinter's No Man's Land, but his eloquent performance by no means suffered in comparison with that of the other actor I had seen in the role-John Gielgud. And I certainly don't mean to imply that Grande Weiss lacked charisma! He fairly glowed with a kind of inner light. One was drawn toward him as if by a tracking beam.
Under Grande Weiss's command, the Ensemble Theatre Company was the gold standard of the Santa Barbara stage. When the choices of actors, repertory, or production were his alone to make, they were always the perfect choices.
Leonard Bernstein once called Bruno Walter "a saint of music." Though it would no doubt horrify Robert to have it suggested of him, I think he can justly be remembered as a saint of the theater. -Gerald Carpenter
It's hard to imagine a Santa Barbara theater landscape without Robert Grande Weiss. For as long as I've been writing about the stage, Grande Weiss has been a local force of nature. He was in the first play I ever reviewed, back in 1981; those who only knew him in his later role as artistic director of the Ensemble Theatre Company missed seeing a consummate actor whose superior talent stood out in every production in which he appeared. Grande Weiss's abilities and experience made him the natural choice to shepherd the ETC through its rocky transition to fully professional status, and he did not disappoint-the Ensemble remains a thriving resident Equity company, while so many others have tried and failed throughout the years.
Robert's gifts encompassed every aspect of stagecraft. His scenic designs were marvels of meticulous detail. I remember an Ensemble actor's story about Robert lining the inside cupboards of a kitchen set with cobwebs-the fact that no one in the audience could see them meant nothing in his determination to create the most complete reality possible.
To those who worked with him, however, Robert will be principally remembered as a stage director of remarkable range and versatility. While he gravitated toward intimate, deeply personal dramas, he could also entertain on a grand scale-his staging of My Fair Lady for the Santa Barbara Civic Light Opera was one of the finest shows in that now-defunct company's history.
In person the complete opposite of the flashy artiste, Robert was a quiet, self-effacing presence who avoided the limelight and preferred to let the work speak for itself. Throughout the years, he brought us many new plays as soon as they became available for regional production, even when safer, more familiar material would have meant bigger box office revenue. I won't pretend that every show was a masterpiece-that just isn't possible in the fragile egg-and-spoon race that is live theater, and Robert would never stand for sugar-coated hype (he was far more critical of his own work than I ever was). Nevertheless, he was responsible for some of the most enjoyable and satisfying evenings I've spent in the theater.
With Robert's passing, our theater arts community has lost its most enduring anchor, and we are all diminished. -Philip Brandes
4•1•1
A memorial event will take place at Center Stage Theater (751 Paseo Nuevo) on December 10 at 5:30 p.m. Donations may be made to a fund being established in Robert Grande Weiss's name for the nurturing of progressive theater in Santa Barbara. For details, email peterlackner@mac.com.