Living
Yuletide Peeps
A Christmas Shopping Adventure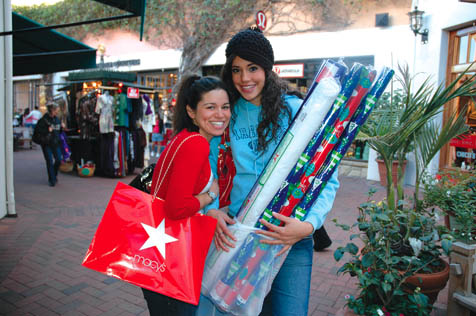 Each year when the days start getting shorter, the commercials start getting merrier, and all that remains of the Thanksgiving turkey is the wishbone (and an excess pound or two), I find myself stricken with an overwhelming sense of dread. This dread has a name, and it's called Christmas Shopping. Despite the fact that I have been known to pilfer excess holiday decorations from the over-accessorized homes of my childhood neighborhood-only to redistribute them to the under-bedecked, like an elfin Robin Hood-I'm hardly what you'd call a scrooge. In the non-yuletide seasons, shopping ranks right up there as one of my favorite pastimes. And yet. Once the tinsel's been hung by the registers with care and I find myself hearing the song "Baby It's Cold Outside" for the 14th time in an hour, it's all I can do not to throw up my hands with a big "Bah, humbug!" and hightail it outta Dodge faster than a fat guy on a sleigh pulled by eight tiny reindeer.
Typically, I handle this Xmas shopping aversion by procrastinating and then getting it all done in a panicky, last-minute, plastic-melting binge. But this year, I thought (as I do every year), will be different. And so I headed down to Paseo Nuevo last Saturday, the first of December, in what was a groundbreaking first for me.
I eventually found parking-way out in Timbuktu (literally: in front of the Canon Perdido Street furniture store called, as it were, Timbuktu; all the lots were full), and made my way to the mall, where I successfully distracted myself for hours. I chatted with the Rotarians merrily ringing that bell for Salvation Army, made pals with a couple ladies whose pooches were looking festive in their matching holiday sweaters, and eyed with envy the successful shoppers wearing their packages like medals, all the while studiously avoiding crossing the threshold of any retail location. I logged countless laps, back and forth: Nordstrom, Sephora, Nine West, Aldo, Macy's, Banana Republic, Nordstrom, Sephora : the storefronts were merely a pleasant background to the peeping; the windows providing the perfect amount of cheese-ball kitsch. Be Merry and Bright! they urged. And bright I was. I snapped up a free nail-buffing demo at Danielle Israel's cart, ducked swiftly into See's for a decadent dark chocolate truffle, and headed home light-hearted, if empty-handed-a detail I shrugged off while trekking back to Timbuktu, sucking on a candy cane.
Oh well, I figured. I've got plenty of time.