News
County Money Problems Loom
Supes Bail Out Sheriff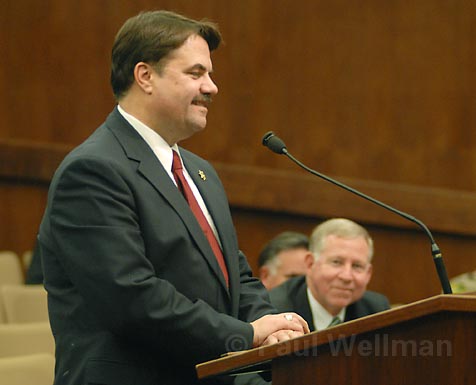 Day one of 1st District Supervisor Salud Carbajal's stint as chair of the Santa Barbara County Board of Supervisors was marked by sometimes heated discussions of the county's budget problems. Foremost at this January 8 meeting was the Sheriff's Department and what could be done about its projected $3.7 million deficit before June 30, the end of the fiscal year. The board granted the Sheriff's Department relief from almost the entire debt, authorizing County Executive Officer Mike Brown to eliminate $3.4 million of the deficit with strategic reserve funds should it become necessary. "I would vote today to take money out of reserves right now," 4th District Supervisor Joni Gray said. "That's exactly what we save this money for." The Sheriff's Department has already devised ways it can shave $318,000 off the $3.7 million.
The department, along with other county agencies, is missing revenue from Proposition 172, a 1992 statewide voter-approved sales tax that funds local public safety services. The District Attorney's and Public Defender's offices and the county Fire, Parks, and Probation departments all receive some Prop. 172 money, but nearly half goes to the Sheriff's Department. Due to a dearth of sales tax-generated funds, however, these agencies have come up short, but other factors have created financial troubles for the Sheriff in particular. A major factor is overtime. This summer's Zaca Fire cost the department almost $500,000 in overtime. Sheriff Bill Brown said it was "very uncertain" the county would be reimbursed for that money. Also, the investigation of a Lompoc marijuana grove and a related drug cartel led to roughly $225,000 in overtime expenses. The other factor is salaries. For the first time in years, the department is fully staffed, and has even overhired in anticipation of retirements. Mike Brown recalled that he had bet Undersheriff Ken Shemwell a steak dinner that the department would never be fully staffed. "We had a steak dinner," he told the board.
Financial shortfalls have made the supervisors take a very close look at any capital project before them. Talk of the Sheriff Department's woes came the same day the supervisors decided to hold off on plans to allot $2 million for a public swimming pool in Cuyama. Countywide revenue is down as well, which late last year prompted Mike Brown to ask department heads for a list of possible budget cuts. Governor Arnold Schwarzenegger-who gave his State of the State address also on January 8-outlined a looming crisis at the state level, citing "budget demons" that will lead to a $14 billion state deficit. Those problems-expected to be outlined in his budget on January 10-will ultimately drip down to the county. The governor recently asked all state departments to prepare for 10 percent cuts.
Meanwhile, Santa Barbara County mental health clients and advocates came out in force during public comment at the morning session of the board meeting, already preparing for a February 5 showdown in which the supervisors will tackle the $3.4 million deficit in the county Alcohol, Drug and Mental Health Services budget. Mental health service providers have worked out a deal in which the county would put in half the missing funding, while the group of providers would be forced to cut services to close the gap.
The grim financial reports made an impact on 3rd District Supervisor Brooks Firestone, the only one of the five to vote down the help for the Sheriff's Department. "I'm very, very concerned that the first real problem we've faced here, we've caved in," he said, adding that due to a list of upcoming fiscal impacts, the county might not have a strategic reserve for long. "Where is law enforcement as a priority?" Bill Brown asked. Firestone retorted, "We have to be a little tougher than we are today."