Living
Lois Capps, Salud Carbajal React to Bush's State of the Union
Santa Barbara Lawmakers Call President's Speech "Flat and Uninspiring," "Partisan"
One thing Rep. Lois Capps could take out of President George W. Bush's State of the Union Address Monday: it was his last one.
"We're going to have a change come next November," she said shortly after Bush addressed Congress and the nation from the U.S. Capitol, during the president's annual speech. "I couldn't help but sit there and think who will be occupying the seat next November."
Capps hasn't and will not endorse in the primary. The speech was Bush's seventh and final, with elections ramping up and coming to a head next Tuesday, when 24 states, including California, will cast their ballots in primary elections.
Capps, echoing the sentiments of many Democrats in Congress, called Bush's speech "flat and uninspiring." The speech "sort of highlighted the sad legacy" of the president, she said. "One after another of the policies he's pushed have failed."
Bush spent the majority of his speech optimistically talking about foreign affairs, specifically the war on terror in the Middle East. While he urged Congress to stick with him and continue funding for the troops, he offered no real plan for a withdrawal. "There was no even inkling that he might've heard from the American people on a change in direction in Iraq," Capps said. "I keep hoping he'll get that."
County 1st District Supervisor Salud Carbajal, in Washington, D.C. to lobby for the county's legislative priorities, snagged a ticket to the speech from Rep. Xavier Becerra and attended as well.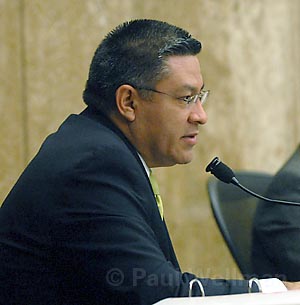 "It was a worthwhile experience, irrespective of who the president is," Carbajal said. He characterized the president's speech as "very partisan," with an unfortunate tone of threatened vetoes and a hypocrisy.
Coming together, as both parties in Congress did with the economic stimulus package that is making its way through Congress right now, can and hopefully will be achieved in the next year, said the cautiously optimistic Capps. But even with the stimulus package, Capps said, the solution was temporary. "We can be optimistic and come together, but he hasn't reached out to us," she said.