News
Proposed Beach Booze Ban Greeted Skeptically
Keeping Suds From the Surf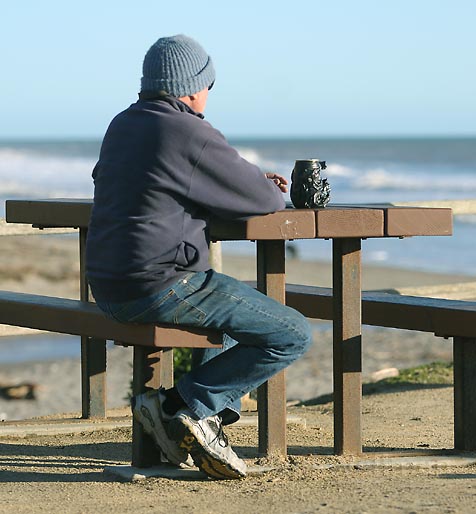 A proposal designed to limit alcohol consumption by members of the public at Arroyo Burro Beach was greeted with considerable reluctance by members of the County Parks Commission last Friday, but the commissioners were more open to the idea of limiting booze consumption at Rocky Nook Park. The plan is not to ban alcohol consumption outright, but to require permits and cash deposits for members of the public who wish to imbibe at these two county parks. County Parks Chief Dan Hernandez explained the impetus behind the proposal came from park rangers who he said have grown increasingly concerned for their safety when dealing with obnoxious and unruly drunks. Park rangers carry no guns or batons and are not trained or equipped in dealing with violent altercations.
Of the two proposed sites, Arroyo Burro (otherwise known as Hendry's Beach) drew the most resistance. Hernandez claimed that the rowdies who made Butterfly Beach a loud living hell until they were evicted last year have been relocating at Arroyo Burro. Rangers there, he said, have encountered defiance, resistance, and antagonism. But the county's own statistics indicate an actual decline in calls for service and written reports at Arroyo Burro. According to the Sheriff's Department, written reports at Arroyo Burro dropped to 13 in 2007, down from 27 the year before and 30 the year before that. Hernandez said those numbers don't reflect the reality of the beach, and said his rangers will now begin documenting every untoward incident that occurs there.
"When discussion of alcohol comes up, the conversation inevitably leads to putting restrictions on the many to punish the few," – Mike Pahos
Leading the charge against the proposed alcohol restriction was former county parks czar Mike Pahos, who headed the department for 22 years. "When discussion of alcohol comes up, the conversation inevitably leads to putting restrictions on the many to punish the few," he said. "I've always objected to that." Pahos objected that the permit requirement would impose an undue hardship on most people who decide to enjoy a beach picnic only moments beforehand. Where would they get the permits, he asked, and how much would they cost? Afterward, Pahos commented that he thought it was "un-American" not to be able to enjoy a beer or glass of wine at the beach.
Pahos's sentiments were enthusiastically echoed by a group of middle-aged "Mesa Rats," who've been enjoying the sands of Hendry's Beach ever since they were infants. Now, they were defending their right to enjoy a few beers before sunset on their way home from work. As locals, they said, they regarded Arroyo Burro as their beach; as such, they said, they took pride and care of it, and denied there was a problem with rowdy drinkers. They pointed out how one individual who frequents the beach had been the subject of more than 130 complaints-for exposing himself and threatening to shoot one of the speakers who was at the meeting-but did not drink.
Adding to the commission's reluctance was the role of Supervisor Janet Wolf, in whose district the contested beach lies. Wolf's assistant, Mary O'Gorman, said the Parks Department failed to keep Wolf "in the loop" on the proposed restriction, and noted that Wolf's office had received just one complaint in the past year from an Arroyo Burro visitor. "And people in our district are definitely not shy about complaining," O'Gorman said. That incident involved a woman complaining she'd been the subject of verbal harassment; it's unclear to what extent alcohol was a factor.
In response, the four commissioners concluded much more information was needed to justify any kind of alcohol restriction at Arroyo Burro. To that end, they voted to form an ad hoc committee to study the effects of alcohol consumption there and, based on that information, figure out how best to proceed.
The commissioners were, however, much more sympathetic to complaints that Rocky Nook Park, located in Mission Canyon, had become a serious problem. They heard from many Mission Canyon residents who complained how Rocky Nook had become the roosting place for large groups of loud, argumentative, and aggressive young men, intent on drinking, loitering, littering, and urinating in public. Some are homeless, the commissioners were told; some are gang members. But people who've used the park for years complained on Friday that they're afraid to go there or that they now go early in the morning before the drinkers can get started. Park Rangers said that when they call for back-up from the Sheriff's Department, it often takes 45 minutes for the squad car to arrive, and by then, the troublemakers have gone. Parks Commissioner Suzanne Perkins didn't just hear their pain; she felt it herself. "I have definitely felt threatened," she said, explaining how she no longer visits Rocky Nook Park.
While the commissioners were unanimous that measures should be taken, they weren't as to what these should be. County Parks Commissioner James Hickling proposed issuing a year-round permit-an idea initially suggested by some of the Mesa Rats-that would be available only to Santa Barbara residents. Ranger Brian Billing objected that many of the troublemakers were from Santa Barbara, while some out-of-town visitors were law-abiding. Billing got into hot water, however, when he suggested that a new restriction-whatever it may be-need not be applied to people quietly enjoying a drink while respecting their neighbors. "That's selective enforcement," objected Hickling. "I know it's done all the time, but you can't go down that path." Similarly, it remains unclear whether the path preferred by the commissioners-the one-year pass for locals only-is even legal. Assistant Parks Chief Hernandez noted that the one-year permit was "a unique" regulatory response to problem drinking, but cautioned it may be illegal because it discriminates against non-residents. Hernandez said he'd report back with some legal advice and the commissioners adjourned.