Film & TV
Woodard's Wraps: Day Eight
The best film festival entry so far? Joe thinks so.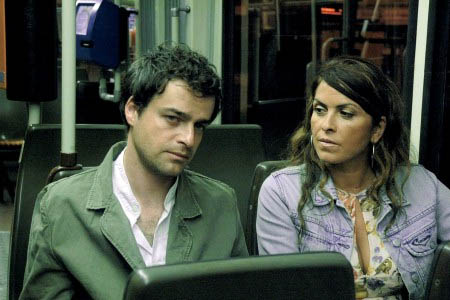 BEST OF THE FEST? History shows us that there are several ways to fill a theater for an Santa Barbara International Film Festival screening. Naturally, word-of-mouth buzz counts for a lot, and the prospect of seeing films in the running for Best Foreign Film Oscar piques the mass curiosity, as does a bit of French froth comic relief from the more serious stuff. And then there is the Durling Factor.
Last night's initial screening of Fatih (Head On) Akin's amazing new film, The Edge of Heaven, was packed, at least partly thanks to the avid stumping of festival director Roger Durling. He has been going all over town singing the film's praises, and the crowd came out in happy droves. He tries, feebly, to avoid the f-word – "favorite" – in talking about films, but sometimes rules are made to be broken.
Quite simply, The Edge of Heaven may well be the best film of SBIFF 2008. It's edgy yet human, compelling in its narrative structure, acting and virtually every facet of the filmmaking. As with Head On, Akin's new film deals with elements of sex, violence and cinematic stylization, but all in a much subtler and happenstance way. The Turkish-German director again moves across borders, literally, of economic and ethnic realities, dredging up telling racial vertigo on the way to conveying the importance of tolerance and compassion. It's a haunting and beautiful film. Catch it if you can. If not, this is one film which will make its way back to Santa Barbara, if there's any justice.
CONTINENTAL DREAMING: Latin American cinema has had a friend in SBIFF for years. But that friendship has warmed up considerably in the last several years, thanks to curator Cristina Venegas, a UCSB professor who scours the possibilities and takes us south, into a corner of international cinema all too overlooked-even by the art house circuit. Latin American culture itself is a quiet giant, overshadowed by the North American, European and Asian worlds, as Santa Barbarans have discovered first-hand in various ways. During Uruguayan-born Gisele Ben-Dor's era as maestra of the Santa Barbara Symphony, she cleverly snuck loads of fascinating Latin American music into the mix, an enlightening and distinguishing period in our orchestral history.
Of course, more than its sub-popular culture classical music counterpoint, Latin American cinema is a vast and varied world, differentiated by country, attitude, political history and other factors separating one cultural neighborhood from another. That much we learn from the diversity of offerings this year.
Yesterday, for instance, one could start out in the vibrant Kodachromatic wolrd of pre-Castro Cuba, with Pavel Giraud's The Silly Age. It's a coming-of-age film about a ten-year-old boy discovering the wonders of the other gender, and caught between the strength of his photographer grandmother and the aloofness of his single mother. We feel the looming transition of the Revolution in the air, but for this window of time in 1959, it's all about sensuous visuals and clothes bathed in warm light, reminiscent of In the Mood for Love and Amarcord, by turns, but in old hedonistic, capitalist Havana.
From that film, we wandered across the Metro Theaters lobby to Brazil and another time and place entirely. Director Phillipe Barcinski's fine Not by Chance is one of many festival films this year dealing with the unexpected blows and cross-town traffic of fate. Traffic is the key word in a story about a divorced traffic control dispatcher, with an omniscient overview of the complex city grid, and a pool table maker, and their parallel paths, joined by matters of traffic. Barcinski weaves a good and emotionally magnetic multi-strand yarn, without falling into pretentiousness or stylistic overkill.
EAST-ISH TRADE ROUTING: Chalk up another one for the Eastern European bunch. Viewing films on the program in a competitive manner may be unfair, but it's a natural human instinct. The discerning part of the brain wants to keep things in order, considering one thing in light of another. It's also partly a defense mechanism, a way to winnow down the huge list of films in the festival and cherry-pick.
That said, the sector of the programming – or "sidebar" as the festival puts it – which has presented the most consistently strong and provocative content, at least from this viewer's vantage, is the Eastern Bloc. Late last night (spilling past midnight), once again, we were transported to Eastern Europe, this time to Serbia's Oscar submission film, Srdan Golubovic's The Trap, and fairly dazzled by the vision presented. A morality fable about choices made and values compromised in the face of an unpleasant fate is not unlike the narrative of Woody Allen's new one, Cassandra's Dream. But it has the added plot thickener and heart-render of a child's innocence at stake, a theme also strong in one of the best films of the festival, the powerful Slovenian film Short Circuits.
Moving into the terrain of stories involving threatened children is risky business, courting melodrama and cheap theatrics. Some of that manipulative gloss bubbles up in The Trap, but only fleetingly, thanks to the strong, firm guidance of Golubovic's directorial hand. It was enough to keep us wide awake, even on a school night.