News
Can Mike Foley House Santa Barbara's Homeless?
Gimme Shelter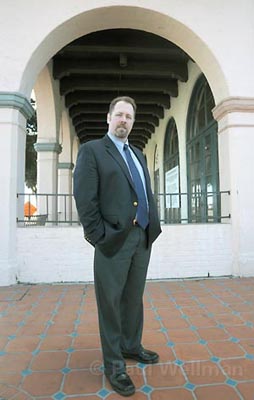 Life is not always peaceful when you're at the helm of Santa Barbara County's largest homeless shelter and the better part of your clients have an addiction or mental illness or both. Casa Esperanza's executive director, Mike Foley, a bold and savvy San Diego native, is up to the challenge-and then some. In fact, Foley's taken on the entire issue of homelessness in Santa Barbara as no other single individual has dared to since hobos first began stepping off trains here. Foley lives and breathes it, say colleagues who receive his evening and weekend calls. He comes at it from a multitude of angles. His goal, he says, is to make Casa Esperanza a model for how small communities deal with their homeless. Judging from his first two years on the job, he may just pull it off.
"I think Mike Foley is fabulous," said Santa Barbara City Councilmember Helene Schneider. "He has a wonderful way of taking responsibility for complex issues. He keeps public policy figures' feet to the fire." Case in point: the Cabrillo ball fields, she said, which have been a hot spot for illegal activity and the chronically homeless. Foley actively pursued the issue with Schneider, and they've been working with police, park rangers, and shelter outreach workers to clean up the area.
When you first meet Foley, expect him to look you in the eye pointedly, shake your hand firmly, and smile. After all, this is the guy who ran a Character Counts campaign from his Channel Islands YMCA office for three years. One senses he attends to the finer points of human interaction. In his crisp suit and tie and neat goatee, he projects an air of formality that makes you want to sit up straight and mind your grammar.
But beneath surface impressions, Foley is a man of big ideas and strong opinions, with energy and confidence to burn. That confidence is a big part of his success, giving him the wherewithal to pursue sensitive issues like the plethora of liquor licenses on Milpas Street (not a boon to shelter residents struggling with sobriety), the size of the city's narcotics squad (he thinks it's too small), and most recently, the perceived need to overhaul the County's Alcohol, Drug & Mental Health Services (ADMHS) department.
'To me, the question is why would I be passionate about cutting $1.7 million in services to the mentally ill? Because people will die as a result, and it's our staff that's going to know that person.' – Mike Foley
"You have to understand, he's a guy of vision and [he feels] there has to be a new way of addressing people with mental illness," said Roger Heroux, Santa Barbara County's Homeless Coordinator. "Some people might interpret that as arrogance." If a portion of his confidence is perhaps too certain, even critics acknowledge the process will probably teach him what he needs to know.
When Barry Schoer, director of Sanctuary Psychiatric, heard Foley speak for the first time at an emergency meeting of community-based organizations, he was struck by his energy and commitment. He told him later, "You remind me of me 20 years ago. I think back then, I could push people's buttons easily."
To understand Foley's breadth of ambition on this issue, you have to factor in the magnitude of changes that homeless advocates-including Heroux and John Buttny, who was former Supervisor Gail Marshall's administrative assistant-are pursuing under the umbrella of Santa Barbara's 10-Year Plan to End Chronic Homelessness. This initiative from the United States' Interagency Council on Homelessness and the Bush administration, in which cities and towns around the country are urged to create detailed, comprehensive campaigns to end chronic homelessness in 10 years, is unfunded. But any community that doesn't enact one will lose Housing and Urban Development (HUD) funding.
At the time Foley was applying for the job at Casa Esperanza, Heroux and other organization heads were laying out the beginnings of Santa Barbara's 10-year plan. Whoever was picked to head the shelter, they knew, would be intimately involved in implementing the forthcoming plan. Foley ended up helping shape it. In the six months during which the plan was created in Solvang, with the input and participation of roughly 100 service providers, government officials, and mental health and recovery professionals from throughout the county, Foley attended all but two subcommittee meetings. Today, Casa Esperanza is the fiduciary agent of the 10-year plan, and pretty much every decision made in regard to shelter policy has its proposed reforms and changes in mind.
An only child, Foley was set on going into politics at age 22 and was even working on a congressional campaign when the candidate sent him off to get volunteer experience. Foley picked a YMCA runaway shelter and stayed there for five years. After that, he continued working at nonprofits-mostly YMCAs, but also at residential treatment facilities for young kids and the Foundation for the Junior Blind. In the process, he learned the art of grant writing and is using it to the benefit of Casa Esperanza. Since 2005, he's doubled the shelter's staff and, at the same time, infused it with self-help and psychological strategies from his YMCA days, everything from satisfaction surveys to the requirement that shelter guests-called "members" now-help with cleaning chores. He even invokes the late psychologist Carl Rogers when he says the homeless need "unconditional high regard."
"When we're helping someone who's homeless, we want them to have a sense of hope. But we also have to inspire them to that," Foley said. "So part of our job is getting [them] to the point where they believe in it, that 'Yeah, I'm going to be housed. Yeah, I'm going to experience recovery.'"
At a November meeting of the Homeless Advisory Committee, Foley asked then-acting ADHMS head Doug Barton to give the committee a copy of the department's budget. ADHMS was reporting a large deficit and warning of funding cuts to the shelter and other organizations serving the mentally ill. The committee wanted numbers in black-and-white. But when Barton hesitated, Foley showed steel, repeating the question. "Will you release the budget to this committee?" Let's put it this way, the committee got what it wanted.
Foley said if people perceive him as confrontational rather than passionate, he's going to have to adjust his style. But 10 minutes later he fine-tuned his response: "To me, the question is why would I be passionate about cutting $1.7 million in services to the mentally ill? Because people will die as a result, and it's our staff that's going to know that person : And when they fall apart because they lost their housing because no one was there to be with them, they're going to come here and everyone's going to expect us to help them."