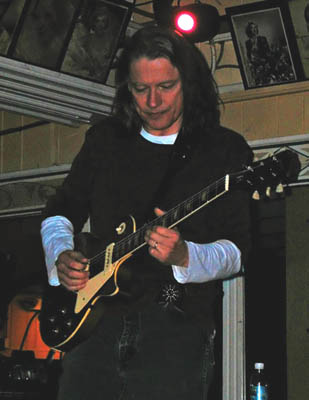 HUMBLE JAZZ AVATAR: If there were an award for most unsung West Coast jazz artist, it might well go to cornetist/trumpeter Bobby Bradford. The soulful and free-spirited Bradford-who played with Ornette Coleman on and off for years, going back to the early '50s, and was a longtime ally of late, great clarinetist John Carter-is a quietly compelling figure who hasn't gotten nearly his due. No doubt that's partly because Bradford opted to live, teach, and raise his family in Los Angeles rather than in New York City. As showcased by a great show at SOhO five years ago-one of the best jazz shows ever to land in SOhO-Bradford is a balanced jazz artist, not trapped in any dogmatic cul-de-sac. He's inside, he's outside. He's melodic, he's abstract. He plays standards (in a non-standard way) and originals which can be structurally tricky or Texan bluesy.
Bradford and his wittily monikered Mo'Tet make an all-too-rare Santa Barbara appearance at the UCSB MultiCultural Center on Saturday night, an ideal venue. Sporting some of the most interesting and flexible jazz players outta' L.A.-pianist Don Preston, trombonist Michael Vlatkovich, saxist Chuck Manning, and drummer Chris Garcia-the Mo'Tet show promises to be one of the more exciting local jazz shows of the year. Never mind that Bradford, now vibrant at 73, is out of the international jazz celeb circuit: He's got it going on, artistically speaking. Bradford makes no special fuss in terms of self-promotion or self-absorption. That humility shines in his music, as well.
Over the years, Bradford has passed through Santa Barbara, with a gigging history here touching on local cultural archeology. In 1991, sponsored by the enlightened and sorely missed Jazz and World Music Society, Bradford performed at Center Stage Theater with soul mate Carter, then riding high in critical regard for his conceptual "Roots and Folklore" recordings. But Carter was ailing, and the Center Stage concert was his final performance before passing away. Bradford also played in the too-brief tenure of Santa Barbara's greatest jazz club, Ridah Omri's small but mighty Jazz Hall (in the Victoria Street space where Maienza Limited now sits). Bradford's SOhO show in 2003 was a genuine treat, full of grit and wisdom (though not enough bodies).
Back then, as now, the burning question was: Why isn't this guy better known and more widely recorded? Suffice to say, for anyone interested in gutsy, thinking-person's music, the MCC show is Saturday's hot ticket.
STEAMY SHADES OF BLUE: It's hard to know what to call the captivating guitar stylist Robben Ford, the Ojai resident and world citizen who stopped in for one of his periodic SOhO shows last Wednesday. A blissed-out full house showed up. Ford is officially a "contemporary blues" guitarist, by his own admission and that of the National Association of Recording Artists, who keep nominating his albums for Grammy Awards in that category. They've done it again this year, and Ford's latest, Truth (Concord Records) is richly deserving of a trophy for the mantelpiece. It may well be his finest to date, full of strong songwriting and guitar-playing on a high level-smooth and steamy, but never rote. He's got that creative restlessness urging him forward and resisting complacency, whether the business at hand is a song or a guitar solo (especially the latter).
Yes, Ford's resume includes work with Joni Mitchell, Michael McDonald, George Harrison, and his hero Miles Davis, but more importantly, the guitarist has slowly, steadily built up his own distinct instrumental voice. On his current Truth-promoting tour, he has a formidable trio, with drummer Gary Novack and bassist Travis Carlton (Larry Carlton's son), who perfectly complement Ford's central role as singer and guitarist. As heard at SOhO, Ford is still vocally pleasing and understated. Guitaristically, this guy is more on fire than ever. For someone who reaches for the goal of balancing control and abandon, Ford makes each phrase and pause count. He's one of the greats.