News
Frimpong Retrial
Hinges on Teeth Testimony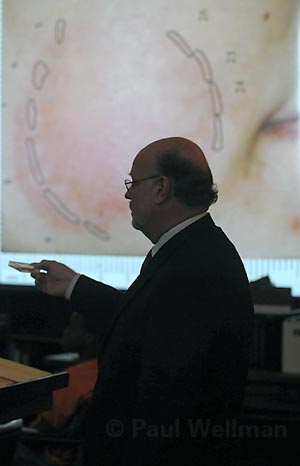 A motion for a new trial filed by attorney Robert Sanger on behalf of former UCSB soccer player Eric Frimpong, who in December was found guilty of raping a 19-year-old student in Isla Vista, is largely dependent on whether Judge Brian Hill is convinced a bite mark on the victim's cheek could have come from someone other than Frimpong.
Dr. Charles Bowers, a dentist who didn't testify during the trial because of illness, claimed the marks more closely match moldings taken of the mouth of Benjamin Randall, the victim's sexual partner, whom Sanger has suggested is the actual culprit. Two other doctors have testified at the evidentiary hearing. Both oriented the bite 180 degrees differently than Bowers, but only one was able to offer a substantial opinion.
Dr. Gregory Golden, who was on the stand when the hearing ended Monday-it continues Friday morning-found pattern similarities in the bite, and said he wouldn't be able to rule out Frimpong based on those observations. All three doctors have agreed that bite mark identification is far from an exact science, and many elements, such as skin distortion and movement, can impact or alter the bruising that is sometimes left behind. Frimpong, should the original trial continue to sentencing, faces between three and eight years in prison.