News
Updated: No Retrial For Frimpong
Hill Denies Defense, Sentencing Monday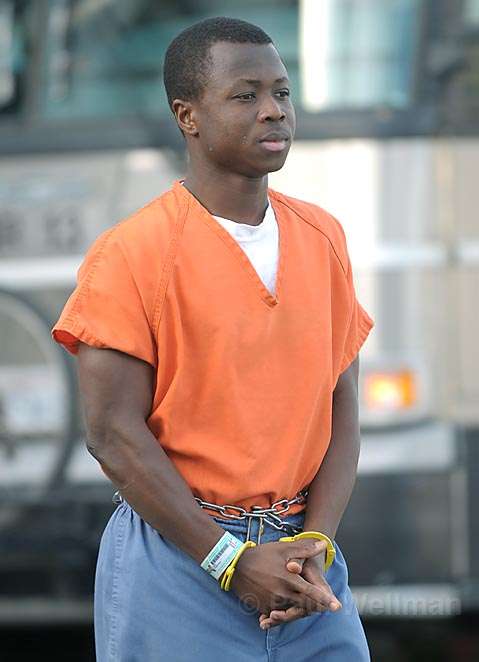 Former UCSB soccer player Eric Frimpong, who was convicted of rape by a Santa Barbara jury in December, will not get a new trial, Santa Barbara Superior Court Judge Brian Hill ruled Friday. Despite a lengthy motion for a retrial from Frimpong attorney Bob Sanger in which he outlined several key points that, when combined, he said, necessitated a new trial, Hill's opinion was that Frimpong received a fair trial.
Over the past two weeks, Hill conducted an evidentiary hearing that lasted several days, with testimony from three different dentists regarding bite marks on the 19-year-old victim's face. Sanger argued that evidence not included in the trial could exonerate his client, but Hill thought DNA evidence in the case played a more important role, while the bite mark evidence was unclear and not exculpatory. "In my mind this testimony is not tremendously compelling in terms of the overall case presented against Mr. Frimpong," Hill explained.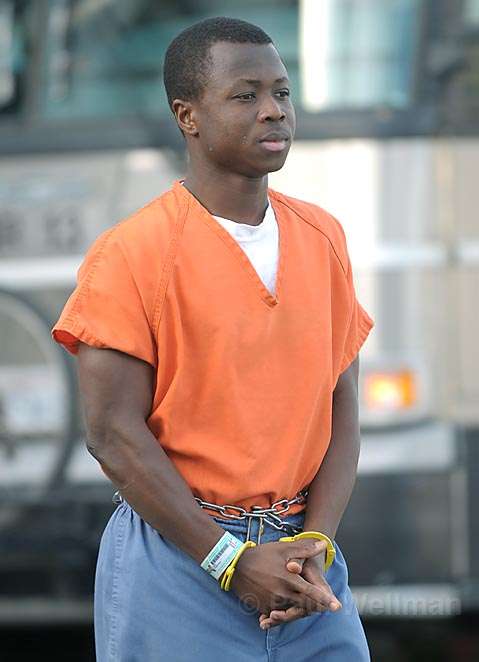 Frimpong's DNA wasn't found anywhere on the victim's body or clothes, however, her DNA was found on his penis and scrotum. According to testimony from the witness, who took last semester off school after the incident, the two met outside a party on Del Playa Drive in Isla Vista. After realizing they weren't going to get in the party, the two went back to Frimpong's house on Del Playa, where they played beer pong for awhile. And that's where the two sides begin to split on what happened. According to the victim, the two decided to go for a walk on the adjacent beach, and after descending the stairs to the beach, Frimpong became aggressive, threw her down to the ground, removed her jeans, pried her legs apart with his hands, and raped her. According to supporters of Frimpong (he never testified in court so his side has never been told from his mouth directly), the girl made advances at Frimpong, which he denied because he was turned off by the woman's smoking habit and because she had a tongue ring. After he denied her advances, they say, she reached into his pants and grabbed his crotch, thus explaining her DNA being present on Frimpong. In addition, the defense hinted that not only wasn't Frimpong the rapist, but that it was the women's sexual partner Benjamin Randall. Randall's semen was found in the panties the woman was wearing the night of the incident, but it was explained that the two had a sexual relationship. The two testified that they had sex earlier in the week. And while Sanger suggested that Randall very well could've been the culprit that night, outside of questioning the victim and Randall about their relationship and his whereabouts that night, Sanger provided no viable evidence that this was in fact the case.
According to Hill when issuing his explanation, none of the dentists who testified during the recent hearing could say with all reasonable certainty that Frimpong could be excluded. He also said he found the testimony of Drs. Norman Sperber, who testified during the trial, and Gregory Golden to be more credible than that of Dr. Charles Bowers. Bowers, who couldn't testify for the defense during the actual trial because of sickness, oriented the bite with the lower teeth closest to the victim's mouth and the upper teeth closer to the jaw. Sperber and Golden oriented the bite 180 degrees different. At one point Golden was asked to examine the mark with moldings as if the bite was oriented the way Bowers saw it, but Golden refused. "I refuse to go off a false premise," he said. "When you start out with a false premise any determination you come to is null and void." Hill concluded that while the bite mark evidence was "interesting," it didn't amount to much. He lauded Sanger, saying he was very effective at lawyering, drawing attention away from the DNA evidence in the case and instead focusing on bite marks. After the trial concluded, however, jurors who spoke with the Independent indicated the bite mark evidence didn't really amount to much in their decision, and that other evidence was weighed more heavily.
Hill also dismissed other points from Sanger's motion. While he recognized some of the concerns, none warranted a retrial, he said, and there was no legal basis. One of the jurors, Ann Diabold, expressed concern that the jury was rushed to make a decision before the holidays, and wasn't able go over the evidence properly. "At no time:did I suggest to them they should rush their deliberation," Hill said. Diabold having second thoughts about her decision also didn't warrant a new trial, he said, as there was no legal basis for him to make that decision. "If I were to grant one, there's no doubt in the court's mind the decision would be reverse by the court of appeals."
Frimpong now faces three to eight years behind bars and will be sentenced by Hill Monday in Dept. 2 at 2 p.m. Hill hinted at a quick proceedings Monday, and possibly a lighter sentence for Frimpong, citing the man's "tremendous support in the community" and no prior record. Sanger had no comment outside the courtroom Friday because the case is still pending. Paul Monahan, whose son Patrick was a roommate of Frimpong's at UCSB, said the decision will be appealed. "There are remedies," he said. "We will pursue those remedies." Monahan is part of a consistent group of Frimpong supporters who have been to most every court appearance made by Frimpong, even before the trial began. He is also part of one of a few families paying for Frimpong's defense. Monahan said he has visited Frimpong in jail a few times and was impressed by Frimpong's "incredible peace about him. He truly believed the judicial system would allow the truth to come out." Many UCSB soccer players were expected to wear armbands at their game against the Canadian national team Friday. Coach Tim Vom Steeg has attended various days of the hearing over the past two weeks, as have many of his players. Some were in attendance Friday morning.
Frimpong came from Ghana, his native country, to play soccer at UCSB, where he helped the Gauchos win their first national championship in 2006. Just a few months later, in February 2007, Frimpong was arrested for the sexual assault.