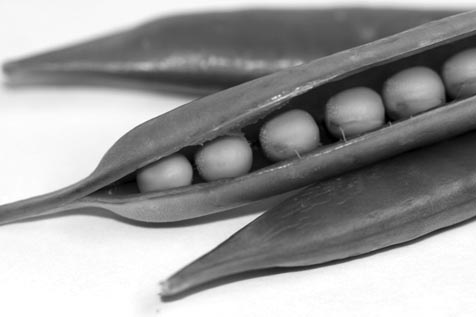 Just one cup of green peas provides more than half of the daily recommended amount of vitamin K and nearly 40 percent of your recommended vitamin C. Most people, however, don't take advantage of this pearl-sized vegetable's nutritional profile. I cannot recall the last time I even saw peas as an option on a restaurant menu, aside for the occasional offering of split pea soup. Punch up your family's pea consumption by serving this recipe for Sweet Pea Basil Pesto at your next gathering-it's packed with so much flavor that they won't realize it's good for them!
½ bag frozen green or sweet peas
1 or 2 cloves garlic (or more if preferred)
Large handful fresh basil leaves
¼ c. grated Parmesan cheese
¼ c. milk
¼ c. olive oil
Salt and pepper
Bring a small pot of water to a boil, and add in the frozen peas. Cook for three to four minutes in the boiling water, or until the peas are warmed through, and then drain. Pulse the garlic and fresh basil in a food processor until it is finely chopped. Then add in the Parmesan cheese, milk, olive oil, and about three-fourths of the peas. Pulse the mixture until all are incorporated, and then combine the mixture with the reserved peas in a serving dish.
Serving Option 1: Combine the mixture and reserved peas in a saucepan, adding another fourth to half cup of milk and some additional Parmesan cheese until you reach your preferred sauce consistency. Immediately serve this over rigatoni or other larger pasta.
Serving Option 2: Simply serve the pesto warm or at room temperature with an assortment of breads and crackers during an open house-most won't guess that it is made of peas!