News
Victim Testifies in Nelson Sexual Assault Trial
Despite Memory-Impairing Brain Injury, Woman Claims She Knows Nelson Abused Her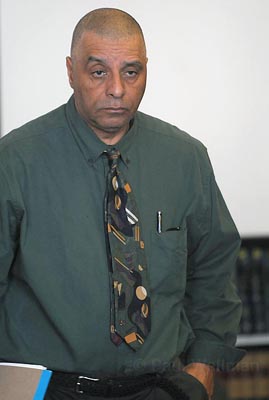 Jurors in the sexual assault case against Bruce Nelson heard testimony Friday from the second of two alleged victims, a 44-year-old woman who lives in Santa Ynez. The woman claims Nelson, while working at Solutions Rehabilitation Center where she was a patient for a brain trauma, touched her inappropriately, and after she was released from the center, called her and took her out, eventually having sex with the woman.
There were two instances of inappropriate touching while at the center, the woman said, but both were similar. In both instances, the woman testified, Nelson entered her room while she was either sleeping or almost asleep and touched her face, breasts and rubbed her in her crotch. She also testified that he had tried to grab her hand and put it on his penis, with his hand holding her hand on his penis for several moments. While she never stopped his advances, she said, she told him she didn't want to do many of the things she did, and said the actions made her feel "violated, hurt and worthless."
After she was discharged from the center, which treats mostly people who have suffered from serious brain traumas, the woman began receiving phone calls from Nelson, and went out with him at least twice, she testified. The woman recalled that one time, after getting a drink at a local restaurant, Nelson took her to Victoria's Secret and bought her lingerie for her to "model for him." That night she went back with Nelson to his home, where the two had sex, she said, even though she said she didn't want to. The two spent further time together, and while Nelson made advances, the woman testified, she denied them.
There were apparent discrepancies in her testimony, however. On direct examination, the woman testified that Nelson pulled his penis out of the zipper of a pair of slacks and made her touch it. She also testified on cross that Nelson never ejaculated. But on cross examination by defense attorney Steve Balash, the woman had a hard time recalling the type of pants Nelson was wearing, and said he didn't pull his penis out through a zipper, but might've pulled his pants down instead. She also testified that he did, in fact, ejaculate in her bed.
The defense is attempting to show the sexual contact with both women was consensual, despite the women's conditions. While Balash is attempting to show the women's injuries, while serious, didn't hinder their ability to make consenting decisions, the testimony of the second victim's father seemed to offer a different view. "[My daughter] doesn't have the capability of reasoning at times," the father said Friday on the stand. The woman would later testify that she had trouble remembering things as a result of her injury and that this condition is often "frustrating." However, she also said that despite the memory loss, she was sure that Nelson had behaved the way she claimed, for she could more easily remember "big things," and Nelson's alleged misconduct constituted "a big thing."
The woman's mental state was further discussed in testimony by Sheriff's Deputy Gary Wilberding, who recalled that he had visited her house three times and had often encountered increasingly violent behavior with each visit. Wilberding said that the woman had told disjointed stories, including one that involved her biological parents actually being people who had kidnapped her. When Balash questioned the deputy, he seemed to be inferring that if the woman could fabricate such a story about her parents, she could have easily done the same in claiming the sexual abuse by Nelson.
Later, attention shifted to Nelson's behavior, when Solutions supervisor Sue Hannigan took the stand. Hannigan testified that she had received a strange voicemail message from Nelson after she fired him. In it, Nelson twice told Hannigan that he loved her and thanked her for "treating him special." Hannigan said that Nelson had never previously spoken to her in this manner and that she found it strange. Hannigan also said that she had never hired anyone with a criminal background. She then elaborated on what, exactly, Nelson was hired to do at Solutions – he worked the midnight-to-8 a.m. shift, sometimes popping into the alleged victim's room because she suffered from nightmares – and that no one working at the center ever suspected that anything improper was happening between Nelson and any patients. Finally, Hannigan noted that when she asked one of the victims – the one who had testified earlier, specifically – about her relationship with Nelson, the woman claimed the sex had been consensual.
Nelson is facing life in prison for seven counts of burglary and sexual assault charges.