We're barely into March and already the urge to get out is gnawing at me. Like a dog staring at his favorite bone, the outdoors beckon me. It's daylight savings time finally, so I have no excuses. There is plenty of time in the evening to get out now, whether for a short beach walk, a quick trip up into the foothills, or a casual stroll on one of our urban trails.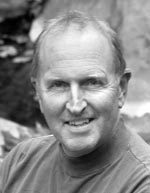 Yet here I am at my desk, working on the last touches of The Independent's newest online offering: Santa Barbara Outdoors, at independent.com/outdoors. I've got this thing about sharing what I love with others, so consider this special Web portal a gift to you.
As a kid, nature was imprinted on me before third grade. We lived in Cincinnati, but my grandparents had a farm not too far out of town. There were cows, chickens, a tractor to drive, and what seemed like an infinite amount of wild country to explore. I got hooked on exploring the hidden places before I could even ride a bike. So cool.
UCSB and surfing got in the way as I got older, but not for long-once I had my own car, I began exploring again. If my grandparents' farm hooked me as a kid, it was the legendary Dick Smith who yanked on the pole and sunk the hook in for good. I've still got a copy of his book California's Back Country: Mountains and Trails of Santa Barbara County. The pictures were stunning: quicksilver mines, vast stretches of mountains, rocky narrows, huge meadows known as potreros-and one absolutely captivating place known as Lion Canyon. I knew I had to see it myself.
Of course, I didn't get there right away. Back then, I didn't even own a backpack, had no clue where the route was, or how hard it would be to find the place. But being an optimist at heart, I knew I'd get there eventually. In the summer of 1973, I got a brand new Kelty pack, joined a group heading for the Sierras, and went on my first real backpack trip: five days from Rock Creek over Mono Pass, several other snow-filled passes, and on to Convict Lake. Boy did I hate my boots!
By the end of the following year, I'd been to most of the places in the Santa Barbara backcountry that you can get to in three to four days, which are most of them. It wasn't too long after that when the owner of an outdoors store called Granite Stairway offered to publish a book on the San Rafael Wilderness. With a former student of mine, I took on the challenge. He re-hiked most of the trails while I did the writing. It was not only a fun project, but it encouraged me to get out more, to explore new places, and to revisit those where I'd been in the past. In 1975, my first book of day hikes came out, followed later by more books, maps, and outdoor writing projects.
It's been a long road leading to independent.com/outdoors. It's still a bit unfinished-and I suppose it always will be-but in the next few months, you should see descriptions of most every day hike, beach walk, backpack trip, and mountain bike ride in the county. There will also be photos of the day, feature stories, outdoor news, spotlights on particular regions, and my own personal commentaries in the Outside Insider column. Independent.com/outdoors promises to be the go-to spot for Santa Barbara's outdoor information.
Starting this week, I'll be reporting every few days on the great wildlands of the United States as I drive cross-country for the next couple weeks. Stay tuned and check in often.