Living
Egg McMuffin Creator Dies
Herb Peterson Brought McDonald's to SB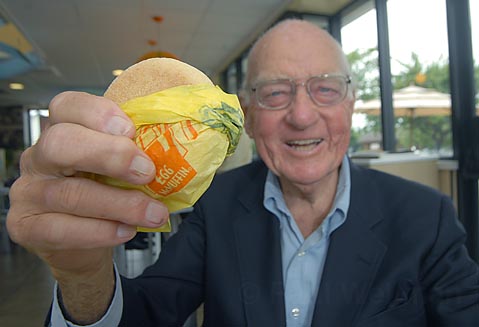 Herb Peterson, the inventor of the McDonald's Egg McMuffin and the man who brought the popular hamburger chain to Santa Barbara in the 1960s, died Tuesday night at his Santa Barbara home. He was 89.
Since his father's death, David Peterson has received non-stop calls from people around the country and all over the world. One 28-year-old McDonald's manager from the East Coast called Peterson this week, he said, and said his father has had the most influence on him than any other person. "He's had an amazing effect," David Peterson said.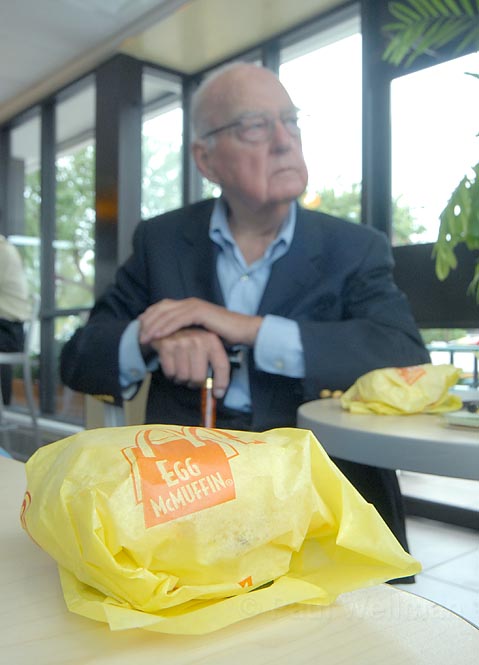 Peterson was the vice president of D'Arcy Advertising, which represented McDonald's at the time, and is credited with writing the chain's first advertising slogan: "Where Quality Starts Fresh Everyday." During that time he developed a relationship with McDonald's founder Ray Kroc, and Kroc encouraged Peterson to set up his own franchise somewhere. Santa Barbara was suggested because Peterson's wife is named Barbara. So the family picked up and moved to the West Coast from Chicago, where Peterson established the first McDonald's in the Santa Barbara area, on Fairview in Goleta. It was the 1,103 McDonald's in the entire world, and Peterson was the manager.
After success in that location, Peterson opened two more restaurants in the Santa Barbara area, including the location on Upper State Street. During that time, the restaurant only opened at 11 a.m., and Peterson realized they were missing out on a big meal-breakfast. Being the eggs Benedict fan that he was, Peterson came up with an idea to make an eggs Benedict sandwich you could pick up with your hands and eat. He commissioned a local blacksmith to make a teflon-coated iron ring to keep the egg round for a sandwich. After testing the sandwich locally for six months, he presented the idea to Kroc, who loved it, and the Egg McMuffin was born. It launched a new eating time at McDonald's, and now breakfast is one-third of the restaurant's business each day.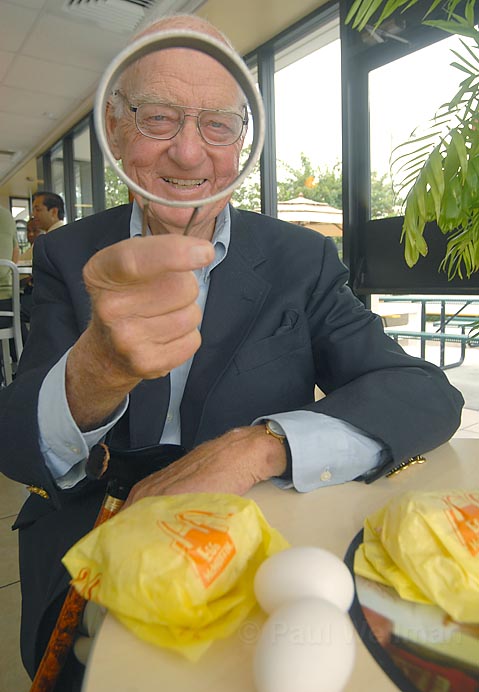 Peterson was part of the team that created the Ronald McDonald figure, and his franchise was the first to hire women. "My dad was a marketing guy to the bone, David Peterson said. "He loved McDonald's, he loved the brand." But even through all the success, it was always about the people for Herb Peterson. "He had a magic twinkle, a pied piper personality," David Peterson said. "It's about people and kindness and following through on that."
So what will his son most remember about him? "I'll miss his good humor and kindness, his effervescence," David Peterson said. "We called him Mr. Christmas because he celebrated life. And he loved his wife, my mother. They've been married for 64 years. You don't see that too much today."
A funeral service is scheduled for 11 a.m. on April 23 at All Saints by the Sea Episcopal Church in Montecito. Peterson is survived by his wife, four children, 11 grandchildren and five great grandchildren.