ROCKIN' 1ST THURSDAY: While the Downtown Association's 1st Thursday events have quickly turned into a relative smorgasbord of art, entertainment, and free snackage for anyone willing to brave the always-growing State Street crowds once a month, April's installment also brought a little something special to the walls of Eos Lounge (500 Anacapa St.) last week. As part of the club's ongoing Bang Bang events, resident rock photogs Tim Bramlette and Bethany Burns stepped out from behind their respective lenses to hang out and show off a wide collection of truly epic shots. Subjects of the Killer Rock Photo Exhibit ranged from Bramlette's photos of The Shins, Muse, and Morrissey to Burns's take on Thursday, Against Me!, and local greats The Volt Per Octaves. On hand to spin the tunes were aRod, Erik Lohr, and indie party thrower DJWinner, who offered up dance-y takes on tracks from Vampire Weekend, She & Him, and Arcade Fire. The show's up until Wednesday, April 16, so be sure to drop by and check out some awesome photos before then.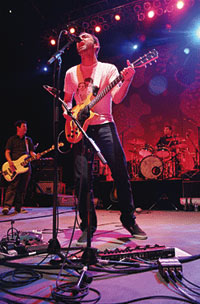 A short trip north found Goleta's The Mercury Lounge (5871 Hollister Ave.) hosting yet another kickass installment of its ongoing concert series, Thursday Night Live. This time around, rising guitar hero Lee Koch shared stage time with Oakland's own lo-fi, hippie-meets-alt-country duo, Mia & Jonah. Proving that he's got just as much stamina as he does talent, Koch donned his acoustic and harmonica for a set of originals before stepping down to let M&J do their thing. Said "thing" was a slow-tempo collection of romantic, whimsical tunes that found Mia swaying (perhaps a bit too theatrically) to Jonah's rich, Damien Rice-esque guitar and vocals. And it wasn't long before Koch was back onstage to join the pair in their warblings, then again to negotiate a second set list, which included twangy takes on classics from the one and only Tom Petty. Together, the threesome-who admitted to not knowing each other until just a month prior-filled the space with the warm, lush tunes that are beginning to embody what the series is all about: bringing only the best of S.B.'s up-and-coming young talent to an intimate showspace. Next week, check out yet another delightful double bill when The Merc plays host to Jesse Rhodes and Natalie D-Napoleon. Visit myspace.com/mercurylounge for additional details.
AMERICAN TELEVISION: In other news, I'm honestly contemplating clocking hours for the hour-and-a-half long suckfest that I had to endure while watching this week's premiere of MTV's Rock the Cradle. The network's most recent foray into the demonic world of reality TV pits nine sons and daughters of rock 'n' roll semi-greats against each other in an American Idol-style quest for a recording contract. The spin? Santa Barbara-bred-and Kenny Loggins spawn-Crosby Loggins is onboard for the ride. Lucky for me, the little Loggins was the last of the pack to take his turn onstage and in front of the judging panel, which includes lead Go-Go Belinda Carlisle. The endeavor was much like any other on-air talent show of its kind: young, mildly gifted singers jumping in front of the camera to perform crummy covers of contemporary and aged pop songs. Except here, washed-up stars like Eddie Money, MC Hammer, and Dee Snider are on hand to fill their kids' heads with empty nods of encouragement post-performance. While S.B.'s own heir to the '80s soundtrack throne had a fairly solid showing (note: Loggins was the only competitor to strap on a guitar and show off any additional musical talents), it was Dee Snider's boy, Jesse Blaze Snider, who won the night's award for creepiest wardrobe choice. The bare-chested, leather-pants sporting Snider hit the stage running (and screaming) with his take on Zeppelin's "Rock and Roll," undoubtedly scaring the judges into submission. The train wreck continues this Thursday at 10 p.m. on MTV. And online voting, cast bios, and video clips are available at mtv.com.